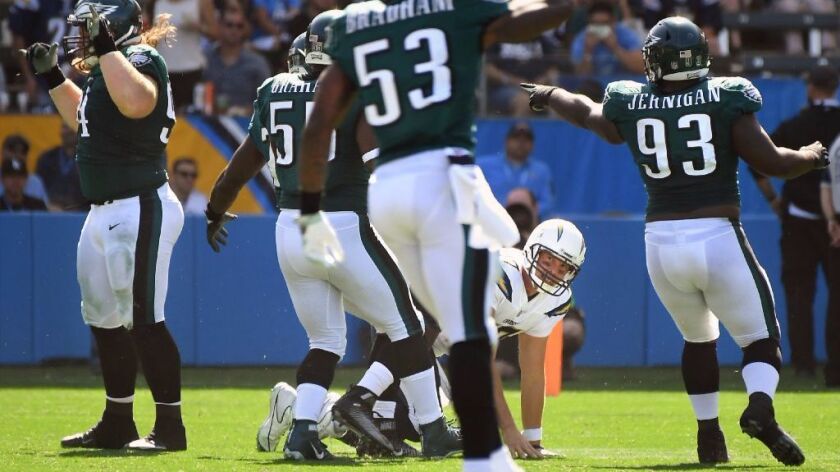 A banner criticizing Chargers owner Dean Spanos for moving his team from San Diego flew over StubHub Center on Sunday for the third consecutive game.
With NFL Commissioner Roger Goodell on hand to assess the league's latest relocation project, Philadelphia Eagles fans staged a hostile takeover of the 27,000-seat stadium with raucous "E-A-G-L-E-S" chants and loud booing of the "home" team.
The Chargers took the field as the Rams, their Southern California rivals and future roommates in a $2.6-billion Inglewood stadium, were wrapping up a 35-30 upset of the Dallas Cowboys, a victory that improved the NFC West leaders to 3-1.
Following a well-worn script, the Chargers played just well enough to fall short against the Eagles, their 26-24 loss dropping them to 0-4 and relegating them to the ranks of the NFL winless with the San Francisco 49ers, Cleveland Browns and New York Giants, their opponent next Sunday.
So, how's that whole "Fight for L.A." thing working for you?
Yeah, not so good.
"I think people here appreciate the way the guys are playing, but they want results, just like we want results," Chargers coach Anthony Lynn said Monday. "I believe when we bring them those results, all that stuff will work itself out."
Lynn is not in charge of marketing, nor can he prevent season-ticket holders and brokers from selling tickets to opposing teams' fans, who are seizing a larger share of the crowd and a louder voice in the small venue.
But there is one way for the Chargers to make inroads in a new market that seems indifferent toward them: win games.
"No doubt about it," Lynn said, "if we're sitting here 3-1, we're not having this conversation."
The gap between 3-1 and 0-4 is not wide. Three losses have come by three points or fewer. A made field-goal attempt here, a key third-down stop or penalty-free play there, and maybe the Chargers are 3-1.
Two penalties on third-down plays, one in the fourth quarter near the end zone, gifted the Eagles with huge first downs Sunday. Missed tackles have contributed to the Chargers' ranking 15th in the AFC in rushing yards allowed per game at 163.5.
"It's been the little things, the execution," Lynn said. "The offsides, the hands to the face ... it's a discipline thing, really, a techniques thing. And the execution … it's just one guy missing a gap or a block that's wrecking a play. I'm trying to stress to my guys that any play can make a difference. It doesn't always come down to the last play."
The Chargers showed big-play capability Sunday, but their inability to sustain long drives — and the Eagles' success in doing so — kept the Chargers on the field for 74 plays while the Eagles defended for 53.
Time of possession was heavily skewed toward the Eagles, who held the ball for 39 minutes 18 seconds. The Chargers had it for only 20:42.
The Chargers have averaged only six plays and 34 yards on 40 offensive possessions, scoring nine touchdowns and kicking three field goals. They averaged six plays and 44 yards on nine possessions Sunday.
"Right now, we have to be able to get off the field on defense, and on offense we have to be able to stay on the field," Lynn said. "It's really that simple. We have to do better on third downs, and we have to be able to stop the run on defense to get off the field."
Etc.
Jatavis Brown's right foot, injured early in Sunday's game, remained in a walking boot Monday. But the outside linebacker, who leads the team with 41 tackles, said after being examined by a doctor that he is "good" and expects to play Sunday. … Lynn expects left guard Matt Slauson (triceps injury), right tackle Joe Barksdale (ankle) and reserve defensive end Chris McCain (elbow) to play Sunday. … Reserve offensive lineman Max Tuerk, a former USC standout, is expected to be activated this week after serving a four-game suspension for using performance-enhancing drugs.
Follow Mike DiGiovanna on Twitter @MikeDiGiovanna
---