Some controversy, notable absences as Chargers open voluntary workouts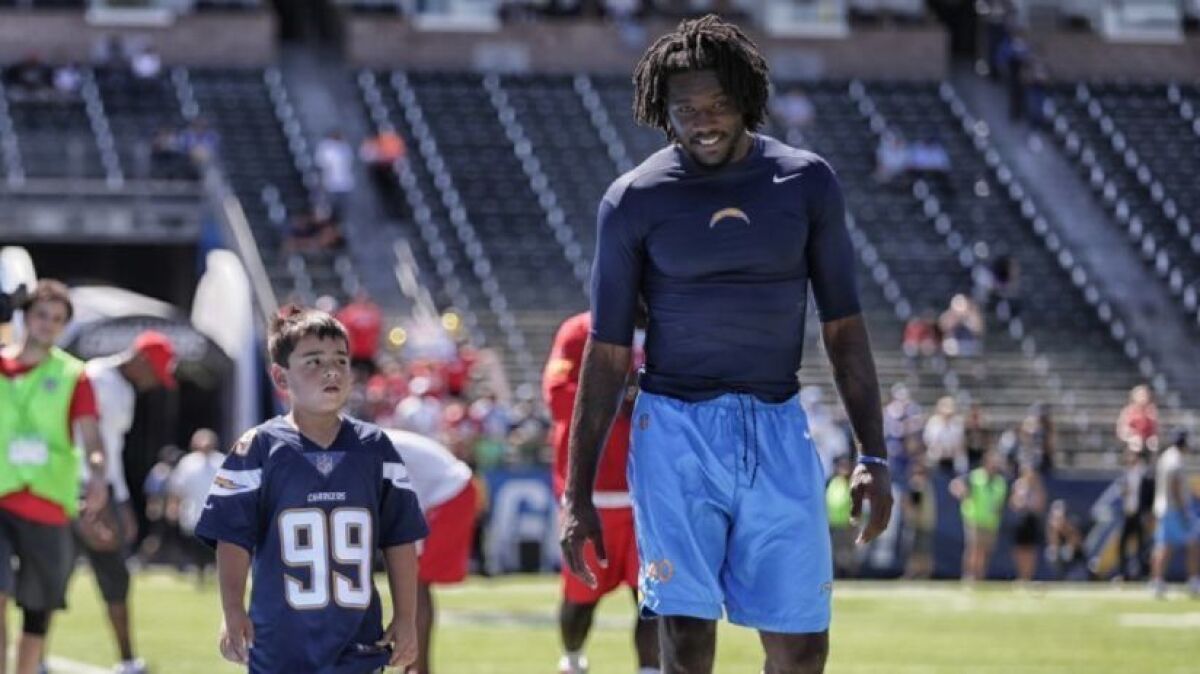 The start of offseason workouts a year ago signaled the beginning of some drama in San Diego, with the departing franchise still working out at its old home until the new one in Costa Mesa was ready.
It was awkward, but the Chargers managed to figure it out.
So when the Chargers' new round of offseason workouts kicked off Monday with a smidge of controversy, thanks to a tweet by star receiver Keenan Allen, no one paid much attention to it.
Allen's tweet came with news that the Chargers rescinded a free-agent qualifying offer to defensive end Chris McCain, who became a reliable pass rusher last season and was Allen's teammate at the University of California. The move opens up nearly $2 million in cap space.
"I just don't understand sometimes! But we sign people like … nvm," Allen tweeted Sunday, meaning nevermind. The post has been deleted.
Chargers coach Anthony Lynn said it was simply motivated by financials — the same reason starting defensive tackle Corey Liuget's contract is being restructured.
Liuget, facing a four-game suspension for a performance-enhancing drug violation, has a base salary of roughly $8 million.
"This sport does have a business side to it," Lynn said. "I think when you redo Corey Liuget, it gives you some flexibility there. And we did some things with Chris. We think Chris is a heck of a player.
"The door's definitely open for him to come back. We'll just see how it works out."
Notable absences
While this phase of workouts is voluntary, there were some notable players missing, namely defensive ends Joey Bosa and Melvin Ingram, and running back Melvin Gordon.
"These are voluntary workouts," Lynn said. "Really, I'm not allowed to have a public opinion on what I think, to be honest with you."
Running back Austin Ekeler also missed Monday's workout as he tries to finish his degree from Western State.
Liuget wasn't on the field for workouts, but he was at the team's facility.
"I've spoken with everyone," Lynn said. "Some guys are finishing school. They're doing that right now. Some guys have other plans.
"…I expect those guys to come at some point, absolutely."
No sign of Gates
Even though Antonio Gates was never the biggest fan of voluntary offseason workouts, his absence Monday was notable since he remains an unrestricted free agent and his future — which could include retirement — has yet to be determined.
Quarterback Philip Rivers said he's texted with Gates but doesn't have a feel for his future.
"You'd love for him to get one more shot to be with us and go make a run at it," Rivers said. "…He's had a heck of a run. He has nothing left to prove, that's for sure. But to have him be a part and contribute to what we think can be a special year would be great."
Etc.
The Chargers' free-agent acquisitions — center Mike Pouncey, tight end Virgil Green, kickers Caleb Sturgis and Roberto Aguayo, and quarterback Geno Smith — all were on the field Monday. … Cornerback Jason Verrett and guard Forrest Lamp are "right on schedule" after knee surgeries cost them their 2017 seasons, Lynn said.
Twitter: @DanWoikeSports
---
Get the latest on L.A.'s teams in the daily Sports Report newsletter.
You may occasionally receive promotional content from the Los Angeles Times.