Chargers' defense suffers major loss with Denzel Perryman out for the season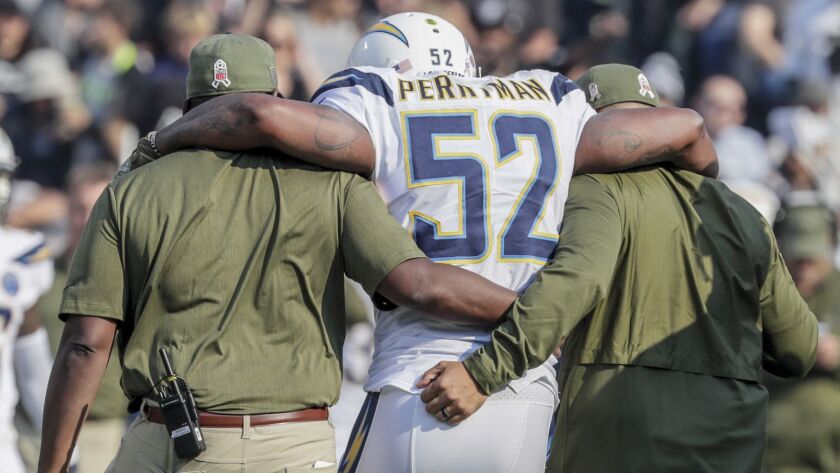 Denzel Perryman suffered a knee injury and is out for the season, a major setback for the Chargers' improved run defense.
The linebacker injured his left knee on the second play from scrimmage at Oakland on Sunday. Tests revealed a damaged lateral collateral ligament, which will require surgery.
"He's very frustrated right now," coach Anthony Lynn said Monday. "All he can do is get healthy, have a good attitude, rehab every day and help his teammates as best he can."
Perryman entered Sunday's game second on the team in tackles. He had a season-high and team-high 10 tackles in a Week 3 loss to the Rams.
The Chargers rank 17th in the NFL against the run, giving up an average of 112.6 yards per game. Last season they were 31st.
That improvement has helped the Chargers win six consecutive games and open the season 7-2, their best nine-game mark since 2006.
"When Denzel's in the game," Lynn said, "he's a difference-maker."
Perryman, 25, a second-round pick of the Chargers in 2015, missed the first nine games last season because of an ankle injury.
Hayes Pullard filled in for Perryman a year ago and also played 16 snaps in his absence Sunday.
Lynn said veteran Kyle Emanuel could move into that spot at times. He added that the Chargers will monitor the waiver wire for possible help.
"He played well," Lynn said of Pullard. "But Denzel's a starter for a reason. Our rush defense is a lot better with Denzel in there. So we're going to have to pick it up collectively as a group now."
Safety Adrian Phillips has been playing linebacker in the Chargers' dime defense, but his size prohibits him from remaining in the position every down. Lynn said he also was reluctant to move edge rusher Uchenna Nwosu inside.
Perryman's loss came as the Chargers began preparations to face Denver on Sunday at StubHub Center.
The Broncos are ninth in the NFL with an average of 126.7 rushing yards per game. Rookie Phillip Lindsay is seventh in the league with 591 yards on the ground.
Ugly ending
The game in Oakland unraveled at the end — mostly, one could argue, because of the Raiders' frustrations as they fell to 1-8.
In the final three minutes, Phillips was penalized for unsportsmanlike conduct and left tackle Russell Okung for unnecessary roughness.
Defensive backs Derwin James and Desmond King also were involved in altercations after the whistle.
"That right there is what I don't want to see," Lynn said. "We have to be smarter … It was (going) both ways … We just have to react and respond better than what we did."
Lynn said that he has talked to his players about having the strength to simply not respond in those situations.
"I think in today's society walking away is tough," he said. "Guys used to take the gloves off and fight. But them days are over, you know? You'll get killed today, if you take this mentality into the streets.
"I just believe … toughness now is having the mental toughness to walk away from stuff like that."
Allen on upswing
Just about this time last season, Keenan Allen began a stretch of four games in which he totaled 39 receptions for 547 yards and four touchdowns.
He hasn't approached those numbers this season, but he does have consecutive six-catch games and 181 receiving yards the past two weeks. He also scored Sunday for the first time since Week 1.
The Chargers list the 6-foot-2 Allen at 211 pounds. Lynn said he's actually 203, adding that Allen was up to 218 at one point.
"Shoot, this guy's hungry, man," Lynn said. Asked if the lost weight has helped, Lynn said, "It's made him a lot quicker, explosive."
Back home
The Chargers haven't played at StubHub Center since Oct. 7, when they defeated the Raiders 26-10.
That was the second of their six consecutive wins, the next four of which came away from home.
Lynn was asked Monday if the 4-0 mark on the road exceeded even his expectations.
"No, it didn't exceed because I couldn't look at the schedule and figure out which one we wanted to lose," he said jokingly."I hoped to win them all. We just emphasized it and talked about it. I love the way the guys stayed locked in."
Etc.
Lynn had no specific update on defensive end Joey Bosa (foot) other than to say he continues to get closer to playing. Bosa was hurt in August but is expected to attempt to come back in the next few weeks. … The Chargers opened as seven-point favorites over 3-6 Denver. They won the most recent meeting 21-0 on Oct. 22, 2017, in Carson. The Broncos have taken seven of the past nine matchups overall.
Twitter: @JeffMillerLAT
---
Get the latest on L.A.'s teams in the daily Sports Report newsletter.
You may occasionally receive promotional content from the Los Angeles Times.