Chargers' Branden Oliver shows he's ready to run after bad Achilles injury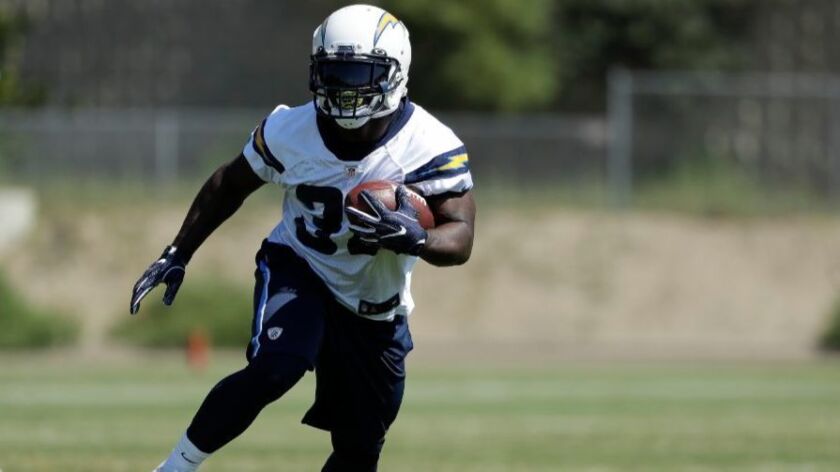 The slow-motion video of Chargers running back Branden Oliver tearing his Achilles in a preseason game at Minnesota last Aug. 28 is not for the faint of heart.
Oliver catches a short pass on the right side and plants his right foot to make a cut. The tendon connecting the heel to the calf snaps and recoils into the calf, causing the muscle to jiggle several times "like a gunshot," Oliver said.
It's difficult to watch for just about everyone … except Oliver.
"I watched the replay a couple of times," Oliver said after a practice in Costa Mesa this week. "It doesn't gross me out at all. I wanted to see what happened. If it was somebody else, I'd probably be grossed out, but I just wanted to see it."
You don't reach the NFL as an undersized, undrafted free agent and lead your team in rushing as a rookie by showing weakness, and Oliver wasn't about to start after being carted off the field with the season-ending injury.
After months of rehabilitation, the 5-foot-8, 208-pound Oliver is back in training camp, displaying the bursts of speed, quick cuts, capable hands, good instincts and elusiveness that make him the favorite to win the reserve running back job behind Melvin Gordon.
"When he's healthy, he's a pretty good running back," Chargers coach Anthony Lynn said. "I think he's proven that in this league. He can run the ball, he can catch the ball better than I thought, and he's been picking up the blitz pretty well."
Oliver displayed his skills on one of his four touches in Sunday night's preseason opener against Seattle, catching a center screen from quarterback Philip Rivers, weaving through several blockers and defenders and racing 14 yards to the Seahawks eight-yard line to set up the Chargers' game-opening touchdown.
"It felt good to get my feet wet, to get back out there with the guys and play in a real game," Oliver, 26, said. "I feel great. Better than normal. I feel light on my feet."
Oliver, who grew up in Miami and played college ball at Buffalo, showed considerable potential in 2014 when he rushed 160 times for a team-leading 582 yards and three touchdowns and caught 36 passes for 271 yards and a touchdown in 14 games.
Twice, he was named NFL rookie of the week, first after a 31-0 win over the Jets in which he became the first Charger with a 50-yard catch and 50-yard run in the same game since Lionel "Little Train" James in 1985. He also was rewarded after a 31-28 win over the Raiders in which he rushed for 101 yards and scored the winning touchdown.
"It wasn't a great year for me," Oliver said. "It was a good year because I was undrafted, but overall, it was just all right."
The Chargers' selection of Gordon, the former Wisconsin star, in the first round of the 2015 draft cut into Oliver's playing time that season. He rushed 31 times for 108 yards and caught 13 passes for 112 yards in eight games that season before suffering a season-ending toe injury.
Then came last summer's Achilles tear, which several doctors told Oliver was among the most severe they'd ever seen. After surgery, Oliver returned to Miami and spent six weeks in a cast and two weeks in a walking boot.
"I was in the house a lot," Oliver said. "I was crawling around, getting around on a one-leg scooter. I couldn't drive."
Oliver began rehabilitating in November. He started running in January. He appears to be full strength going into 2017, which is something of an upset.
"Most doctors said I came back pretty fast," Oliver said. "I have no doubt that the adversity I've faced has made me stronger. It's helped me to stay in the moment more, to be more appreciative, to be more grateful just to even walk."
Oliver is sort of a mini-Melvin Gordon, a smaller version of the Chargers starter. Both are multi-purpose backs who can run inside with power and catch the ball. They can be especially dangerous when Rivers dumps the ball to them on check-down plays. Oliver's lower center of gravity can make him difficult to corral.
"We're coached to be all-around backs, not just running backs," Oliver said. "That's the type of offense we have. When you have a guy like Philip Rivers in the backfield, you have to be able to do everything."
Etc.
The Chargers and New Orleans Saints will hold joint practices in Costa Mesa on Thursday and Friday at 10 a.m. in advance of Sunday's 5 p.m. exhibition game in StubHub Center. Thursday's padded practice should be more intense than Friday's, when players won't be in pads. … The Chargers defense picked up the energy level Wednesday after falling short in Sunday's 48-17 loss to Seattle. "I didn't think our energy was very good during the game," defensive coordinator Gus Bradley said. "It wasn't like we anticipated, and they agreed. I think it's being out there for the first time and maybe playing with some guys you haven't played with." … Play of the day Wednesday was Geremy Davis' leaping, one-hand grab of a Rivers pass to the right sideline. … Cornerback Casey Hayward tweaked his right hamstring Wednesday and spent the second half of practice icing the injury, which is not believed to be serious. … Dan Feeney, a third-round pick out of Indiana who has been working at center and guard, took several first-team reps at right guard Wednesday. Kenny Wiggins is also contending for the spot. "Dan's getting better," Lynn said. "He's not out of the race for the starting job."
Follow Mike DiGiovanna on Twitter @MikeDiGiovanna
---
Get the latest on L.A.'s teams in the daily Sports Report newsletter.
You may occasionally receive promotional content from the Los Angeles Times.