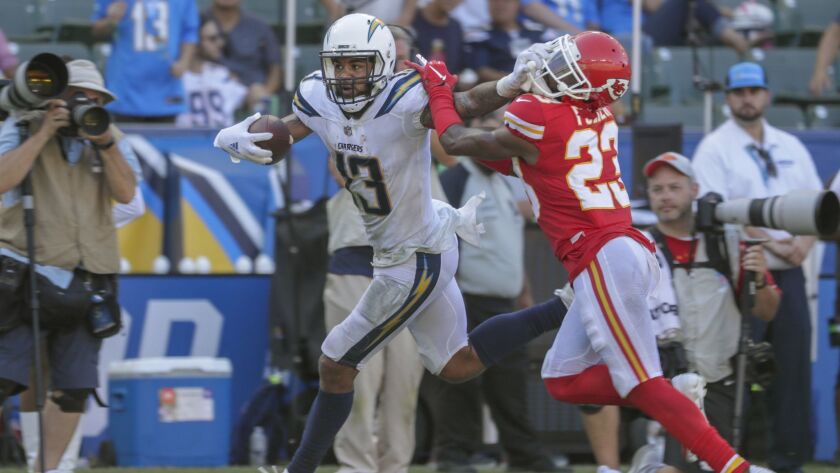 Reporting from kansas city, mo. —
He is winless in three games as a head coach against Kansas City, his team having led for barely seven minutes total in the three defeats.
And that's the positive spin advancing the Chargers' Thursday night visit to Arrowhead Stadium, where the reception is forecast to be chilly and damp. And the weather might not be very welcoming, either.
Anthony Lynn was asked repeatedly the past few days about the Chargers' recent rotten history against the Chiefs. Each time, the man whose job description demands that he have a vision opted to be shortsighted.
"We've lost three that I know of," Lynn explained this week. "I don't know about much [beyond that]. But three is too many for me. We'd like to stop that streak."
With a playoff berth and a share of the AFC West lead a victory away, Lynn and the Chargers are up against a more foreboding trend than just 0-3 versus Kansas City since he became head coach in 2017.
The last time the Chargers beat the Chiefs was Dec. 29, 2013. Nine consecutive losses have followed that overtime victory for the Chargers, who during that span defeated Oakland six times.
"It is frustrating knowing you're playing a team that's historically beaten you a lot," defensive lineman Isaac Rochell said. "We need to win. It's not something we want to let keep happening, that's for sure."
On a personal note, Lynn hasn't been on the opposing sideline for a Kansas City loss since Dec. 11, 2011, when he was the running backs coach for the New York Jets. The Chiefs starting quarterback that day was Tyler Palko.
So in an enormous game they absolutely would love to win, a game that could advance their reputation as certainly as their postseason plans, the Chargers and their coach are facing a wall of flustering yesterdays.
They also must combat a solid MVP contender in Patrick Mahomes and a vaporous blur of a touchdown missile in Tyreek Hill.
Mahomes leads the NFL in passing yards (4,300) and touchdowns (43) and, in the estimation of Lynn, is "getting better it seems like every game." On Sunday, Mahomes completed a pass without even having to look at his receiver.
Hill made his NFL debut against the Chargers in 2016 and has scored at least one touchdown against them all five times the teams have met since.
In the season opener in September, he scored 1 minute, 57 seconds into the game and then again 61/2 minutes later.
Before their season was nine minutes old, the Chargers had given up touchdowns to Hill covering 91 and 58 yards, two of the three longest plays they've surrendered this season.
"They are probably the team that has more explosive plays than any we've faced," defensive coordinator Gus Bradley said. "Our guys have to be in tune for that, that every play you have to be ready because you don't know when it's going to show up."
On both of his long scores, Hill flashed his trademark peace sign while streaking toward the end zone, the Chargers powerless to do anything more than choke on his exhaust. Hill scored a third time in the fourth quarter as the Chiefs built an 18-point lead before winning 38-28.
"We definitely gave them points on special teams and a few other random mistakes," Rochell said. "I think we're a different team now. I just don't think we played a very good game that day."
The Chargers might be without their top two running backs, Melvin Gordon questionable because of a sprained ligament in his right knee and Austin Ekeler out because of a bruised nerve in his neck.
If Gordon can't play, they will be left with a pair of rookies in Justin Jackson and Detrez Newsome for another prime-time, nationally televised game that could greatly influence the direction of their season.
"These are the ones you talk about in the offseason — having a chance to play to keep your division hopes alive and get you a spot in the postseason," quarterback Philip Rivers said. "These are the games you want to be in.
"You acknowledge that, and you're excited, and then you just have to go out and play. We don't need more than we've had any other week. You just play the way you can play."
And, in this case, you ignore the recent past like a heckling, Tomahawk-chopping Chiefs fan.
Since this franchise last defeated Kansas City, the Chargers have played 77 games and beaten 21 different opponents, including both New York teams, each member of the AFC North and the Rams when they were still in St. Louis.
On Thursday, only three Chargers — Rivers, receiver Keenan Allen and safety Jahleel Addae — who started that game in 2013 will start again.
"Each game, to me, stands alone," said Rivers, noting how many of his teammates haven't been around for all nine consecutive losses. "It's a new game, new week."
And the latest chance to end an old streak.
Etc.
Gordon is expected to test his knee during pregame warm-ups, with a final determination of his status likely to come 90 minutes before kickoff when the Chargers must announce their active roster. … Defensive lineman Brandon Mebane is doubtful for the game. He has been away from the team because of a medical issue involving his infant daughter. …The Chargers will play another international game next season, in either London or Mexico City, with the date and opponent to be determined.
Twitter: @JeffMillerLAT
---