Desmond King has awarded the Chargers with big plays as a defensive back and returner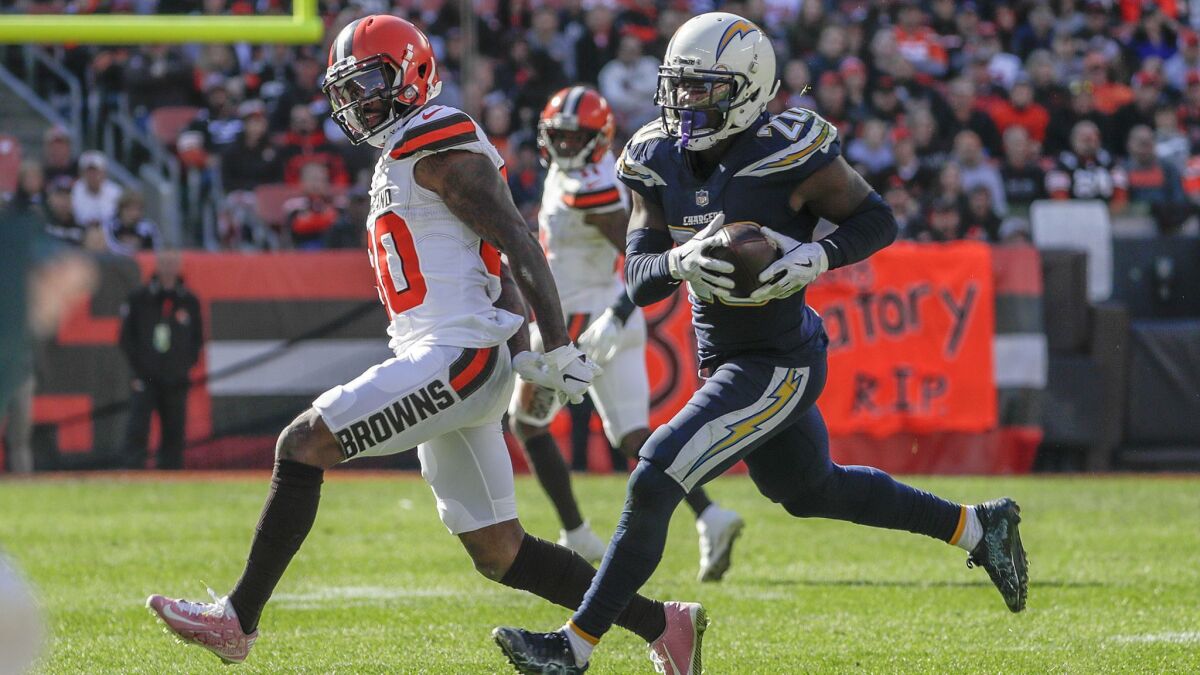 The winner receives a trophy, which makes sense seeing how the award is one of the highest honors in college football.
A watch is presented as well, Desmond King passing the Rolex to his mother, Yvette Powell, as a thank you.
But how many people are aware that the annual recipient of the Jim Thorpe Award also is given a cowboy hat and a pair of boots?
All the defensive players for the Chargers know that now … thanks to defensive coordinator Gus Bradley.
"I never thought that was going to catch up with me," King said Wednesday. "I was like, 'Oh, wow.' That's what the internet will do to you."
Bradley shattered the monotony of a recent team meeting by flashing a photo of King modeling the hat and boots while he was still at Iowa.
Among the Xs and O's, this was pure LOL. King, who won the award in 2015, swears that was the only time he tried on the items.
"The room busted up," safety Rayshawn Jenkins said. "Everybody was trying to get a picture of it real quick before they took it down."
This is the sort of fun a football team can have en route to 5-2, an encouraging start aided significantly by King, whose ability to make big plays has continued into his second NFL season.
The 5-foot-10, 200-pound defensive back is slightly undersized, except where it matters most.
King is coming off a game in which he had a season-high seven tackles. This followed a game in which he had two interceptions. This followed a few games in which he established himself as a kick-returning threat, too.
He generally plays nickel for the Chargers, but King's value suggests he is nothing but dollar signs.
"He's just a very instinctual player," Jenkins said. "And he can contribute all over the field. He's a total package out there."
Sunday, King and his teammates play at Seattle, the team the Chargers faced during King's introduction to the NFL — the 2017 preseason opener.
A fifth-round pick out of Iowa, King admits that back then he "still didn't know much." He ran out of the locker room hoping to somehow leave a positive impression.
As he does before every game, King prayed for safety, guidance and the strength to make at least one play.
He then had the Chargers' only interception and chased down Seahawks fullback Tre Madden from several yards back to punch loose the football and prevent a touchdown.
Standing on the Chargers sideline, coach Anthony Lynn was thoroughly impressed. And not the slightest bit surprised.
"He can do things sometimes that you just can't coach," Lynn said. "He doesn't have the height, the weight, the speed and all that. But if you look at Desmond, the thing I liked about him, tracking him all the way back to high school, he's always been a very productive player. That's not going to change when you get to the NFL. It's just a pattern of success."
Despite his success — and his Thorpe Award, won after his junior year — King was not the high draft selection many experts had forecast.
He returned to Iowa for his senior season, his production sliding somewhat but not as dramatically as his NFL stock did.
The situation was awkward, the Hawkeyes athletic department — as a courtesy — providing King and his family the use of the presidential suite in the Kinnick Stadium press box to watch the draft.
He also was celebrated that weekend with the honor of throwing out the first pitch before an Iowa baseball game.
Then King wasn't taken until the Chargers used the 151st overall pick to get him on the second day of the draft. The call was so tardy that King thought his phone might be broken since it was not ringing.
"I definitely thought he was going to be off the board in the first 45 or so picks," said Jenkins, who was drafted by the Chargers a round earlier. "I thought he was that good. I was shocked."
From that humble start, King has rebounded impressively, one highlight moment at a time. It was Iowa coach Kirk Ferentz who predicted before the draft that, no matter what King lacked physically, he would "find a good fit."
That is exactly what's happened with the Chargers, this fit so comfortable that a room full of teammates were left laughing at the image of the Detroit-raised King as a cowboy.
"Coach Gus was just playing around," King said. "He does that stuff all the time. He got me good with that one."
Sturgis the man
The Chargers re-signed rookie kicker Michael Badgley to their practice squad. He was waived Tuesday when Caleb Sturgis was deemed healthy enough to return. Sturgis missed two games because of a quadriceps injury.
"He's our kicker," Lynn said of Sturgis. "You have a veteran guy with some experience, and he kicks off well. He's our guy. We were just waiting for him to get healthy."
Etc.
Running back Melvin Gordon (hamstring) was limited in practice Wednesday. His status for the game Sunday will not be known until later in the week. … Defensive ends Joey Bosa (foot) and Chris Landrum (hip) and linebacker Kyzir White (knee) did not practice. Bosa and White will not play Sunday.
Twitter: @JeffMillerLAT
---
Get the latest on L.A.'s teams in the daily Sports Report newsletter.
You may occasionally receive promotional content from the Los Angeles Times.