Chargers will play Tennessee in London next season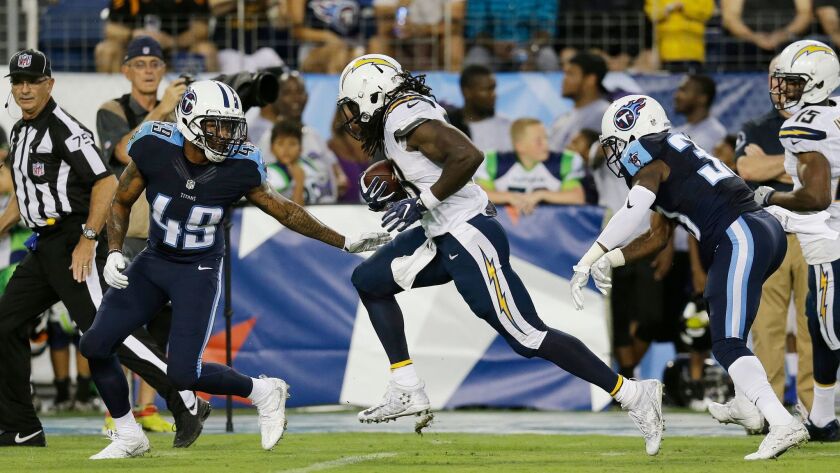 London called, and the Chargers answered, the team announcing Thursday that it will play the Tennessee Titans in either Week 7 (Oct. 21) or Week 8 (Oct. 28) in Wembley Stadium next season.
The Chargers, who went 9-7 but missed the playoffs in their return to Los Angeles this season, will also play internationally in 2019, at a location to be determined. Both will be considered home games, meaning the team will play one fewer game in StubHub Center in 2018 and 2019.
"Since we last visited London in 2008, the NFL's popularity has continued to grow in the United Kingdom," A.G. Spanos, the Chargers' president of business operations, said in a statement.
"It was an honor to be part of the early wave of regular-season games played abroad back then, and it is every bit the honor to represent the league in London this time around."
The Chargers are one of six NFL teams that will compete in the 2018 London Games. Philadelphia will play Jacksonville in Wembley Stadium — which has hosted 18 NFL games — in Week 7 or 8, and Seattle will play Oakland in Tottenham Hotspur's new stadium in Week 6.
This will be the Chargers' sixth game abroad in franchise history and second in the regular season. In the first-ever NFL game played outside North America in August 1976, the Chargers played the St. Louis Cardinals in the Mainichi Star Bowl in Tokyo.
From 1994 to 1999, the Chargers played three preseason games as part of the NFL's American Bowl series, against the New York Giants in Berlin in 1994, the Pittsburgh Steelers in Tokyo in 1996 and the Denver Broncos in Sydney, Australia, in 1999.
The Chargers' last game in London, a 37-32 loss to New Orleans in Wembley Stadium on Oct. 26, 2008, was a quarterback duel between Philip Rivers, who completed 25 of 40 passes for 341 yards and three touchdowns, and the Saints' Drew Brees, who completed 20 of 41 passes for 339 yards and three scores.
"It's been 10 years since we last played in London, and other than the outcome of the game, the experience there among the international fans was pretty cool," Rivers said in the team's statement. "I'm excited for the opportunity to once again play at a historic stadium like Wembley, and hopefully this trip will include the Chargers heading home with the win."
Ticketing details will be announced by NFL UK on Jan. 18. Those interested in attending any of the games can go to www.ticketmaster.com/nfl for information. Fans can sign up at www.chargers.com/london for the latest information on the Chargers' trip to London.
---
Get the latest on L.A.'s teams in the daily Sports Report newsletter.
You may occasionally receive promotional content from the Los Angeles Times.