Chargers' trip to London will be taxing — physically and financially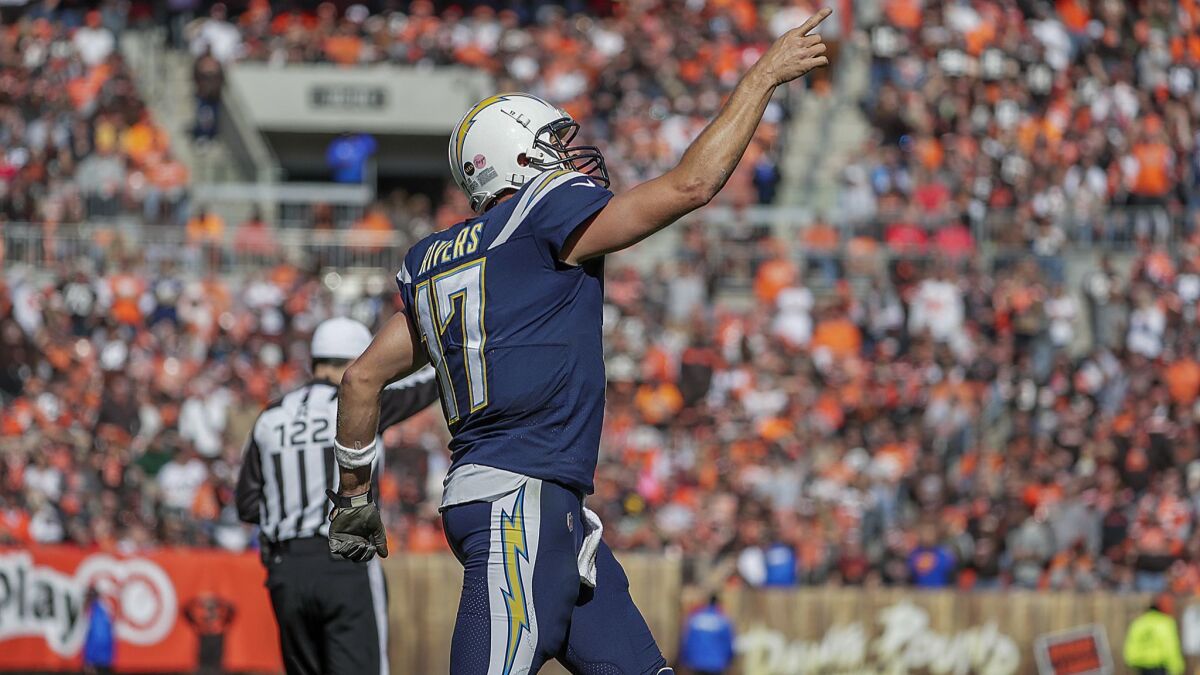 Reporting from cleveland —
They are in the middle of a two-game, 10-day trip that will cover about 11,500 miles.
On Thursday night into Friday morning, the Chargers will spend more than eight hours on an airplane.
Yes, they already are experiencing how playing an NFL game in London can be taxing.
"I am worried," Virgil Green said. "I'm trying to figure out how my accountant is going to handle this."
The veteran tight end was talking about actual taxes, you know, the kind the Beatles once sang about?
These overseas ventures can be demanding, physically and financially.
"I'm thinking in terms of tax purposes how this is going to hit me," Green said. "I'm already getting taxed enough in the state of California, and I'm a California guy."
The Chargers play Sunday at Wembley Stadium against Tennessee, the franchise's first game there since 2008 when they represented San Diego.
They beat the Browns in Cleveland 38-14 last weekend and have remained in town to prepare for the Titans before heading to England on a red-eye flight.
Coach Anthony Lynn bumped up meetings and practices this week in hopes of readying the players for a game that, according to their body clocks, will kick off at 6:30 a.m. PDT.
Quarterback Philip Rivers said he looked at his watch during breakfast Wednesday and, noticing that it read "2:30," greeted someone by saying, "Happy middle of the night."
"I don't change my watch," he said later. "I don't know why. It drives my family crazy that I leave my watch the same."
Rivers passed for 341 yards and three touchdowns in the 2008 game, a 37-32 loss to New Orleans at Wembley. One of those scores went to tight end Antonio Gates.
So a few of the Chargers have played in NFL games overseas, including center Mike Pouncey, who will be appearing in his fourth such affair.
Others are like defensive back Adrian Phillips. In his fourth season, the 26-year-old never has been out of the country.
"You just have to attack it," Phillips said. "I think this will be a good test to see where our team is at. If we just stay together and stay with each other, we'll be fine. If we do that, we could play in a parking lot. It doesn't matter."
As difficult as air travel can be when the flights start lasting the length of a standard work day, a chartered jet still beats a charted bus.
Receiver Tyrell Williams said his team at Western Oregon once made a bus trip that took 28 hours.
That's the reality of playing in the Division II Great Northwest Athletic Conference for a school based in Monmouth, Ore.
Although Williams wasn't asked this specifically, it is reasonable to assume that, on that 28-hour odyssey, he and the rest of the Wolves didn't stay in a, luxury hotel like the Chargers are doing in downtown Cleveland.
Coming off the first two-touchdown game of his career, Williams isn't fazed by the prospect of having to take another extended journey in the name of football.
"There's really no other place I'd rather be," he said. "I mean, we're on a road trip and get to go to London and play in the NFL. If you've got complaints with that, you've got something wrong."
Along with everything else happening to them, the Chargers also will go nearly six weeks between games at StubHub Center, a stretch that makes the Lakers' annual "Grammy trip" seem like a weekend getaway.
After Sunday, they have a week off and then consecutive games at Seattle and Oakland.
This is a team that has repeatedly mocked for playing no home games because of the typical fan breakdown in the StubHub Center stands. During this span, the mocking has merit.
"This is something we need to take advantage of," Pouncey said. "We already feel like we're a close group. We've built a lot of team chemistry. But we need to continue to grow that. We've got to embrace this."
He does understand and not just because of his experience playing in London. At the start of last season, Pouncey was displaced with the rest of his Miami teammates because of Hurricane Irma.
The Dolphins trained for a week in Oxnard in advance of playing the Chargers and then went into StubHub Center and won 19-17.
"It was one of the best experiences I've had in my career," Pouncey said, "because we got to spend so much time together as a team."
That's what the Chargers are experiencing today, even if their starting tight end isn't terribly thrilled about the whole experience.
Green said his big plans for London include bringing along his Xbox and catching up on NBA 2K.
"I've seen all I need to see in the movies, all the James Bond movies and all that," he said. "So I'm good."
Injury updates
Right tackle Joe Barksdale was not on the Chargers' first injury report of the week, suggesting he'll return Sunday. He has been out since early in the season opener because of a knee problem. … The players who were limited in practice Wednesday included linebacker Jatavis Brown (groin), receiver Travis Benjamin (foot) and kicker Caleb Sturgis (quadriceps), each of whom has missed game time recently. … Pouncey (knee), Green (rib) and defensive tackle Damion Square (shoulder) also were limited.
Twitter: @JeffMillerLAT
---
Get the latest on L.A.'s teams in the daily Sports Report newsletter.
You may occasionally receive promotional content from the Los Angeles Times.