Matt Slauson brings versatility and experience to the Chargers' offensive line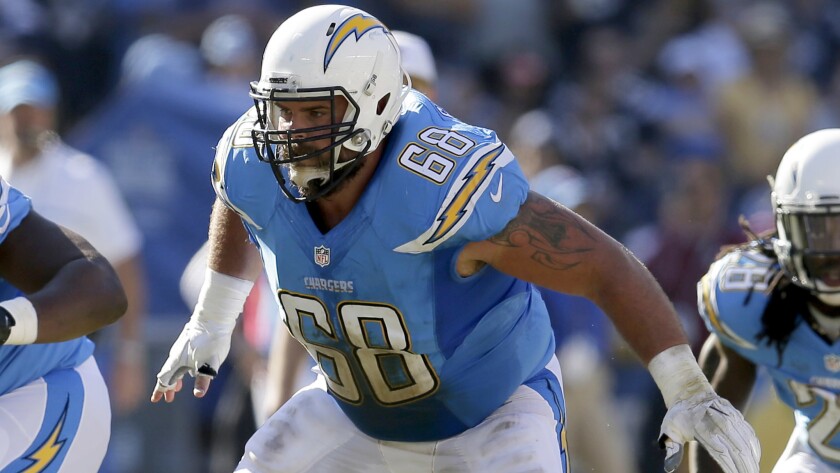 Reporting from san diego —
Following one of the Chargers' final minicamp practices of the summer, Matt Slauson found some shade and started to work through all the tape holding his gear in place. His ankles, wrists, fingers — there was more Scotch than skin, and the process looked tedious.
But asked about the players who had the greatest impact on him, Slauson ran through a list of former teammates with ease.
"Branden Moore, Nick Mangold, Alan Faneca, Damien Woody …"
One by one, he named the players more experienced than he was when he walked through the door into the New York Jets' offensive line meeting room after being picked in the sixth round of the 2009 draft.
"Every day I think about those guys and what they taught me," Slauson said. "It's why I'm still in the game today — because of them."
Now entering his eighth professional season, Slauson is in a position to pay all of that forward.
The Chargers will enter this season with an overhauled offensive line. Three starters from last year, tackle King Dunlap and guards Orlando Franklin and D.J. Fluker, have been released. Three of the team's seven draft picks were used on offensive linemen. Their biggest offseason acquisition, Russell Okung, plays left tackle.
The shake-up was in the works nearly all offseason, with coach Anthony Lynn talking about it during the NFL scouting combine in March and at the league's annual meetings later that month.
"We're going to play around with that puzzle," he said of the line.
The puzzle, it turns out, gets easier to solve when you have a player such as Slauson.
While playing for Nebraska in college, Slauson moved all over the offensive line. His role with the Jets was on the interior, where he played left guard. That remained his primary position until he started a handful of games at center for the Chicago Bears.
After they released him, Slauson signed with the Chargers and took to his new position, snapping the ball to Philip Rivers on nearly every down during the 2016 season. This offseason, he's slid back to left guard, with Spencer Pulley and rookie Dan Feeney taking the bulk of the first-team reps at center.
"Every young guy is taught when you come into the league, if you're not the solidified starter in one spot, you've got to be able to play them all," Slauson said. "Even now, that's what we're telling guys. … You have to play all over the board. And I believe it helps a lot. Then you get to learn the offense and what we're trying to accomplish as a group instead of just learning that one spot."
While Lynn said it's difficult to evaluate offensive line play before the team puts on pads and starts hitting, the new group of linemen is building a foundation for some necessary continuity and cohesion.
"Everything we're doing now is building toward that. Now, when the pads come on, the timing is going to be a little bit different," Slauson said. "But right now, I'm getting to learn how Russell works, how he wants to step. He's getting to learn my timing of getting into a fit and how we communicate together. All that stuff is really important at this time. Now when the pads come on, everything is going to get notched up a little bit."
Versatility on the line was something the Chargers clearly wanted in their young offseason acquisitions. Second-round pick Forrest Lamp starred at tackle before moving inside to guard this summer. Feeney, a third-round pick, played all three positions in college at Indiana, and sixth-round selection Sam Tevi can work at either right or left tackle.
Lamp and Feeney, in particular, have impressed Slauson with their instincts and aggression — two of the most important qualities in an offensive lineman.
"They play great with their hands and that's really hard for young guys to do — to have the confidence to throw your hands out there and really try to get all over a guy," he said.
Young linemen often will be more reactive to the defense, trying to figure out where their assignment is going instead of simply knocking him off course right away.
"These young guys are all about taking the fight to them. It's really impressive that they already have that demeanor," Slauson said. "As far as how they move and react, when things start really going and [opponents are] throwing exotic blitzes, they react in the correct ways. That just doesn't really happen."
To some extent, their long-term success will be contingent on Slauson's ability to convey the lessons he learned from the vets in New York, lessons he's used to make his job on the offensive line a career.
"I think a lot of it is just the 'want to' of the younger guys, looking at the older guys and asking, 'What did they do that got them here?'" he said. "It's trying to emulate those kinds of guys. And, obviously, versatility is huge, but it's also how they approach the game, how they approach every day, how are they a pro, what does being a pro mean and what does that look like. It's just doing that.
"…Ten years down the line when I'm done, when I'm watching them play from the couch, I'm going to be like, 'I was a part of it.'"
Twitter: @DanWoikeSports
---
Get the latest on L.A.'s teams in the daily Sports Report newsletter.
You may occasionally receive promotional content from the Los Angeles Times.