Chargers say they will build around, not look to replace, Melvin Gordon
Reporting from Indianapolis —
If you're looking for a special place to make a long-term commitment to a significant other, you can do better than the NFL scouting combine inside a convention hall in downtown Indianapolis. But romance aside, what Chargers coach Anthony Lynn and general manager Tom Telesco said Thursday about running back Melvin Gordon probably sounded pretty good to the former first-round pick.
Telesco said while the team hasn't spoken to Gordon about a contract extension or their fifth-year option for 2019, he's not going anywhere. And, Lynn, a former running backs coach, said that's more than fine with him.
"The way he finished the season, I'm very comfortable [with Gordon]," Lynn said. "I thought he was one of the best runners in the game the last four weeks. It just seems like the bigger the game, the better he plays."
Gordon rushed for 1,105 yards last season and caught 58 passes for 476 yards — all career highs. In the last four games — three wins — he averaged 4.29 yards per carry.
He dealt with some knee pain early in the season that limited some of his effectiveness, and as the year went on, the team limited his practice reps.
"We're going to have to monitor that knee a little bit," Lynn said. "He was gimpy at the beginning of the season, I think, because he maybe pushed too much in training camp. Being around him for a year and knowing what he can handle, we'll just have to do a better job of that."
That doesn't mean the Chargers aren't in the market for another running back.
While undrafted rookie Austin Ekeler had 615 total yards in limited opportunities over 11 games last season, Lynn said he wants the Chargers to find more help for Gordon and the rushing attack.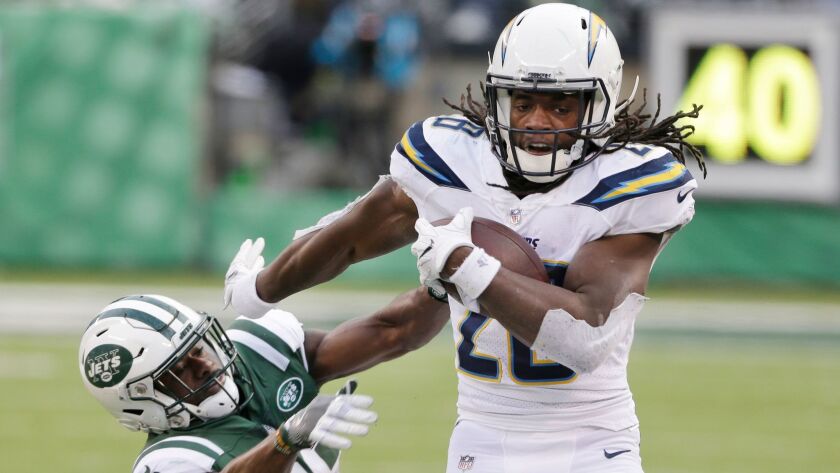 "I think Austin did a heck of a job last year, but, I like to have a tandem backfield. I think when it was DeAngelo Williams and Jonathan Stewart [with Carolina], I loved the way 10 years ago they started that attack out of the backfield. It was two different skill sets. It keeps the defense off balance. And any time you can attack a defense that way, why wouldn't you?
"I played in the backfield with Terrell Davis and he carried the ball 400 times a year. You can't be at your best 400 times a year. You're going to have to take some time off. When you have two guys doing it, I think you have a better chance of having a better rushing attack."
But, is that Ekeler or is it someone in this deep crop of running backs in the 2018 draft?
"I think Austin can compete for that spot, but we need to get someone else who can compete for that spot as well," Lynn said.
Lamp in Lynn's plan
The Chargers' second-round pick a year ago, guard Forrest Lamp, didn't play a single snap last season because of a knee injury he suffered early in training camp.
But, despite only having a limited number of days to practice with the offensive line, Lamp would've been in position to win the team's right guard spot, Lynn said.
"Losing Forrest last year was big. I saw enough in a week to know what he could've done for the rest of the season," Lynn said. "He's working his way back right now. He's not quite back yet. With him back in the lineup at that right guard position, I'm expecting him to pick up where he left off last year."
Lynn also mentioned the possibility of re-signing veteran Matt Slauson to play left guard, which could kick the Chargers' third-round pick last year, Dan Feeney, over to center.
"Dan could be an elite center in this league," Lynn said. "If Slauson comes back and can hold down the left guard spot, we'll see."
Lynn said the team would like to keep free agent Kenny Wiggins, who started at right guard with Lamp sidelined last season.
"We like him. I think he played well enough where he's going to get some interest. But, we'd love to have him back," Lynn said. "You don't want lose offensive linemen, especially guys who know the system, the terminology."
Bosa gets located
For the better part of his two-season NFL career, Chargers edge-rushing terror Joey Bosa played with a dislocated finger on his right hand. He suffered the injury early as a rookie and played with it for all of the 2017 season.
It didn't stop him from earning a trip to the Pro Bowl after finishing last season with 12.5 sacks, though he didn't play in the game.
Bosa, the team confirmed, had the finger surgically repaired this offseason and should make a full recovery in time for the start of organized team activities in May.
Etc.
Lynn again said his preference would be for the Chargers to find a young kicker who could "grow with the organization." Earlier this offseason, the team signed former second-round pick Roberto Aguayo, 23, to a reserve/futures contract. The Chargers are expected to have a kicking competition in training camp after using four kickers last season .… While not putting a timetable on the Chargers' injured players, Telesco did say former Pro Bowl cornerback Jason Verrett is "on track" after missing all but one game last season because of a knee injury .… Tight end Hunter Henry, who suffered a lacerated kidney late in the season, is expected to be with the team for the beginning of their offseason conditioning program in April.
Twitter: @DanWoikeSports
---
Get the latest on L.A.'s teams in the daily Sports Report newsletter.
You may occasionally receive promotional content from the Los Angeles Times.