Column: Mike Williams is finally healthy and the Chargers are getting him the ball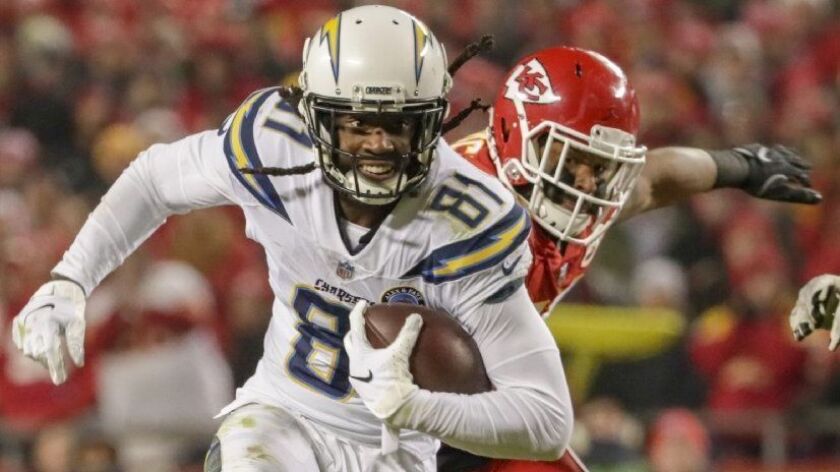 As Mike Williams remembers it, quarterback Philip Rivers' message was simple. The Chargers had nearly erased a 14-point deficit in the fourth quarter at Kansas City last Thursday, clawing back within a point on Williams' one-yard TD catch with four seconds left.
Rivers had no doubt about what would happen next. Because he was so certain, Williams didn't doubt it, either.
"He said, 'Let's end it right here. Let's go for two, let's end it right here,'" Williams said. "I was with it. Let's go for two. We came this far, we haven't won in what, nine games or so, let's end this streak right now, and that's what we did."
That's exactly what they did. Williams, surprised but happy to find himself shockingly open in the right corner of the end zone, caught Rivers' pass for the two-point conversion that gave the Chargers a dramatic 29-28 victory and ended their nine-game losing streak against the Chiefs. It was a statement game for the Chargers, who clinched a playoff berth.
It was an equally emphatic statement for Williams, who caught two touchdown passes and dashed 19 yards for his first career rushing TD, making him the third wide receiver in team history and first since Tim Dwight in 2002 to record a receiving touchdown and a rushing touchdown in the same game.
"This is the Mike Williams that we drafted," coach Anthony Lynn said Monday.
It was the Williams no one saw last season because back and knee injuries limited him to 10 games and 11 receptions for 95 yards. Now healthy, he's able to use his 6-foot-4, 220-pound frame to its full advantage, going up and fighting for contested balls and often winning those battles.
"This year, I'm just looking at it as a fresh start, to come out here and show everybody what I'm capable of doing," he said.
With Keenan Allen sidelined during the Kansas City game because of a hip problem, Williams showed his range with career highs in receptions (seven) receiving yards (76) and touchdowns (three). That included his execution of a sweep for a TD run, making some deft cuts and capitalizing on good blocking.
"It was lit," running back Melvin Gordon said in admiration, and he wasn't the only Charger impressed by Williams' talents.
"The man's caught nine touchdowns this season and this two-point conversion. Nobody in the locker room doubted why he was picked seventh, but if anybody had any questions, he's answered those this season," Rivers said after the comeback win.
Williams had been building up to that, to again being the clutch player who caught eight passes for 94 yards and a touchdown in Clemson's national championship victory over Alabama. A neck fracture in the opening game of his junior season kept him off the field and led him to redshirt, but he came back to catch 98 passes for 1,361 receiving yards and 11 touchdowns as a junior at Clemson and fuel the Tigers' run to the national title. He was the second wide receiver taken in the 2017 NFL draft, after Tennessee chose Corey Davis out of Western Michigan at No. 5.
The Chargers had high hopes for him. Williams had big hopes for himself. But hope and reality don't always intersect.
Gordon, who was the No. 15 pick in 2015 but lost part of his rookie season to a knee injury, saw the parallels between their experiences. Gordon also saw eerie similarities in photographs of each of them devastated by his injury and was compelled to offer Williams some encouragement.
"You didn't score no touchdowns, I didn't score no touchdowns. You had high expectations, as well as I did. To people, you really didn't meet them," Gordon said of their conversation. "I was like, 'Bro, I understand. I feel your pain. You've just got to grind. This is going to be a better year for you.' So me seeing him with all the success he's getting now, I'm just so happy for him because people don't know how tough it is with all those expectations, just being yourself, being a top pick and being a great player and not producing the way you want."
Those days are in the past for Williams, who has 37 receptions for 592 yards and nine touchdowns, plus his first-ever rushing TD. The statement he made against the Chiefs wasn't his first. He hopes it won't be the last.
"I feel like I was showing that since the beginning of the season, just coming out, being an available option to go out there and make plays for my team," Williams said. "For sure, confidence comes with just making plays out there on the field. Confidence is building a lot."
That's true for him and for the Chargers. Lynn and his players repeatedly have said the team is capable of doing something special this year, but everyone says that. They're actually doing it. "For sure. We've all seen it since camp," Williams said. "Last year was a few plays away from being in this same position. It was a few kicks away from being like this last year. Now we're making the kicks and making the plays so the record is showing it and the team chemistry is building up."
Follow Helene Elliott on Twitter @helenenothelen
---
Get the latest on L.A.'s teams in the daily Sports Report newsletter.
You may occasionally receive promotional content from the Los Angeles Times.