Chargers aren't giving any hints about how they'll approach NFL draft
Chargers general manager Tom Telesco opened his predraft news conference Monday afternoon with a plan.
It was a chance to acknowledge the scouting department for the work it has done in the build-up to the 2018 NFL draft — a massive project full of nights in hotels, mornings on planes and days after days drowning in paperwork.
It was also a massive filibuster.
Come draft time, there's not too much for Telesco to say. He's been in and around draft rooms his entire career and, while there are new lessons to be learned every year, there's one constant for Telesco — the less said the better.
In a lot of ways, the NFL draft is a 32-handed poker game with each player holding their cards as close as possible, worried that the slightest word or movement would let the secret out.
So Monday, after naming his scouting staff — which deserves recognition for the enormous amount of work expended — Telesco spoke in vague terms about the draft.
After beginning with a pool of more than 3,000 prospects and sifting through more than 1,000 scouting reports, the lists have been narrowed to a more manageable draft board.
From that, Telesco was able to parcel some bits of information — or maybe it's misinformation, who knows? — about what he expects to see Thursday, Friday and Saturday during the draft's seven rounds. The Chargers own the 17th pick in the first round, and also have picks in each of the following six rounds.
Telesco believes the talent is a little heavier on defense.
"But it's one of those things if you asked another team, they could give the exact opposite answer," he acknowledged.
Offensively, Telesco wasn't sure how this group of quarterbacks compared to past classes — but it's a group he likes.
"I'm so focused on this year's class it's hard to compare. I will say it's a deep class, not only in the first round but some other rounds as well," Telesco said. "We've seen it the last couple of years, the quarterback classes have been pretty good. Guys are coming into the league and playing a little bit quicker than they used to."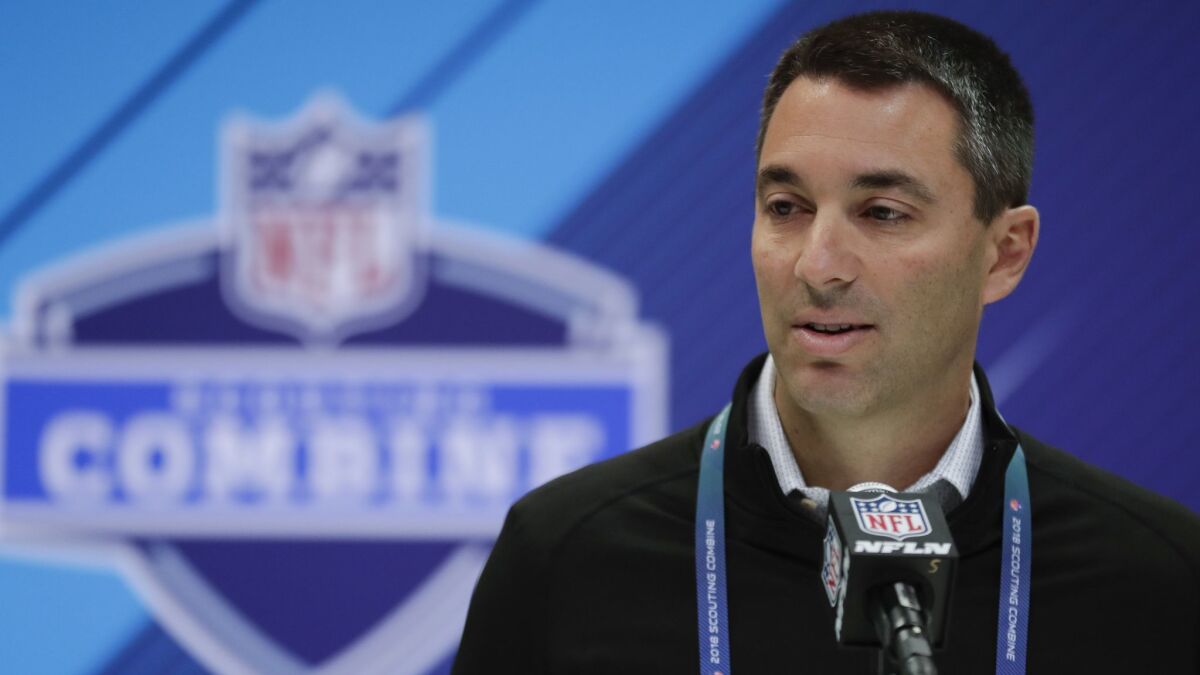 So that means the Chargers want a quarterback, right? One who can replace Philip Rivers sooner rather than later, right?
Well, not really.
"The great thing right now is that we're very happy with Philip. He's our quarterback, hands down, rest assured, for this year and hopefully beyond," Telesco said. "But we always have to have an eye on the future. That's part of our job. There are a lot of other areas on our football team that we'd like to add to, too."
When pressed on those areas, Telesco slipped out of a tackle like Louisville quarterback Lamar Jackson — who the team may or may not like.
"I'm telling you our needs change quickly and often," Telesco said. "Sometimes, you don't anticipate a need changing. It's hard going into a draft saying we have to address these three or four needs because those needs might be different in August and different in October. We also have to draft thinking not just 2018. You have to be thinking down the road."
While Telesco wouldn't say which players the Chargers would take, he did say what kind of players they want — albeit in vague terms.
The Chargers want players with high football IQs. They want competitive people who love football and want to work hard.
And they want them to be good.
"We're trying to win here and we want to win with the right people," Telesco said. "And I think if you have the right people, they can handle adversity. And if things get tough, a lot of times the guys who don't have the character you want are the first guys to go south on you. You can't rely on them, and you need people you can rely on.
"That's what we've tried to build here. It takes time. You're not going to be 100% right on players. But we want guys who can handle that adversity. We need talent as well. We're not going to just take a bunch of guys that are really hardworking and know football but can't play."
Answers are coming — no one can stop that from happening — but they won't come until Thursday when the Chargers make their first pick.
Etc.
Linebacker Mike Moore has been waived, the Chargers announced Tuesday. Signed as an undrafted rookie out of Kansas State in 2017, he spent last season on the reserve-injured list.
Twitter: @DanWoikeSports
---
Get the latest on L.A.'s teams in the daily Sports Report newsletter.
You may occasionally receive promotional content from the Los Angeles Times.