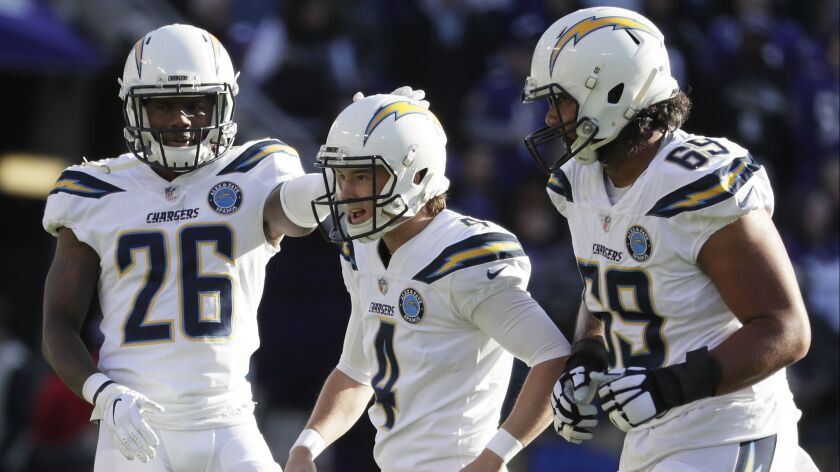 As the Chargers prepare for the NFL draft, The Times will examine their roster. Part 4 of 8: Special teams.
Instead of an Achilles' heel, the Chargers had an Achilles' entire foot for far too long.
Then a former-mullet-wearing rookie named Michael Badgley showed up last season and solved the team's lingering nightmare at kicker.
After arriving in Week 6 following an injury to Caleb Sturgis, Badgley eventually won the starting job and settled what had been the Chargers' most turbulent position over the past two seasons.
He is the only pure kicker on the roster at the moment — although teams typically bring in competition for training camp — the Chargers' hope being Badgley would do nothing but tighten his grip on the job.
The one area they would like Badgley to improve, and coach Anthony Lynn has said he believes it will happen, is on kickoffs. They signed veteran Nick Rose to handle that assignment against New England in the playoffs.
Punter, however, is the kicking job that is now less certain. Drew Kaser was the starter last season until being replaced by Donnie Jones, a veteran the Chargers coaxed out of retirement.
They signed Ty Long from the Canadian Football League immediately after the season, the former Alabama-Birmingham player one option to also kick off. Long spent the past two years with the BC Lions, serving as their punter and kicker. He led the league with an average of 48.3 yards per punt over that span and also converted 82 of 93 field-goal attempts.
The Chargers have had the same long snapper for nearly nine years. Mike Windt joined the team midway through the 2010 season and has been a fixture since.
He's a lot like Philip Rivers in that regard, only Windt's passes go between his legs.
Last week, the Chargers signed Cole Mazza to compete with Windt after the Alliance of American Football fell apart. Mazza played collegiately at Alabama and then for the Birmingham Iron.
Under contract for 2019: Returner Travis Benjamin ($6.5 million), long snapper Mike Windt ($1.085 million), returner Desmond King ($715,000), kicker Michael Badgley ($570,000), punter Ty Long ($495,000), long snapper Cole Mazza ($495,000).
Free agents: With limited cap space, the Chargers still could attempt to add to their training camp depth in hopes of finding some help on special teams. Veteran linebacker Nick Dzubnar, signed as an undrafted free agent in 2015, has emerged as one of their top special-teams players.
Draft: Few teams can boast more success signing useful undrafted players than the Chargers. This is one area where general manager Tom Telesco's regime has excelled. Following the 2019 draft, expect the team to again add players who will end up contributing, particularly on special teams.
Sign up for our daily sports newsletter »
Roster decisions: Cornerback Desmond King increased his already emerging value last season with his ability to return both kickoffs and punts. He was easily the Chargers' top weapon and earned All-Pro honors. In an attempt to avoid overusing King, the team could try to employ wide receiver Travis Benjamin more as a returner in 2019. Benjamin was slowed by injury a year ago.
NEXT: Offensive line.
Twitter: @JeffMillerLAT
---