Chargers face totally different task against Tom Brady and New England Patriots
After spending last Sunday afternoon in the football equivalent of a high-speed chase, the Chargers defense can downshift to a lower gear against 41-year-old Tom Brady and the New England Patriots in Sunday's divisional playoff game at Foxborough, Mass.
While Brady is one of the best quarterbacks in NFL history, he is nowhere near as dangerous with his legs as Ravens rookie Lamar Jackson, the fleet-footed and elusive read-option quarterback whom the Chargers went to great lengths to contain in their 23-17 wild-card win at Baltimore.
Brady is a classic drop-back passer with the speed of a Roomba vacuum. He has rushed 580 times for 1,003 yards in 17 seasons, an average of 1.7 yards per carry. Jackson rushed for 695 yards in eight games this season and challenged the aerobic capacity of the Chargers with his scrambling ability.
"It's night and day, no doubt about it," Chargers coach Anthony Lynn said. "But we've faced more Brady types than Lamar types, so we've had reps at this all year. Our defense is about being in the positions we're supposed to be in, doing the details of our assignments and playing fast."
The Chargers countered Jackson's speed with quickness, using seven defensive backs — with safeties Jahleel Addae and Adrian Phillips at inside linebacker — and four linemen on 58 of 59 defensive snaps, according to NFL Next Gen Stats.
They sacked Jackson seven times, limited him to 54 yards rushing and bottled him up for three quarters before Jackson engineered two touchdown drives in the final nine minutes.
The Patriots' David Harris and Lawrence Guy wrap up Chargers quarterback Philip Rivers in the fourth quarter.
(Jim Rogash / Getty Images)
New England Patriots defensive back Brandon King (L) and New England Patriots cornerback Jonathan Jones (C) tackle Los Angeles Chargers wide receiver Travis Benjamin (R) in the end zone for a safety.
(John Cetrino/EPA-EFE/REX/Shutterstock / CETRINO/EPA-EFE/REX/Shutterstock)
Darius Philon the Chargers tackles Patriots quarterback Tom Brady during the fourth quarter.
(Jim Rogash / Getty Images)
The Chargers' Keenan Allen catches a pass as he is defended by the Patriots' Johnson Bademosi during the third quarter.
(Jim Rogash / Getty Images)
Tyrell Williams of the Chargers catches a pass as he is defended by the Patriots' Jonathan Jones during the third quarter.
(Jim Rogash / Getty Images)
The Chargers' Desmond King tackles the Patriots' Tom Brady during the third quarter.
(Jim Rogash / Getty Images)
The Patriots' Tom Brady throws as he is tackled by the Chargers' Joey Bosa during the second quarter.
(Jim Rogash / Getty Images)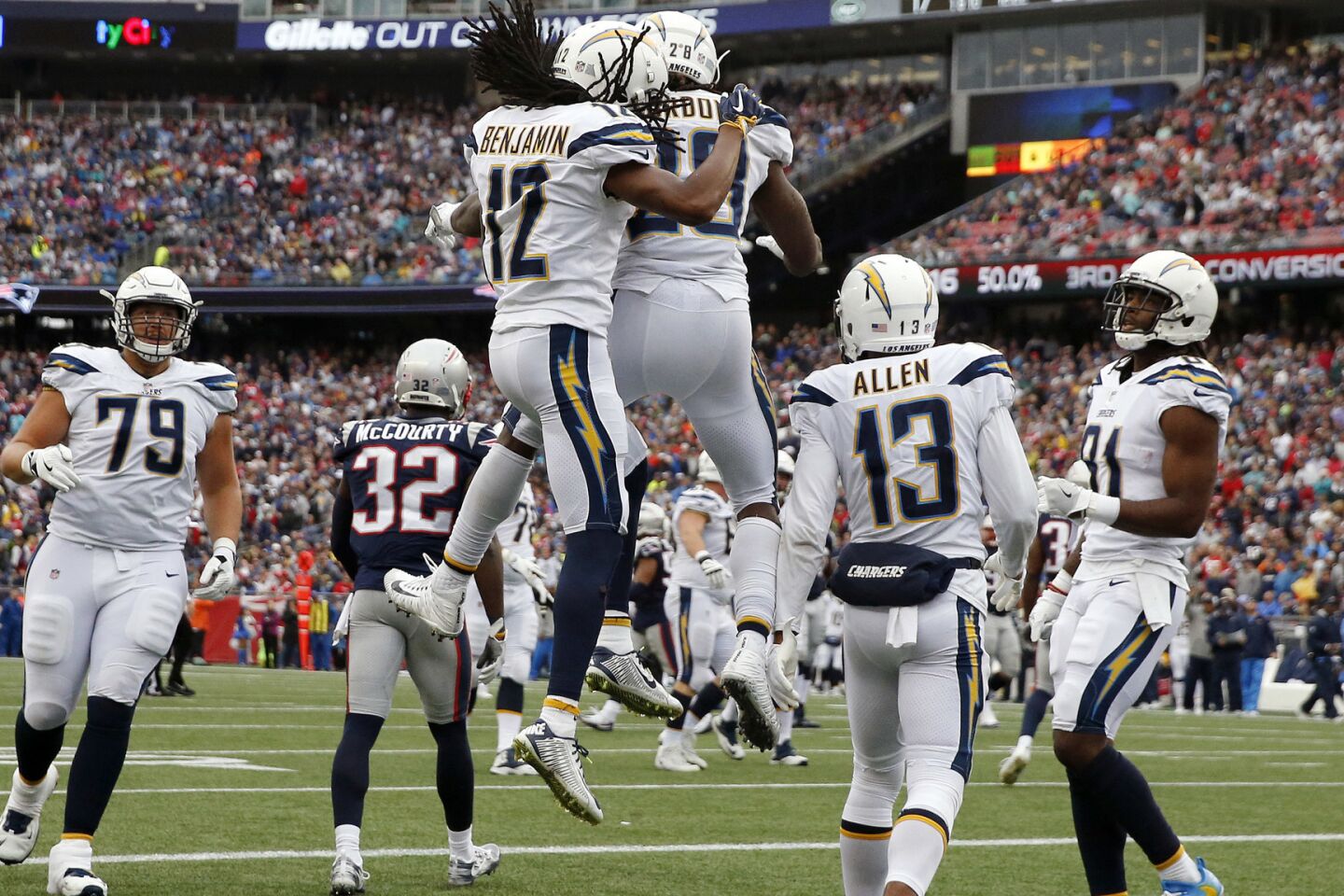 Chargers wide receiver Travis Benjamin leaps to celebrates his touchdown catch with Melvin Gordon during the second half.
(Michael Dwyer / Associated Press)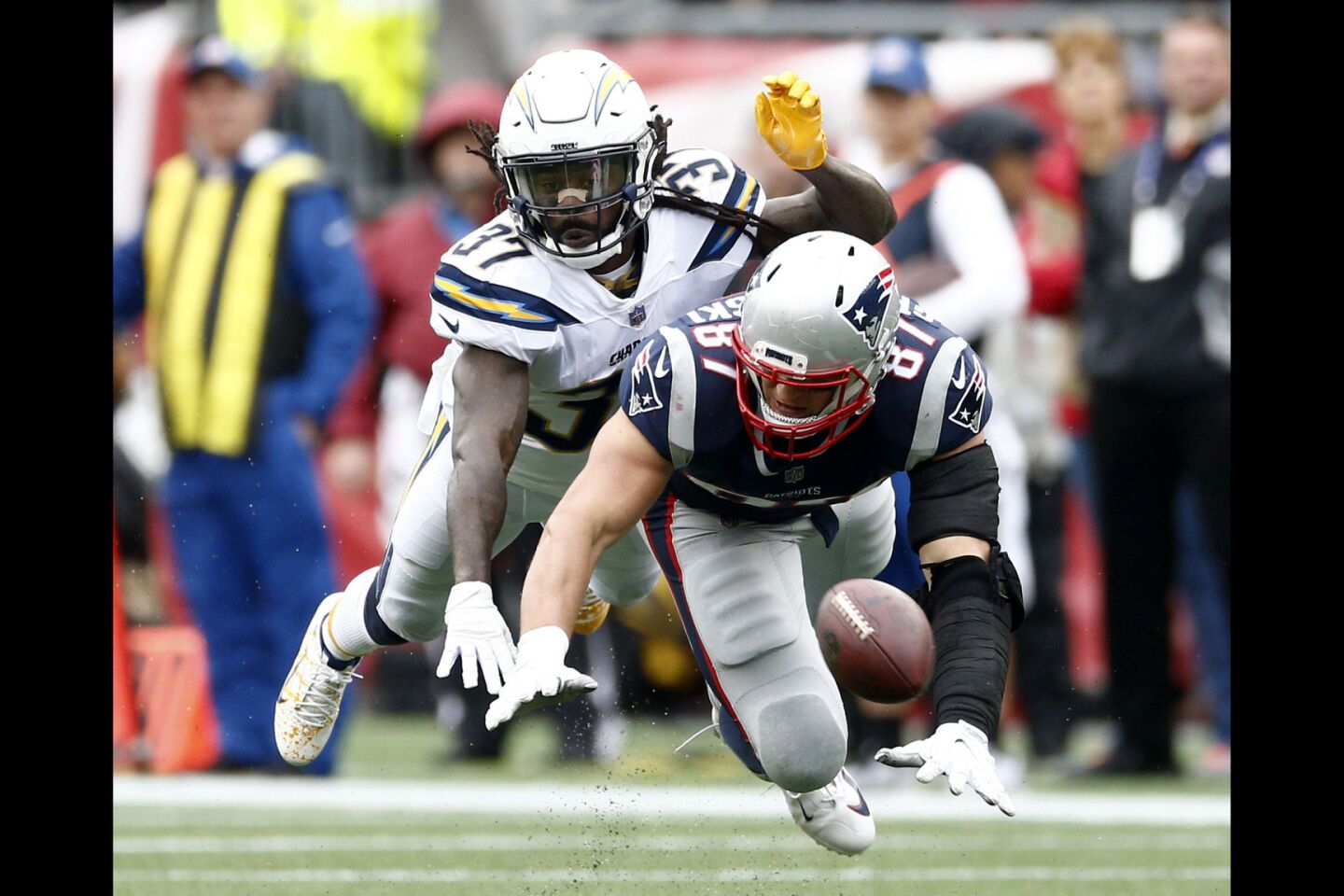 Patriots tight end Rob Gronkowski is unable to make the catch as the Chargers' Jahleel Addae defends during the first half
(CJ Gunther/EPA-EFE/REX/Shutterstock)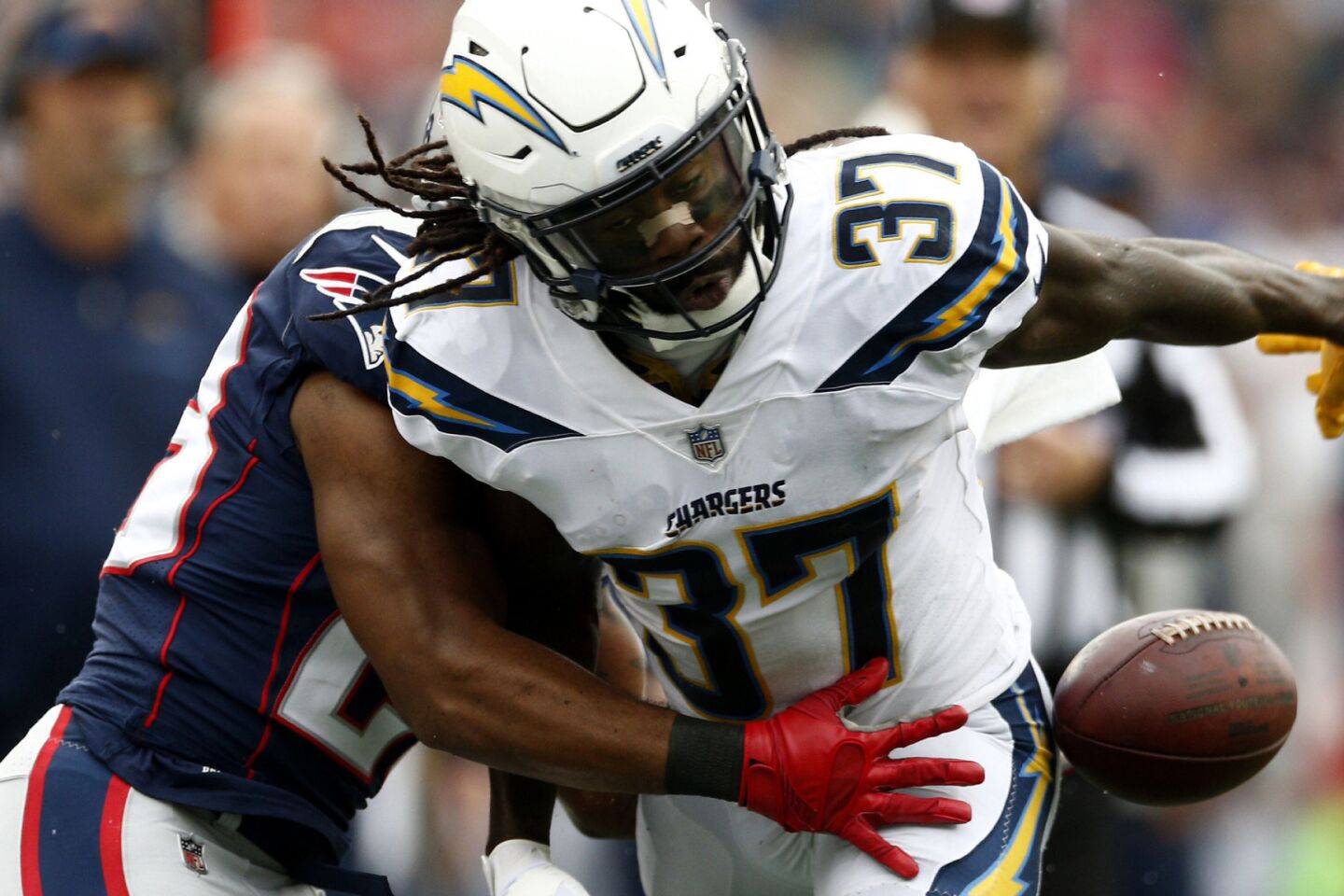 Chargers strong safety Jahleel Addae, right, interferes with a catch attempt by Patriots running back James White during the first half.
(CJ Gunther/EPA-EFE/REX/Shutterstock )
Patriots strong safety Patrick Chung chases Chargers running back Melvin Gordon as Gordon runs for a touchdown during the first half.
(John Cetrino / EPA)
Chargers free safety Tre Boston, left, and cornerback Trevor Williams, right, break up a reception attempt by New England Patriots wide receiver Brandin Cooks during the first half.
(John Cetrino/EPA-EFE/REX/Shutterstock)
New England Patriots wide receiver Danny Amendola is tripped up by Los Angeles Chargers defensive back Desmond King during the second half.
(CJ Gunther/EPA-EFE/REX/Shutterstock)
The "7-Eleven scheme," which also was necessitated by injuries to several linebackers, was the perfect antidote to Jackson, but will the Chargers stick with it against Brady and the Patriots?
"That's what we're working through now," Lynn said Monday. "We're gonna figure out the best way to attack New England in all three phases."
Brady, as with the team he leads, has had a good but not great season by his lofty standards. He's completed 375 of 570 passes for 4,355 yards, with 29 touchdowns and 11 interceptions, but ranked 12th in the NFL with a 97.7 quarterback rating, the first time since 2014 his rating fell below 102.2.
His pedigree still carries great weight. Brady has won five Super Bowls. He's led the Patriots to the playoffs in 15 of the last 17 years and to the AFC championship game seven straight years. He's a four-time Super Bowl most valuable player and three-time NFL MVP.
"He's the GOAT, we all know that," Addae said, using the acronym for greatest of all time. "He's going to be prepared, and they're going to be prepared, so it will be a showdown. But we're not fazed at all. We're grown men now. We're confident."
The Chargers (13-4) are emboldened by their 8-0 record away from Los Angeles and road wins at Seattle, Pittsburgh, Kansas City and Baltimore.
The Patriots (11-5) are 8-0 in Gillette Stadium and are 4½-point favorites, but appear vulnerable because of a shortage of weapons surrounding Brady and the inconsistent play of their linebackers and defensive backs.
New England ranks fourth in points per game (27.3) and fifth in yards per game (393.4) but 13th in third-down efficiency (40.8%) and 15th in red-zone efficiency (59.7%).
The Patriots had a plus-111 point differential this season, but 110 points came in the weak AFC East, against Miami, Buffalo and the New York Jets. New England was 6-4 outside the division.
Tight end Rob Gronkowski, a four-time All-Pro selection who considered retiring after last season, has 47 catches for 682 yards, his second-lowest totals in a season in which he's started at least 10 games. Slot receiver Julian Edelman has 74 receptions for 850 yards and six touchdowns but has dropped several passes and, because of a foot injury, has not displayed his usual explosiveness.
New England's best deep threat, Josh Gordon, was suspended indefinitely by the NFL in December, and receiver Chris Hogan (35 catches, 532 yards) has been invisible for much of the season.
The Patriots do have a solid offensive line, which has allowed 21 sacks, the third fewest in the league, and an effective running game behind rookie Sony Michel (931 yards, six touchdowns). Running back James White is a reliable two-way threat with 1,176 receiving and rushing yards and 12 touchdowns, and he has never fumbled in an NFL game.
Defensively, the Patriots rank seventh in points (20.3) and 21st in total yards (359.1) allowed per game, and they've registered only 30 sacks, third fewest in the league. They gave up 34 points in a loss to Miami and 31 in a 10-minute span of the second half against Kansas City. They've struggled against teams that are effective throwing to running backs and tight ends, like the Chargers.
Some longtime observers rate these Patriots as one of the five worst teams in the Brady-Bill Belichick era.
Of course that's relative, like digging into a box of See's candies and picking a chocolate-covered peanut nougat. It's not the coveted Scotchmallow, but it's still pretty darn good.
"They're the Patriots," Lynn said. "They have one of the best quarterbacks to ever play the game, and he's going to present a heck of a challenge. But really, it's about us, not them. We're going to have to play our best ball and not beat ourselves because that's something they do well. They don't beat themselves."
Self-inflicted wounds killed the Chargers in a 21-13 loss at New England last season. Travis Benjamin muffed a punt, which resulted in a safety, the Chargers had two touchdowns negated by penalties and they missed several tackles.
The Patriots ran 82 offensive plays and held the ball for 36 minutes 59 seconds compared with 52 plays and 23:01 for the Chargers. Brady completed 32 of 47 passes for 333 yards and one touchdown and converted nine of 19 third-down plays.
The Chargers sacked Brady three times and got five other hits on him, but Brady did a good job of sliding to the side or stepping up in the pocket and getting rid of the ball quickly, usually with check-down passes to his backs in the flat.
Brady doesn't have the speed to extend plays with his legs like Jackson, but he has the experience and instincts to anticipate blitzes and evade rushers.
"He doesn't move far or fast, but he's very slick in the pocket," Chargers tight end Antonio Gates said after last year's game. "He knows how to slide to the right, slide to the left. He sees this coming, knows who is free, ducks his way out … and you're barely missing him.
"You don't expect that from a guy who's a pocket passer, but he's very agile in terms of being able to sit in that pocket and maneuver his way around."
Follow Mike DiGiovanna on Twitter @MikeDiGiovanna
Get the latest on L.A.'s teams in the daily Sports Report newsletter.
You may occasionally receive promotional content from the Los Angeles Times.