Chargers' Melvin Gordon, Patriots' James White used to run in same circles in college
Running backs Melvin Gordon of the Chargers and James White of the New England Patriots are so close that they refer to each other as "big brother" and "little brother," and Gordon spent much of last offseason at White's Fort Lauderdale, Fla., home.
College teammates for three seasons (2011-2013) at Wisconsin, the two buddies will be on opposite sidelines for Sunday's AFC divisional playoff game between the Chargers and the Patriots at Gillette Stadium.
"Since he set foot on the Wisconsin campus, we were always tight," White, 26, told reporters this week. "He's a good football player, a good person … I wish him the best of luck, but I hope he doesn't do too much on Sunday."
Gordon, 25, was one year behind White at Wisconsin. The two formed a dynamic duo in 2013, Gordon rushing 206 times for 1,609 yards and 12 touchdowns and White rushing 221 times for 1,444 yards and 13 touchdowns. The combined 3,053 yards set the FBS record for rushing yards by a pair of teammates.
"We split the ball his senior year," Gordon said. "We were going crazy."
White was much more than a college teammate. He helped Gordon navigate a difficult redshirt freshman year in which Gordon's father, Bo, was sentenced to 10 years in prison for his role in a northern Illinois cocaine-dealing ring.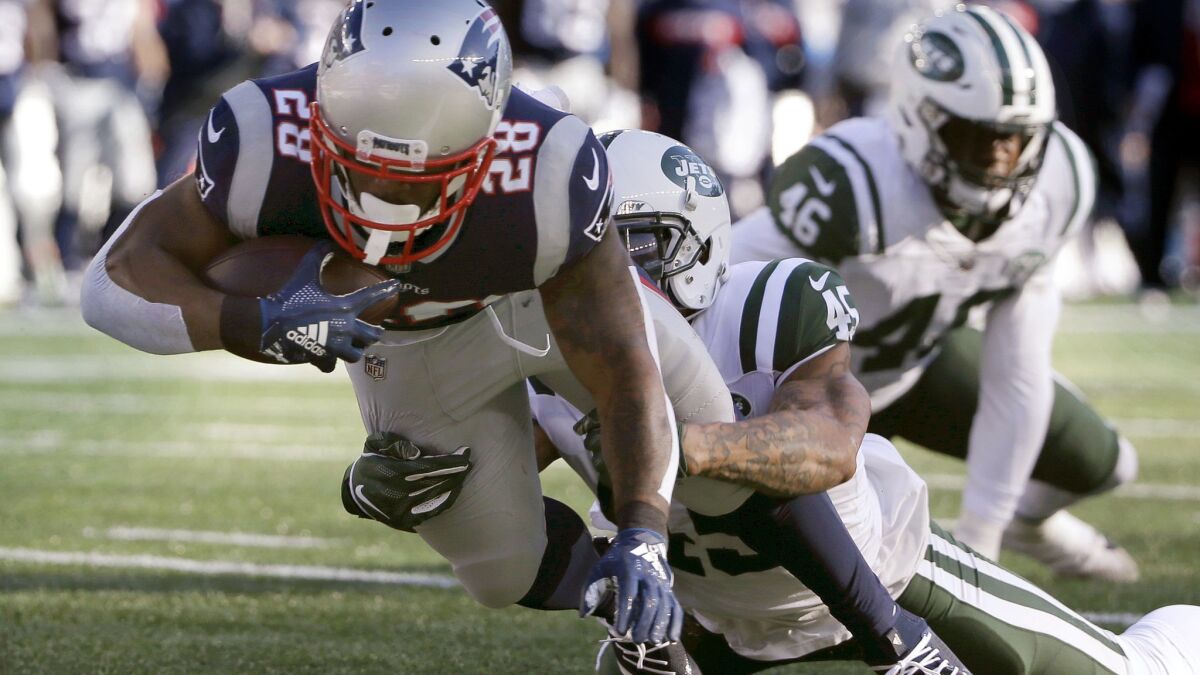 The sentence was reduced twice, and Bo — who served time in federal correctional institutions in Illinois, Minnesota and Ohio — was released in December 2016.
"He's like my big brother, man, a mentor," Gordon said of White. "He's been with me through some hard times, especially through college, and he's looked out for me."
Gordon and White will be able to keep a close watch on each other Sunday. Both are hard to miss. Gordon rushed for 885 yards and 10 touchdowns, and caught 50 passes for 490 yards and four touchdowns this season. White caught 87 passes for 751 yards, rushed 94 times for 425 yards and scored 12 touchdowns.
Sony Michel is New England's leading rusher with 931 yards in 209 carries and six touchdowns.
"He's so effective in the passing game," Gordon said of White. "He doesn't get that many opportunities to run the ball, which is unfortunate. He runs the ball well, but he kills people out of the backfield. He prides himself on winning those matchups with linebackers, so we have to be ready for him."
Gordon, who suffered a minor knee injury in last Sunday's wild-card win at Baltimore, returned to practice Thursday and said he will play Sunday. He had his best ground game of 2017 in a 21-13 loss at New England, rushing 14 times for 132 yards, including an 87-yard touchdown run.
Gordon and White will probably hug and wish each other luck before Sunday's game. They'll probably share a warm embrace afterward. One will move on to the AFC championship game. The other will go home.
"We know how great of a team they are," Gordon said, referring to New England's five Super Bowl wins and three other Super Bowl appearances since 2001 with Tom Brady at quarterback. "The Patriots in the regular season and the Patriots in the postseason … it's two different pictures.
"They're locked in, but we're a different team in the postseason as well. It will be an exciting matchup. To be the best you have to beat the best, and they've been the best for many years."
Etc.
Center Mike Pouncey was a full participant in Thursday's practice after sitting out Wednesday because of a thumb injury. Fullback Derek Watt (shoulder) was limited.
Follow Mike DiGiovanna on Twitter @MikeDiGiovanna
---
Get the latest on L.A.'s teams in the daily Sports Report newsletter.
You may occasionally receive promotional content from the Los Angeles Times.