Chargers seek the momentum of season's first winning streak when facing Raiders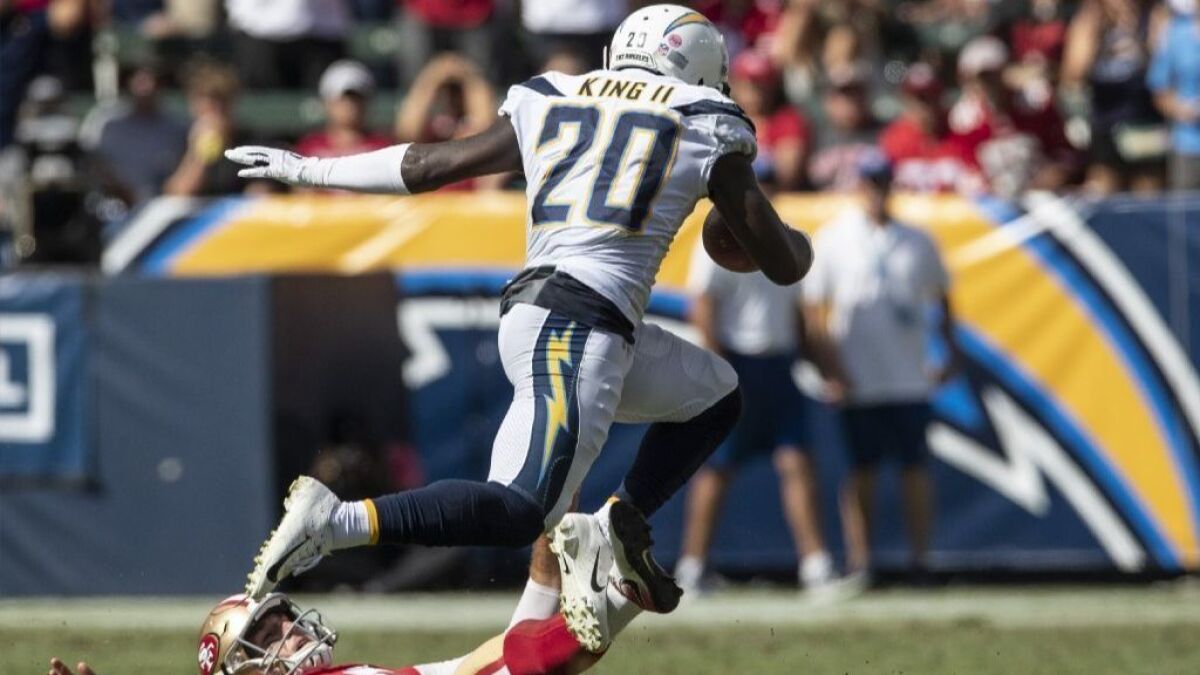 This is only the first weekend of October in a season guaranteed to last until the waning hours of 2018, but there's something oddly monumental in the prospect of the Chargers triumphing on Sunday.
If they beat Oakland at StubHub Center, it would mark just the fourth time since the start of the 2015 season — a span of 53 games — that they walk off a field with a winning record.
This is a team that needs to feel the sensation of back-to-back victories again.
"We've got to start stacking them up," running back Austin Ekeler said. "That's the key to this season. You can't start stacking without getting the first one. We have the first one. We need more now."
The Chargers have opened by going loss, win, loss, win — a pattern that has them advancing nowhere but into the earliest offseason possible.
They defeated San Francisco a week ago, setting up their opportunity to reach 3-2 against a Raiders team with a new coach and a new direction and meandering somewhere along the path of who they are and who they want to be.
The Chargers have shown glimpses of being more than good offensively and perhaps good enough defensively to validate their hopes of being a playoff participant.
Now arrives a chance for them to secure some genuine momentum in a once-a-week sport where momentum can be as hard to recover as a tumbling pigskin.
"I like to think about just getting a win this week," safety Adrian Phillips said. "You keep your head down and keep grinding and when you look up, next thing you know, you've got five or six wins in a row."
The 2017 Chargers won seven of nine starting in Week 5 to resurrect a lost season and eventually miss the playoffs in a tiebreaker.
This latest version won't necessarily need anything that dramatic, but a victory Sunday would help in establishing a pattern more befitting a group worthy of January football.
"I certainly think we're a totally different team than last year," quarterback Philip Rivers said. "We're at a different point … just playing a little better all the way around. But certainly, this is no time … to keep going win-loss, win-loss, win-loss."
The Chargers definitely have expressed the proper public respect for the Raiders, both Rivers and coach Anthony Lynn saying 1-3 Oakland could just as easily be 3-1.
But this is an opponent that has struggled preventing points while piling up a bunch of yardage itself. A week ago, Oakland surrendered 42 points to Cleveland and rookie quarterback Baker Mayfield.
The Raiders will, however, become the latest visiting team to experience StubHub's popular road-field advantage, in which visiting fans can have a vocal impact in the smaller stadium. Similar to when Oakland played in Carson last season, the game's atmosphere Sunday will have a backward feel to it.
In preparations during the week, both teams played artificial crowd noise during practices in an attempt to simulate an environment that in the NFL defies comparison.
"You wish it was the other way," Phillips said. "But I like it. It's more amped up to me. It turns me up even more. Anybody who's going against you or yelling for your downfall, yeah, it makes you want to shut them up even more."
So the Chargers have a chance, in a hostile home stadium, to make it two straight and rise above .500 for the first time this season. They have a chance to look like a team bound for more football in January.
Not only would a victory be important for their concerns, it could also impact their future opponents, something defensive end Isaac Rochell explained matters more than people might realize.
"Look at the [New England] Patriots," he said. "They've been such a dominant franchise for so long that they're winning games just on that. There's a mental component when a team starts winning each week. It's a real thing. You can beat people before the game even begins."
Way before any of that, you have to win two games in a row. For the Chargers, the opportunity is here.
Twitter: @JeffMillerLAT
---
Get the latest on L.A.'s teams in the daily Sports Report newsletter.
You may occasionally receive promotional content from the Los Angeles Times.