Chargers head to Denver with contrasting playoff scenarios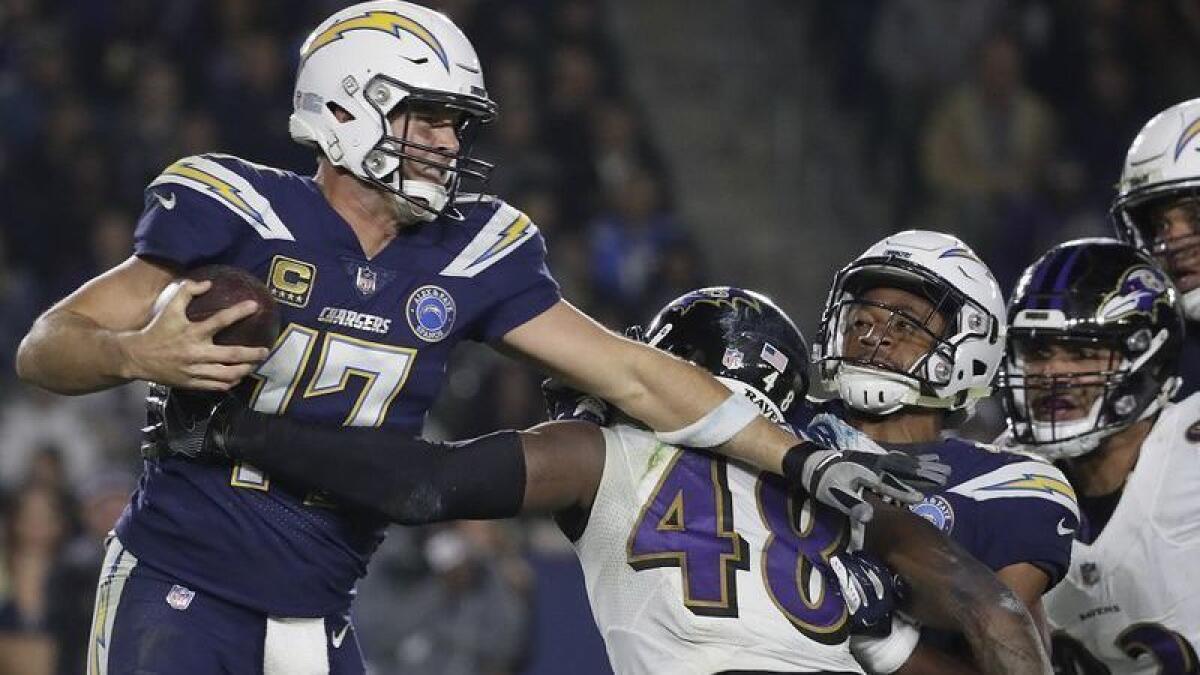 It seems fitting that the Chargers enter Sunday's regular-season finale at Denver with two disparate playoff scenarios: They'll either be the AFC's top-seed with a first-round bye or the No. 5 seed with a far more treacherous three-road-game route to the Super Bowl.
This has been a season of swing shifts for the Chargers, who are 11-4 thanks to several second-half comebacks and last-minute victories but could easily be 8-7 if not for a few tipped end-zone passes and two-point conversion attempts going their way.
"It just shows that there are a lot of good teams and how close it is," said veteran quarterback<bold> Philip Rivers, who said the players talk about how close they came to making the playoffs last season, and how close they came to maybe missing them this year.
"We made some big plays in some close games where that thing could be flipped. In the years we were 5-11, we used to say, 'Gosh, we're a few plays away from being 9-7.' I think a lot of teams are saying that."
Rivers includes the Broncos (6-9) in that group. Denver lost six of seven games before driving 76 yards in seven plays in the final two minutes and kicking a field goal as time expired for a 23-22 victory over the Chargers in Carson on Nov. 18.
The Broncos followed that upset with wins over Pittsburgh and Cincinnati to improve to 6-6, but they have since lost three straight to San Francisco (20-14), Cleveland (17-16) and Oakland (27-14).
"I had a feeling when they got out of here that day we played them and then they beat Pittsburgh that they were going to be sitting at 9-6 when we played them again," Rivers said of the Broncos.
"I was like, 'They're going to be 9-6 and we're all going to be right in the hunt.' It didn't happen that way, but it's a tough league. It's a week-to-week league. It's a one-score league, and you see it over and over again each and every week."
The Chargers know that as well as anyone. They've had seven one-score games this season, winning six of them, several in dramatic fashion.
They didn't secure a 29-27 win over San Francisco in Week 4 until safety Derwin James hit 49ers quarterback C.J. Beathard from behind, knocking the ball loose, and defensive end Isaac Rochell plucked the ball out of the air for an interception with 2 minutes, 31 seconds remaining.
The Chargers held on for a 20-19 win over Tennessee in London in Week 7 when safety Adrian Phillips tipped a Titans pass on a two-point conversion attempt with 35 seconds left.
Safety Jahleel Addae tipped a Russell Wilson pass intended for David Moore in the back of the end zone with no time left to end a 25-17 win at Seattle in Week 9, and Michael Badgley's 29-yard field goal with no time left ended a 33-30 comeback win at Pittsburgh in Week 13.
Defensive lineman Darius Philon sealed a 26-21 home win over Cincinnati in Week 14 when he sacked quarterback Jeff Driskel on a potential game-tying two-point conversion attempt with 1:50 left.
Rivers' one-yard touchdown pass to Mike Williams and his ensuing pass to Williams on a two-point conversion attempt with four seconds left gave the Chargers a 29-28 comeback win at Kansas City in Week 15.
The Chargers have gotten a few breaks along the way, but they've also built a foundation of confidence and fortitude that has helped them win so many close games, especially those in hostile environments such as Seattle, Pittsburgh and Kansas City.
They need a win or tie Sunday, plus a Chiefs loss to the Raiders, to win the AFC West and the No. 1 seed.
"I feel like we're a mentally tough team," Rivers said in response to a question about the Chargers' fourth-quarter execution in close games. "In those situations, we don't tend to get all worked up about it. We just say, 'Let's go find a way to finish.' There's a belief there. There's a mental toughness element to it.
"And I think you have to do it together to grow that confidence and belief. It doesn't mean you're always going to do it. We didn't get it done last week [in a 22-10 loss to Baltimore]. We didn't get it done against Denver. But we have done it a lot of other times. When you believe that, you always have a chance."
Bracing himself
Reserve running back Austin Ekeler, who missed the last two games because of a neck injury and a concussion, will return for Sunday's game wearing a protective neck brace. He hopes to boost an offense that produced just 10 points in last Saturday night's loss to Baltimore.
"My legs feel fresh, man," Ekeler said after Friday's practice. "I've been running and working out on the side. I feel like I'm in a little bit better shape now than when I left. I feel great. I basically took two weeks off and this is my first week back, so I'm real excited about this game."
Ekeler was injured while fielding an onside kick at the end of the Cincinnati game on Dec. 9. His neck was extremely stiff and sore for several days, and he also sustained some nerve damage, which caused a tingling sensation down his left arm. But his symptoms subsided enough to return to practice this week.
"I had to make sure I got all my rehab in and got cleared before I go back into a game," Ekeler said. "The neck is a sensitive area, and you don't want to mess around too much with your nerves. You want to make sure it's completely healed.
"I'll be wearing a collar to protect my neck a little more, to do everything I can to prevent that from happening again, because it could cause permanent nerve damage. That becomes bigger than football."
Etc.
Tight end Hunter Henry, sidelined all season because of right-knee surgery, increased his activity level this week. Asked if there is still a possibility Henry could be available for the playoffs, coach Anthony Lynn said, "Absolutely. You don't want to rush him out there, but he's looked good in practice and individual drills and he wants to play, so we'll see." … Left tackle Russell Okung (ankle) was a full participant in Friday's practice and was removed from the injury report. Reserve tight end Sean Culkin (back) was limited and is questionable for Sunday's game.
Twitter: @JeffMillerLAT
Get the latest on L.A.'s teams in the daily Sports Report newsletter.
You may occasionally receive promotional content from the Los Angeles Times.