Chargers' only focus is football, without the burden of changing cities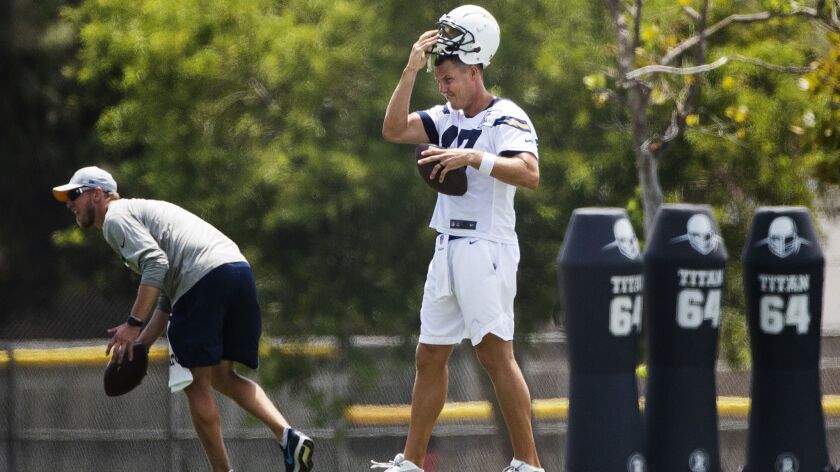 Midway through the Chargers' first practice of the preseason, speedster Travis Benjamin sprinted down the far sideline leaving Pro Bowl cornerback Casey Hayward in his dust. A ball tossed by Philip Rivers floated and floated until Benjamin perfectly glided underneath it.
It was exciting — all of it. The big play, that football was here, that the Chargers finally were back on the field, that external expectations for the team match the internal ones.
And with all of that going on Saturday at the Jack R. Hammett Sports Complex in Costa Mesa for the start of training camp, Rivers was reveling in something else — the mundane.
See, Rivers knows people believe this Chargers football team can be special — maybe even Super Bowl special. He sees that too.
"We believe we can do that also," Rivers said. "What I think is key is not to think that it's just going to happen because it's hard and we haven't done it in a long time. I think it's OK to be excited about it with those expectations and believe that — because that's why you play, those goals down the road — but it's [also] not getting bored with the one-day-at-a-time.
"Get focused for this walkthrough this afternoon and then stack one day after another so that we can get there."
In that way, nothing is new. But there's a different sense as the Chargers open their second training camp in L.A. — no confusion about the team's future, no boxes to unpack, no new fields to design or offices to set up.
It's just about football — and hopefully, that can lead to an increased focus.
"I definitely feel a little bit more comfortable, knowing what to expect, not moving and not living out of boxes, knowing where we're going to training camp and similar coaching staff and players," coach Anthony Lynn said.
Saturday, the Chargers looked more comfortable than they did a year ago, whether it was the ease with which they glided around the field or how they interacted with fans and media.
"We know there are a lot of expectations on the outside," Rivers said. "We have those same expectations on the inside."
Chargers stunned by Verrett's injury
Chargers general manager Tom Telesco's throat went dry as he discussed how cornerback Jason Verrett's season ended so innocently Friday during a conditioning test.
The team was running a 300-yard race and Verrett was way out in front, and as he softly turned from the end zone back toward the field with 50 yards to go, he felt a pop in his right Achilles tendon.
"It was probably one of the most emotional scenes of an injury I've been around," Telesco said.
The recovery for a torn Achilles tendon is usually between nine and 12 months.
The Chargers know how to play without Verrett, a former Pro Bowler who missed the bulk of the last two seasons because of knee injuries. But after watching him work his way back to being healthy, for it to all vanish so quickly — it was tough to see.
"It was unexpected, devastating, emotional — especially for him," wide receiver Keenan Allen said. "I've been in that boat before. Obviously, his is at a much [higher] magnitude. Hopefully, he can do what he has to do to come back because I'm definitely looking forward to seeing him play."
Etc.
First-round pick Derwin James missed Saturday's practice with a lower hamstring injury, though Lynn said it wasn't serious enough to have kept him out of a game. He's day to day. …Second-year wide receiver Artavis Scott was the star of the day, making a pair of spectacular catches to build on the buzz he created during the Chargers' offseason program. … Lynn wouldn't put a timetable on guard Forrest Lamp's return to practice from a pair of knee surgeries, though he said last year's second-round pick is "on track" and hopefully will be able to play in preseason games.
Twitter: @DanWoikeSports
---
Get the latest on L.A.'s teams in the daily Sports Report newsletter.
You may occasionally receive promotional content from the Los Angeles Times.