The story of the Chargers' 34-13 win over the Broncos in eight highlights
1. Austin Ekeler dominated the Chargers' first drive, punching it in from three yards out to give L.A. a 7-0 lead.
2. Jerry Tillery stifled the Broncos' opening drive when he sacked Drew Lock on a fourth-and-six near midfield.
3. Drew Lock missed a series because of a right shoulder injury but returned and completed this 44-yard pass to Courtland Sutton.
4. Later in the same drive, on fourth-and-goal from the Chargers 2, the Broncos attempted a Philly Special. It didn't work out.
5. Justin Herbert tied a franchise record with his 34th touchdown pass, to Keenan Allen in the final seconds of the first half....
6. .... but leaving enough ticks on the clock for Brandon McManus to hit a 61-yard field goal as the first half expired to get Denver on the board.
7. After Denver kicked a field goal to cut the deficit to two touchdowns early in the fourth quarter, Andre Roberts returned the ensuing kickoff 101 yards for a score, the franchise's first TD kickoff return in nine years.
8. Justin Herbert passed Philip Rivers for the franchise record in passing TDs when he connected with Mike Williams on this 45-yarder to make it 34-6.
Justin Herbert passes Philip Rivers for franchise record with 35th passing TD
Justin Herbert set the Chargers' franchise record for touchdown passes in a season when he hit Mike Williams for a 45-yard score early in the fourth quarter.
He passed Philip Rivers on the team's single-season list with his 35th touchdown pass.
The score put the Chargers up over Denver 34-6 with 10:18 to go.
Williams also went over 1,000 yards receiving for the season on the play.
Herbert is 20 of 29 for 221 yards and two scores.
The Broncos added a late score on a Drew Lock to Noah Fant touchdown pass.
Chargers 34, Broncos 13 FINAL
Andre Roberts electrifies crowd with 101-yard kickoff return
Andre Roberts returned a Denver kickoff 101 yards for a touchdown to put the Chargers up 27-6 on the second play of the fourth quarter.
The score came immediately after the Broncos had pulled within two touchdowns on a Brandon McManus field goal.
The last time a Charger retuned a kickoff for touchdown was Dec. 30, 2012, when Michael Spurlock went 99 yards against Oakland.
Chargers 27, Broncos 6 14:40 left in 4th quarter
Chargers make it a three-score game with field goal on opening drive of second half
The Chargers extended their lead over Denver to 20-3 on a Dustin Hopkins 23-yard field goal at the 7:09 mark of the second quarter.
After having first-and-goal at the Broncos' one-yard line, the Chargers went backward when an Austin Ekeler run lost four yards. Two Justin Herbert incompletions brought on fourth down.
Joshua Palmer had a chance on the second-down pass but couldn't hang on to Herbert's throw near the goal line.
The Broncos had fourth-and-goal from the 1, but a Melvin Gordon touchdown run was negated when Austin Schlottmann was called for illegal formation. Denver settled for a 23-yard field goal from Brandon McManus.
Chargers 20, Broncos 6 14:56 left in 4th quarter
Herbert, Allen hook up for late TD; Denver counters with 61-yard field goal
Taking advantage of the game's first turnover, the Chargers opened a 17-3 halftime lead over Denver.
Justin Herbert hit Keenan Allen for an eight-yard touchdown with 14 seconds remaining in the second quarter. The touchdown was Herbert's 34th of the season, tying him for the franchise record set by Philip Rivers in 2008.
The 11-play, 49-yard drive was set up when reserve defensive back Kemon Hall recovered a muffed punt by the Broncos wide receiver Diontae Spencer.
Denver then scored its first points of the game on a 61-yard field goal by Brandon McManus as the first half expired.
The Chargers have limited the Broncos six first downs and 137 yards of offense. Herbert is 14 of 20 for 103 yards.
Chargers 17, Broncos 3 Halftime
Chargers drive to Broncos 1, take the points on Dustin Hopkins field goal
The Chargers went up 10-0 over Denver on a 19-yard field goal by Dustin Hopkins early in the second quarter.
The kick came on fourth-and-goal at the Broncos' one-yard line, a situation coach Brandon Staley has consistently gone for this season. This time, he opted for the three points.
The Chargers lost Pro Bowl center Corey Linsley early on the possession because of a back injury. He was replaced by Scott Quessenberry.
Linsley is questionable to return, the team announced.
Meanwhile, Drew Lock has returned to the game after missing the previous Denver series with a right shoulder injury. The Broncos immediately drove inside the Chargers' five, but didn't score when L.A. snuffed out a fourth-down double handoff and pass that ended up with the receiver, Lock, being tackled at the 1 by Chris Harris Jr. and Joey Bosa.
Chargers 10, Broncos 0 3:30 left in 2nd quarter
Chargers jump out to 7-0 lead on first drive behind Austin Ekeler
The Chargers moved quickly to open a 7-0 lead over Denver on a three-yard run by Austin Ekeler.
They went 55 yards in seven plays, needing only three minutes, 11 seconds.
The game-opening drive was kick-started by Andre Roberts' 47-yard kickoff return and aided by a pass interference call on the Broncos.
Denver is missing 12 players because of COVID-19.
The Chargers would move back into playoff position with a victory in this game after Baltimore and Miami both lost earlier Sunday.
On a fourth-and-six from the Chargers' 44 on their opening drive, the Broncos went for it and were stifled by a Jerry Tillery sack. After Denver's second drive, Lock exited the game with a right shoulder injury and is questionable to return.
Chargers 7, Broncos 0 end of 1st quarter
Chargers get star safety Derwin James back for Broncos game, but who else?
The Chargers are playing for their playoff lives Sunday against Denver, coming off a bewildering loss and amid swirling uncertainty brought on by COVID-19.
All of which had coach Brandon Staley acknowledging how much is, indeed, beyond his team's grasp right now.
"You can control your energy," he said. "You can control your focus. You can control your togetherness. That's what we're going to focus on."
On Friday, starting tight end Jared Cook was put on the reserve/COVID-19 list, joining nine of his active-roster teammates. Staley said Cook is "unlikely" to play against the Broncos.
Drue Tranquill (ankle) heads group of Chargers inactives for Denver game
Linebacker Drue Tranquill won't play against Denver because of the ankle injury he suffered last weekend against Houston.
The Chargers' other inactives Sunday are quarterback Easton Stick, cornerback Essay Bassey, cornerback Davontae Harris and offensive lineman Senio Kelemete.
With Tranquill out and Kenneth Murray Jr. on the COVID-19 reserve list, rookies Amen Ogbongbemiga and Nick Niemann are expected to see time at the inside linebacker spot opposite Kyzir White.
Tight end Jared Cook also will miss the game against the Broncos after being placed on the COVID list Friday.

Chargers' playoff run starts against Denver with many key players back in lineup
They have two shots left but no shot at the postseason without some help.
In 2½ weeks, the Chargers went from playing for first place in the AFC West to praying for a chance to be the conference's No. 7 seed.
"Now the true saying of 'now or never,'" defensive tackle Linval Joseph said, "is now or never."
The 8-7 Chargers face Denver (7-8) at 1:05 p.m. Sunday at SoFi Stadium. By the time their game kicks off, they should know how the two 8-7 teams in front of them — Baltimore and Miami — have fared.
Chargers vs. Denver Broncos matchups, start time and how to watch
Breaking down how the Chargers (8-7) and Denver Broncos (7-8) match up heading into their game at 1:05 PST on Sunday at SoFi Stadium. The game will be shown on CBS.
When Chargers have the ball: When these teams met in late November in Denver, the Chargers began with consecutive three-and-out possessions, helping the Broncos open a 14-0 lead en route to a 28-13 victory. Another slow start for the Chargers would be ill-advised, particularly coming off their epic flop in Houston.
This is a team that could use some early success to reset the mood and reignite some belief. The return of running back Austin Ekeler (COVID-19/reserve list) certainly will help. Ekeler is second in the NFL with 17 touchdowns and fourth among running backs with 1,347 yards from scrimmage. He said running the football Sunday will be vital, especially after the Chargers managed only 26 yards in seven carries in the first half against the Broncos in that November game.
Denver is ranked 13th against the run but features one of the NFL's stingiest defenses when it comes to points allowed. The Broncos are tied at No. 1 with the New England Patriots, both surrendering an average of 17.3 per game. Denver has held eight of its last nine opponents to 22 or fewer points. The Chargers have scored at least 28 points in five of six, the lone exception being that trip to Denver.
Chargers vs. Denver Broncos: Betting lines, odds and predictions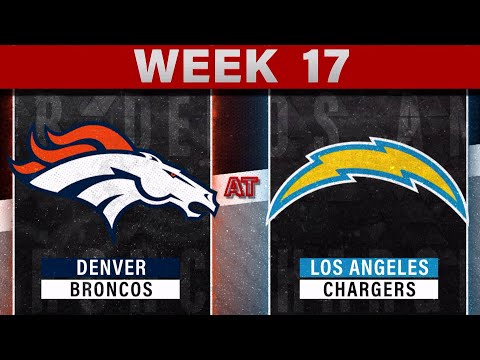 Denver Broncos at Chargers (-6½, O/U 45½), 1:05 p.m. PST, CBS
The Chargers were in control of their playoff destiny a week ago before their inexplicable loss to the Texans as 13-point road favorites. The most troubling aspect of the 41-29 loss was that the Chargers got within two and four points of the Texans in the second half but then couldn't stop Houston's No. 32-ranked offense as Rex Burkhead ran for 149 yards and two touchdowns while QB Davis Mills completed 21 of 27 passes for 254 yards and another two TDs.
I wrote last week that I wouldn't feel comfortable laying the points with the Chargers as they have a long history of being unreliable favorites going back through the Philip Rivers era. And you can't blame Rivers or former coach Anthony Lynn as Justin Herbert and Brandon Staley fell to 4-6 against the spread this season and 1-4 ATS in their last five games as chalk.
So, again, we don't feel it's a good bet to lay the points with the Chargers, even though the spread is half as big as it was last week, because the Broncos are twice as good as the Texans.