Chargers take Oregon's Justin Herbert, trade up for Oklahoma's Kenneth Murray in NFL draft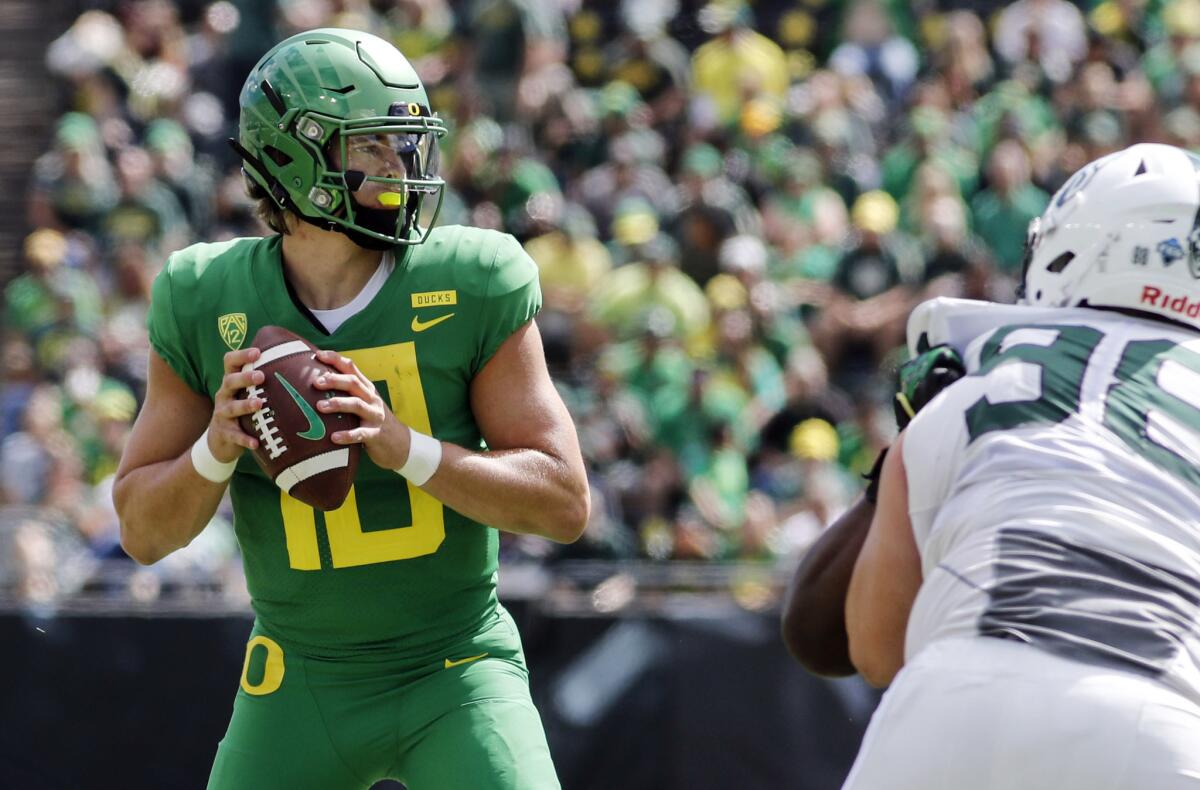 Justin Herbert's road to the Chargers began with an incompletion, an odd start for a player they hope will become their next long-term quarterback.
During a pre-draft video meeting meant to challenge his football knowledge, Herbert missed a formation. He said he apologized to the two Chargers coaches on the call and later phoned his agent with the news.
" 'I might not be a Charger,' " Herbert recalled saying. " 'It just didn't go the way I thought.'"
On Thursday, despite that early misfire, the Chargers drafted the former Oregon star with the sixth pick.
He is expected to begin the season behind veteran Tyrod Taylor and be groomed to take over the job that Philip Rivers held for the last 14 seasons.
"I'm going to do everything I can to be the best quarterback I can be," Herbert said. "If I'm the guy, that's great. I love playing football and I want to be the guy. But if I have to sit back and learn, I'm going to do everything I can to become the quarterback that I need to be."
A pick-by-pick breakdown of the first round of the 2020 NFL draft, which was held virtually for the first time because of the coronavirus outbreak.
Even with such a potentially momentous selection, Chargers general manager Tom Telesco wasn't done Thursday.
He traded the team's second- and third-round picks in this draft to New England to move back into the first round, taking former Oklahoma linebacker Kenneth Murray Jr. at No. 23 overall.
In three years with the Sooners, Murray established himself as a tackling and hitting machine known for his speed and aggression. He finished his college career with 325 tackles, 36.5 for lost yardage.
"He was just a premium player for us," Telesco said. "We think he fits our defense. He's long, he's fast and he's physical. He plays with a really violent mentality. You can kind of feel him on the field with the presence he plays with."
In Herbert's most recent game, he had a starring role in Southern California, leading Oregon to a 28-27 victory over Wisconsin in January in the Rose Bowl.
Though he was only 14 of 20 for a season-low 138 yards passing that day, Herbert rushed for three touchdowns, the sort of athletic display that caught the Chargers' attention.
The Chargers unveiled their new uniforms Tuesday morning. They feature numbers on the helmet, larger bolts and updated fonts.
In four seasons with the Ducks, Herbert played 43 games and threw nearly 1,300 passes. He was dependable and durable.
He also often displayed resiliency. Telesco specifically praised Herbert's makeup, maturity and mental toughness, noting how he more than once played through rough stretches.
"He'd come back in the second half and put the team on his back," Telesco said. "He won some games that way. That just shows the resolve that he has … These are players you like to work with."
Immediately before the Chargers selected Herbert, Miami drafted former Alabama quarterback Tua Tagovailoa. The Chargers also had interest in Tagovailoa, whose college career was more injury filled.
In Herbert, they landed the quarterback most observers called the safer of the two picks.
"Words can't describe how excited and thrilled and fired up I am for this opportunity," Herbert said. "I can't wait to get down there to work."
Justin Herbert is going from small town to big time in L.A. But to last, he and the Chargers are going to need to win, which is one thing he happens to be good at.
Having grown up in Oregon, Herbert spent Thursday night there at home with his family. He trained at times in Southern California leading up to the draft. In a video call with reporters, he frequently mentioned how much he was looking forward to beginning his NFL career.
"I kind of joked about it," Herbert said, in reference to the current COVID-19 pandemic restrictions. "If I can't get on a flight, I'll drive down."
Having played in the Ducks' shotgun-heavy offense, Herbert said he has been focusing on footwork moving out from under center. He also said he was been working on his mechanics, particularly keeping his front shoulder closed to increase his velocity.
Herbert's accuracy has been questioned by some evaluators. He also has been criticized for his passes often arriving late, something that might work in college but not in the NFL.
The NFL draft's first round provided some surprises as NFL went contact-free because of the coronavirus.
Another question frequently attached to Herbert pertains to his ability to lead. Especially early in his college career, he was known for being shy. He welcomed the opportunity Thursday to address the issue.
"I think if you ask anyone at our facility at Oregon they'd tell you differently," Herbert said. "I know what type of leader I am. I'm genuine. I'm real. I'm myself. When something needs to be said, I have no problem saying it.
"I feel so comfortable the way that I've grown as a leader these past two years. I know that my guys on my team would tell you the same thing. It hasn't been an issue for me at all."
Herbert answered all the media questions Thursday with poise and conviction. He paid reverence to Rivers saying, "It'd be a disservice for me to compare myself to him." He also called another former Oregon and Chargers quarterback, Hall of Famer Dan Fouts, "Mr. Fouts."
And, when the call was concluding, Herbert was asked how he planned to celebrate given the unusual COVID-19 circumstances.
"Probably get back to work," he said. "I'm going to go run, lift and throw. And I'm going to take my brothers out and make sure they're catching passes for me. That's exactly what I'm going to do."
Rams did not have a pick in the first round and watch many offensive tackles and wide receiver go, two of their prime focuses in NFL draft.
Murray will join a defense built on versatility and should fit in almost immediately. He said he has the ability to play inside and outside and even rush the passer from the edge.
Defensive coordinator Gus Bradley loves linebackers and defensive backs who can play a variety of positions, the Chargers often shuffling the pieces among their back seven.
"These past three seasons, all you see is a kid who gets better every year," Murray said. "I look forward to taking that next step this year."
A captain at Oklahoma, he's expected to one day assume a similar role with the Chargers. Telesco said Murray has the personality and style of play to become a leader.
He certainly has the passion. After he was selected Thursday, Murray admitted he teared up.
"It was surreal, a moment I would even act out as a kid," he said. "So just to have it happen was such a blessing. It was really crazy when I got to call, and to see my name across the screen. It was such a blessing. Yeah, I cried quite a bit."
With the trade to secure Murray, the Chargers' next pick isn't scheduled to come until the fourth round, No. 112 overall, on Saturday morning.
Times staff writer Mike DiGiovanna contributed to this report.
Justin Herbert, quarterback
6 feet 6, 236 pounds, Oregon, Round 1, Pick 6
Notable: Herbert flashed his considerable athletic skills at the NFL combine when he ran a 4.68-second 40-yard dash, third among quarterbacks despite his size. He tied for second at his position with a vertical jump of 35.5 inches.
Last season: Herbert passed for 3,471 yards, with 32 touchdowns and six interceptions while leading the Ducks to a 12-2 record, Pac-12 title and Rose Bowl victory over Wisconsin.
Why Chargers drafted him: After 14 years of Philip Rivers as their starter, the Chargers decided this offseason to move on at quarterback. They have veteran Tyrod Taylor as their projected Week 1 starter in 2020 but are looking for a potential long-term solution at the position.
Kenneth Murray Jr., linebacker
6 feet 2, 241 pounds, Oklahoma, Round 1, Pick 23
Notable: A four-star recruit out of Missouri City, Texas, Murray exploded on the scene for the Sooners in 2017 as a Freshman All-American. He finished with 78 tackles, 7.5 for loss.
Last season: He had 17 tackles for loss and four sacks as a junior, earning third-team Associated Press All-American and first-team All-Big 12 honors.
Why Chargers drafted him: They were looking for depth and impact at linebacker and found both in Murray, who ran a 4.52-second 40-yard dash at the NFL combine. The Chargers need to replace the production of veteran Thomas Davis, who was released this offseason in a salary-cap move.

Get the latest on L.A.'s teams in the daily Sports Report newsletter.
You may occasionally receive promotional content from the Los Angeles Times.