Doc Rivers calls J.J. Redick and Chris Paul rusty in their return against Timberwolves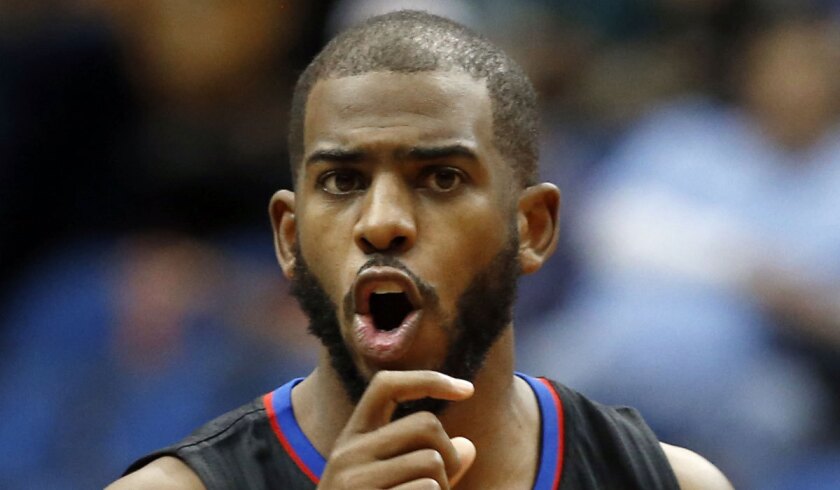 In a surprise turn of events, Chris Paul and J.J. Redick played Monday in the Clippers' 110-106 win over the Minnesota Timberwolves despite Paul's being listed as out and Redick as questionable earlier that day.
Neither Paul nor Redick played their typical game, but both were instrumental in the Clippers' victory at the start of their five-game trip.
Paul, who missed the team's past two games because of inflamed rib cartilage, finished with 14 points on five-for-14 shooting, and as many turnovers as assists (five). That's definitely a drop-off from the 16.8 points on 45.4% shooting, 8.1 assists and 2.7 turnovers that he's averaging this season.
Redick, who is recovering from a sprained right ankle he sustained in the first minute of a game against the Indiana Pacers on Dec. 2, similarly was not himself Monday, scoring 13 points on one-for-nine shooting (11%). Redick, however, made each of his 11 free-throw attempts, including five in the final 10.4 seconds.
"They were rusty," Clippers Coach Doc Rivers said Monday. "Without them, we don't win tonight. You need your best players on the road. Just think about the execution getting the ball inbounds."
Paul and Redick have been plagued by injuries this season.
Paul, who played in all 82 games for the first time in his career last season, already had dealt with a broken finger and a strained groin before sustaining inflamed rib cartilage in the third quarter of a game against the Portland Trail Blazers on Nov. 30. He has missed five games this season.
Redick had been suffering from back spasms before spraining his ankle. He has missed five games, though he played in 18 seconds of the game against the Pacers before he hurt his ankle.
The Clippers' sharpshooter said that he felt good Monday but that it will take time to get his conditioning back.
"My wind was good tonight," Redick said. "It's about rhythm. I've had two separate weeks out of the last four weeks where I haven't been able to literally do anything with the basketball. It's tough to not do anything for seven days and then play — other than 16 seconds on Wednesday night."
Even though it may take Paul and Redick a bit of time to get back to their usual form, having them available during the team's five-game trip is a blessing for the team.
The Clippers, who are in fifth place in the Western Conference with a record of 12-9, won a franchise-best 26 games on the road last season. On their current trip, they have games left against the Milwaukee Bucks, Chicago Bulls, Brooklyn Nets and Detroit Pistons.
---
Get the latest on L.A.'s teams in the daily Sports Report newsletter.
You may occasionally receive promotional content from the Los Angeles Times.