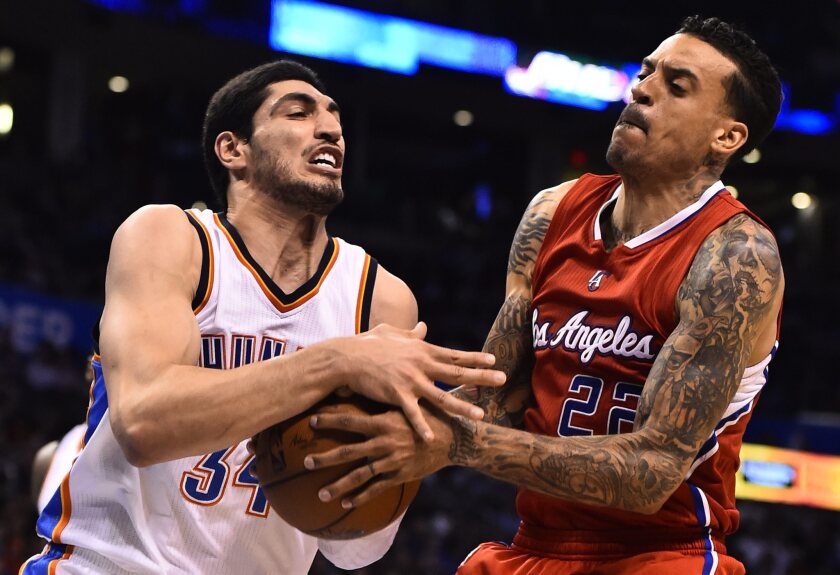 Reporting from Oklahoma City —
The Clippers were missing more scoring punch than Kevin Durant-deprived Oklahoma City, with Blake Griffin and Jamal Crawford out, but their offense continued to hum during a 120-108 victory Wednesday night at Chesapeake Energy Arena. Here are five takeaways from the game:
1. Why isn't Chris Paul in the most-valuable-player discussions again? His brilliance is almost a given these days, but it was impossible not to note how much the Clippers point guard outplayed more ballyhooed Thunder counterpart Russell Westbrook. Paul had 33 points and nine assists while holding Westbrook to 24 points on five-for-14 shooting. Westbrook also had 10 turnovers, twice Paul's total. "Chris is having an unbelievable season," Clippers shooting guard J.J. Redick said. "I don't know what the bias, the psychological word or term for it would be, but when someone does something so well for such a long period of time, you almost take it for granted and I think that's been the case a little bit this year." Westbrook, Golden State's Stephen Curry and Houston's James Harden are considered the front-runners in the MVP race.
2. Redick and Matt Barnes continue to be the X factors the short-handed Clippers need. Another thing that makes Paul so valuable is that when teams load up on him defensively, he can pass to the Clippers' wing players for open shots. Redick and Barnes capitalized against the Thunder, combining to score 47 points while making nine of 13 three-pointers. Redick has scored at least 18 points in five consecutive games, largely offsetting the absence of leading scorer Griffin. "I'm playing minutes and getting good shots," Redick said. "[Coach] Doc [Rivers] runs good stuff, playing with Chris is easy. There's not a whole lot to it. I move a lot, probably, that would be the other thing, I'm just working off the ball."
3. DeAndre Jordan made Oklahoma City Coach Scott Brooks look like he knew what he was talking about. Brooks said before the game that Jordan was probably the best defensive big man in the NBA, prompting derisive comments from Thunder fans on Twitter because Brooks coaches perhaps the NBA's best shot-blocker in Serge Ibaka. Brooks noted that Jordan's rebounding made him the more complete player, a sentiment Jordan supported by collecting 17 rebounds to go with his 18 points against Oklahoma City. Ibaka finished the game with 15 points but only three rebounds and no blocked shots (matching Jordan's total).
4. Griffin could be back any day now. Rivers described his All-Star forward as "very close" to returning and left open the possibility of him joining the Clippers for their game in Dallas on Friday, but more realistic possibilities are the Clippers' games against Houston on Sunday or Charlotte on Tuesday. The Clippers have gone 9-5 since Griffin was sidelined last month after needing surgery to remove a staph infection from his right elbow. "We feel good with where we're at," Redick said. "It's hard to really gauge our team because we've had such inconsistencies and we've played very well for stretches, we've had bad stretches, we've lost games that are kind of head-scratchers, we've lost leads and now we're kind of doing that a little bit even without those guys and then you factor in how good the West is. I've said this all year: I believe in our team, I believe we have enough to get to where we all want to be and where we all talk about. I still feel that way."
5. See you soon? Not if Oklahoma City doesn't make the playoffs. The Thunder dropped into the ninth spot in the conference standings after the loss to the Clippers, unfamiliar territory for a team that has advanced to the conference finals in two of the last three seasons. Durant is not expected to return for another week or two, meaning Westbrook will have to continue to carry the offense as the Thunder fights with New Orleans for the West's final playoff spot. As stunning as it sounds, it's not a given that the Thunder will keep playing beyond mid-April.
---