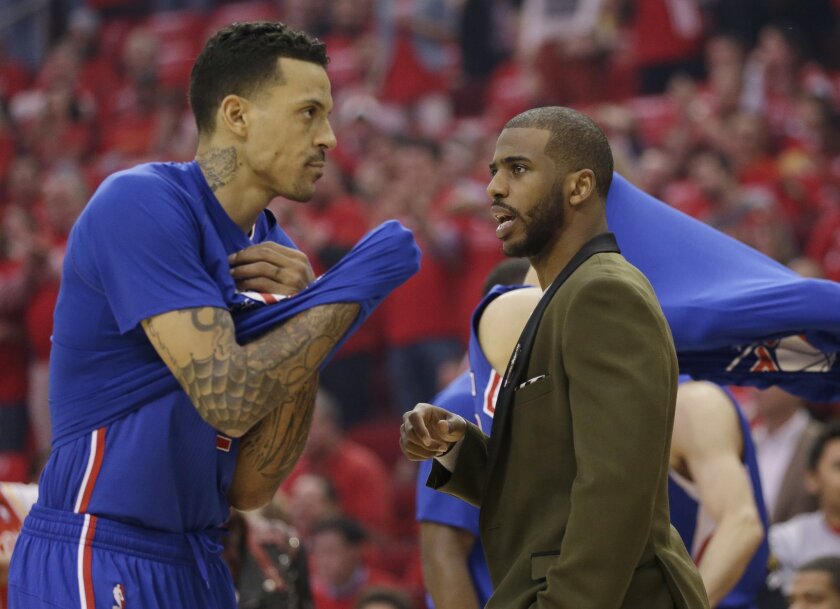 Clippers point guard Chris Paul, nursing a strained left hamstring, participated in a morning shootaround and is officially a game-time decision Friday night against the Houston Rockets in Game 3 of their second-round playoff series, which is tied at 1-1.
But, according to teammate Matt Barnes, Paul's decision has already been made.
"He said he's playing tonight," Barnes said of Paul. "You just hope that he's ready."
Neither Paul nor Clippers Coach Doc Rivers spoke Friday morning. Paul missed Games 1 and 2 against the Rockets because of the injury he sustained on May 2 against the San Antonio Spurs in Game 7 of the teams' first-round playoff series.
"He was definitely hurt in Game 7, and he had a lot of adrenaline going and carried us offensively, so we'll have to see what he has in store for us tonight," Barnes said.
In the Clippers' 111-109 victory over the Spurs in Game 7, Paul was hurt in the first quarter yet went on to finish with 27 points, making the game-winning shot with one second left over Tim Duncan.
"I know no matter what, he wanted to be out there in Game 1 and Game 2 but we held him back," Barnes said. "This game is so much stop and go, and he's such an integral part of our team. I hope that he can stay healthy throughout the game because we're going to need him for this round."
Barnes said that he couldn't gauge how Paul looked during Friday's shootaround because the Clippers just did a walk-through and talked. Paul did a hard pool workout Wednesday, and had an on-court workout on Thursday.
Barnes added that he advised Paul to use some caution in Game 3.
"I told him tonight I expect the CP that I'm going to see at 50 at the YMCA, you know, like an older Mark Jackson out there -- controlling the sets, running the team, coming off of pick-and-rolls, making plays but still picking and choosing his spots," Barnes said."
Barnes strained his right hamstring during a game against the Chicago Bulls on March 1. He sat out two games, then played in the next five games, but then missed two more games because of the injury. Barnes said his hamstring still bothers him.
"Chris is a warrior, which scares all of us," Barnes said. "I've been dealing with a hamstring injury since Chicago and I still don't feel very well."
Barnes said that he and Paul play at different speeds, so Paul's recovery could be different than his.
"My injury is different because I'm 100 miles an hour," Barnes said. "He's 20 to 80, to about 30 back to 100. Mine is really fast, he's stopping and going constantly. His injury is going to effect him a little differently than mine did."
Friday's Game 3 is at Staples Center at 7:30 p.m. PDT.
---