Doc Rivers wants the Clippers to play better in Game 2 against Spurs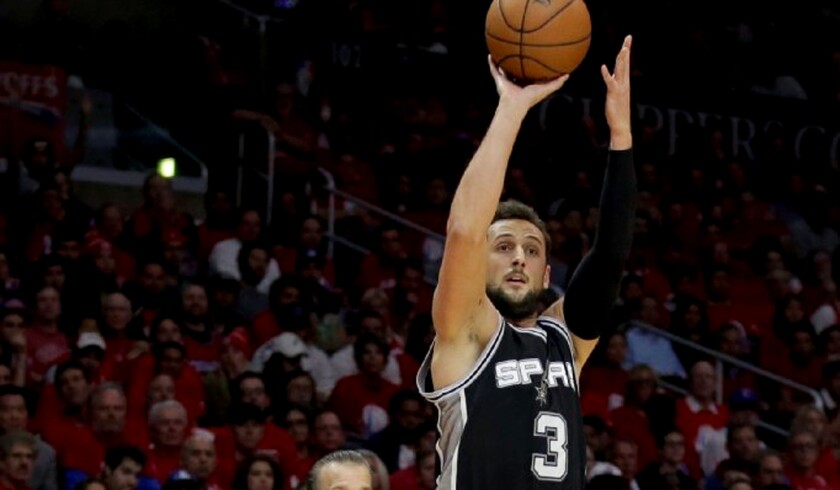 His team gave up too many uncontested shots. It failed to get rebounds there for the taking. It wasn't very heady in the way it executed.
Doc Rivers sounded like the coach of a team that had lost its playoff opener by 15 points, though the Clippers' box score from the previous day revealed a final score to the contrary.
"The bad and good news is I think we can play better," Rivers said Monday. "I think we're going to have to, if you want me to be honest. We can't count on them missing wide-open threes."
The San Antonio Spurs did plenty of that, shooting only 36.6%, including 30.3% from three-point range, during a 107-92 defeat in Game 1 on Sunday. They also missed 12 free throws and committed 15 turnovers.
Rivers said it would be foolish to expect the Spurs to repeat that performance in Game 2 on Wednesday night at Staples Center, particularly if the Clippers don't improve their defensive execution from the series opener.
"Some of them, they were just really good missed shots, and some of them we just broke our coverage under the disguise of 'I'm playing hard,'" Rivers said. "We have that saying: Hard and smart is better than just hard."
That effort often failed to help the Clippers win the battle of loose balls and long rebounds, another area that irked Rivers. The Clippers gave up 17 offensive rebounds while taking only six themselves.
San Antonio also had a lengthy list of concerns, chief among them Tony Parker's health after the veteran point guard tweaked an ankle and took a knee to his thigh in Game 1. Spurs Coach Gregg Popovich said he expected Parker to be fine by Wednesday.
It wasn't all nitpicking for Rivers. The coach praised Chris Paul and Blake Griffin for repeatedly going to a pick-and-roll play that resulted in three Griffin dunks in the third quarter.
"They did it in five different sets where they were in a play and it worked [and] they went right back to it," Rivers said. "It made my day."
The Clippers did not hold an official practice Monday, though a group of reserves showed up to scrimmage one another. Backup forward-center Spencer Hawes, stuck in a seasonlong slump, completed an extended session with shooting coach Bob Thate.
The Clippers were disappointed to learn Toronto guard Lou Williams was selected the NBA's sixth man of the year, delaying Jamal Crawford's bid to become the first three-time winner of the award. Crawford received only eight first-place votes and finished third, behind Williams (78 first-place votes) and Boston's Isaiah Thomas (33).
Rivers said Crawford's five-week absence late in the regular season probably cost him the award. Clippers players were not made available to reporters Monday.
Having two days off between games could benefit the Clippers by allowing their starters to continue to log big minutes. Griffin played 42 minutes, DeAndre Jordan 38 and Paul 37 in the series opener. By comparison, no Spurs player played more than Kawhi Leonard's 33 minutes.
Can the Clippers starters replicate those minute totals the rest of the series?
"Yeah, I think so," Griffin said after Game 1. "We've got two days of rest coming up. As long as we're smart with our bodies and making sure that we're prepared mentally and physically as far as getting rest and all that, I would like to think so, yeah. I missed a lot of games this season, so my legs are a little bit fresher than maybe everybody else's are. Hopefully we can sustain that."
Rivers said he didn't worry his players would make too much of one easier-than-expected victory in a series that could last seven games. In the uh-oh department for Clippers fans, the Spurs lost their playoff opener on the way to NBA titles in 2003, 2005 and 2007.
"We can't get intoxicated with winning one game," Rivers said. "If we do, then we're in trouble. No matter what happens, you're playing a team that's won multiple titles [and] there's nothing you can do to shake their confidence. You just have to keep playing."
And hopefully, from Rivers' perspective, playing more crisply.
Twitter: @latbbolch
---
Get our high school sports newsletter
Prep Rally is devoted to the SoCal high school sports experience, bringing you scores, stories and a behind-the-scenes look at what makes prep sports so popular.
You may occasionally receive promotional content from the Los Angeles Times.