Clippers' surprising season was a thing of beauty for Doc Rivers and other coaches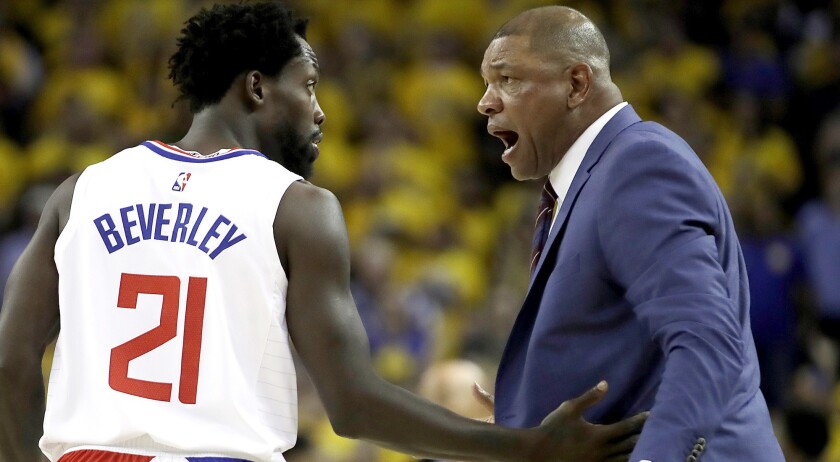 During his first five seasons in Los Angeles, coach Doc Rivers' Clippers teams were regularly star-studded but rarely beloved. The rosters produced a mix of great highlights and grating reviews.
So it was with some surprise Saturday morning that Rivers awoke to a text message from a fellow NBA head coach lamenting the end of the Clippers' season.
"I've never had a message like the one I got," Rivers said Saturday, less than 12 hours after Golden State eliminated the Clippers in Game 6 of their first-round playoff series. "He said, 'Last night was my saddest night of the season.'
"And I'm like, what the heck?"
If Rivers had become conditioned to criticism following the underachieving "Lob City" era, he spent this latest season hearing near-universal praise from peers across the league. A team featuring zero All-Stars won 48 games behind an uncommonly resilient roster that made no apologies for its gritty style. Rivers, who earned consideration for coach of the year, called the season the proudest of his career.
Warriors coach Steve Kerr commended the Clippers' "beautiful basketball" following the series-clinching win at Staples Center. One unnamed playoff coach texted Rivers directly.
"He was like, 'Because I watch you guys play every game and it gave me such basketball enjoyment, not only how hard you played, but the way you played," Rivers said. "I was like, wow, this is impressive."
Just as impressive would be recreating that hard-nosed, tight-knit style next season amid a roster that will doubtless feature several new faces given the team's eight free agents. The Clippers can clear enough salary cap room to sign two free agents to maximum contracts this summer.
They hope to transform from a team no one saw making the playoffs into a Western Conference favorite overnight. In the process they also hope to retain the DNA from this team, with its mix of veterans, including Danilo Gallinari, Patrick Beverley and Lou Williams, and young players such as Shai Gilgeous-Alexander, Landry Shamet and Montrezl Harrell.
"Hopefully we changed the culture of the NBA," Beverley said. "It's OK to be high maintenance and everything. That doesn't mean you have to be. You can be a blue-collar worker and still be successful."
The fact that the identity remained the same despite massive roster turnover at February's trade deadline gives Rivers confidence it can be replicated.
"We have the right culture to build what we want," Rivers said. "That was the test actually, and we passed that test already."
Sign up for our daily sports newsletter »
After Boston won the NBA championship in 2008, Rivers stayed in his office rather than bask in the moment in a victorious locker room, and he has said since that he regrets not savoring the moment more. Within hours, he was at a convenience store grocery shopping for the next morning's breakfast. His assumption, he has said, was that more moments like that were coming.
The experience made him appreciate this season more in the moment.
"I think I enjoyed it a bit more," Rivers said.
After the Clippers clinched a playoff berth in Minnesota on March 26, he handed a champagne bottle to Gallinari and raised his arms in triumph as the forward, who enjoyed a career-best season, soaked in the locker room.
Said Gallinari: "You could see that it was a very good moment for everybody from Doc, to the players, to the coaches, to everybody."
Should the Clippers land marquee free agents such as Kawhi Leonard or Kevin Durant (or both), the Clippers' goal is to hoist champagne bottles in June, not March. Titles are the inarguable standard of a team's success and the Clippers want to be in contention as soon as possible. The team also boasts a number of attractive assets for a blockbuster trade should New Orleans' Anthony Davis be on the market again.
"It's going to be a very important summer," Gallinari said.
But along with banners, Rivers measures his teams' successes or failures using a different, more personal gauge — how much he likes to go to work. He often said he "raced" to make his commute this season.
It's why his drive to the team's practice facility Saturday morning was bittersweet.
"When you are knocked out of the playoffs there's obviously some times it's a relief," Rivers said. "And there are some times you just don't want it to happen and last night was one of those points. Just the sense of disappointment — even though you know the group you had overachieved, you still don't want it to end."
Twitter: @andrewgreif
---
Get our high school sports newsletter
Prep Rally is devoted to the SoCal high school sports experience, bringing you scores, stories and a behind-the-scenes look at what makes prep sports so popular.
You may occasionally receive promotional content from the Los Angeles Times.