Kawhi Leonard, Kevin Durant in free-agency mix for Clippers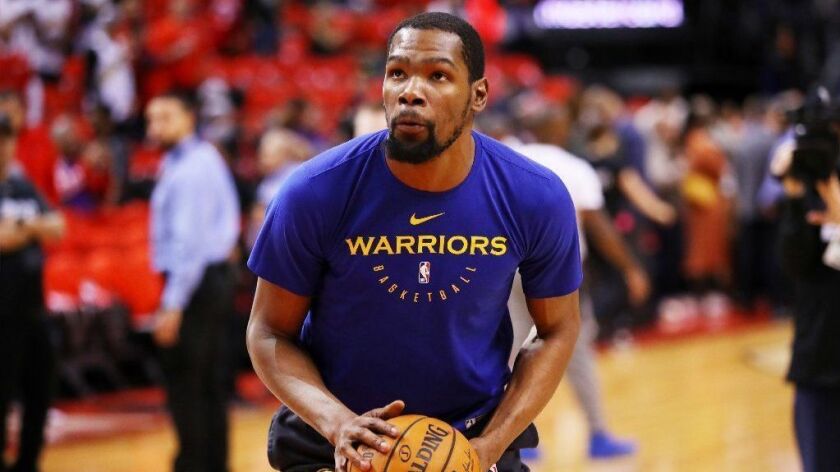 All season, there was no doubt about the Clippers' dream free agency scenario — the one in which both Kawhi Leonard, the NBA's best two-way player, and Kevin Durant, its most effortless scorer, agreed to join forces in red and blue.
But all season, there also was no guarantee each would meet with the team this summer.
Though the leanings of Leonard and Durant remain inscrutable to what sources across the league have called a remarkable degree, this much is known as the curtain rises on free agency at 3 p.m. PDT Sunday: The Clippers remain a potential destination for both, with each star expected to grant the team an audience during the upcoming week.
With the 2020 free agency class not nearly as loaded as the one this summer, the Clippers are hoping to land a superstar now to jump-start their plan of building a long-term championship contender.
The Clippers on Saturday also set a meeting with guard Patrick Beverley and contacted representatives for forward Marcus Morris, two people with knowledge of the talks said. The sides are expected to remain in contact.
There was little doubt Leonard would hear out the Clippers, even after leading Toronto to an NBA championship in his first season with the Raptors, but Durant's interest had long been difficult to gauge.
For as much as the Clippers have been talked about in the same breath as the Golden State All-Star forward this season, for as often as he praised their players — he's complimented Shai Gilgeous-Alexander, Lou Williams, Montrezl Harrell and Landry Shamet at various times — and for as close of a look as he had at the Clippers during their first-round playoff matchup with the Warriors, it was no lock that the Clippers would eventually make the cut in free agency. In addition to the Clippers, Durant is considering a return to Golden State, or joining Brooklyn and New York, according to an ESPN report.
Since Durant last met with the Clippers during free agency in 2016 the team has added faces he would find familiar. General manager Michael Winger and assistant coach Rex Kalamian overlapped with Durant in Oklahoma City for multiple seasons. In Golden State, Durant grew to know Jerry West, who has since become a Clippers consultant.
Durant told Yahoo Sports earlier this month that other stars hoping to lobby him to join their team were wasting their time, saying, "I can't be recruited." Yet Leonard and Durant have recently discussed the potential of playing together, ESPN reported Saturday. The Knicks already have the requisite salary-cap space to sign both. Under terms of the collective bargaining agreement, Durant can earn a maximum salary of $38.1 million next season and Leonard $32.7 million.
Sign up for our daily sports newsletter »
The Clippers would need to open more space to do so. They can currently reach around $57 million in cap room, according to several projections. Trading Danilo Gallinari, who is owed $22.6 million next season in the third and final year of his deal, is considered the most likely maneuver should the team need to create extra cap room.
Coming off a career-best season, the 30-year-old Gallinari is valued highly, and not only by the Clippers — multiple teams have recently inquired about his availability in a trade, according to a source not authorized to speak publicly.
Both Leonard and Durant are expected to meet with multiple suitors this week and neither is expected to make a quick decision. For teams waiting to hear back on the biggest stars, that timing could lead to the risk of missing out on other free agents prepared to commit earlier. Beverley, 30, and Morris, 29, could fit that bill. Neither has ever signed an ultralucrative deal by NBA standards, but both are seeking to cash in following strong seasons.
Beverley was lauded as the Clippers' emotional engine and shot 39% on three-pointers while averaging 7.6 points, 5.0 rebounds and 3.8 assists. With Boston, Morris averaged 13.9 points, 6.1 rebounds and made 37.5% of his three-pointers.
The Lakers, Dallas and Chicago all reportedly contacted Beverley's representatives Saturday. Like Beverley, Morris is considered tough-nosed, a quality that is highly valued by the Clippers.
"It's our job, and our job as an organization, to really be ready for every single scenario," Lawrence Frank, president of basketball operations, said after the June 20 draft. "We have flow charts out the wazoo … For us, we're prepared for any scenario that may come our way."
Twitter: @andrewgreif
---
Get our high school sports newsletter
Prep Rally is devoted to the SoCal high school sports experience, bringing you scores, stories and a behind-the-scenes look at what makes prep sports so popular.
You may occasionally receive promotional content from the Los Angeles Times.