Column: NBA free agency: A look at the top players and best fits for each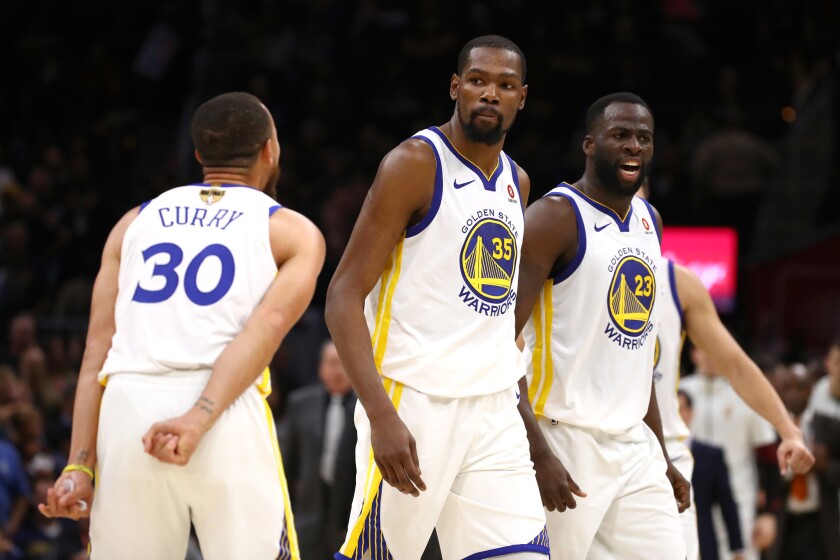 There's a scene in almost every disaster movie where the survivors walk out of a shelter, look around and see the charred landscape. The world as they knew it is gone. The new world is here. Adapt or get left behind.
This is the NBA after free agency begins at 3 p.m. PDT Sunday.
OK, maybe that's a little dramatic, but there are plenty of people inside the NBA who know that the league is going to look very different once it's safe to come out and examine all the changes.
Kawhi Leonard, the reigning NBA Finals MVP, might be leaving his team. Kevin Durant, who won the award the two years before him, also might be leaving his team. Two of the league's best young point guards, a handful of All-Stars and some of the NBA's top role players could be on the move too.
Mistakes are going to be made. Last season, the Chicago Bulls gave a lot of money to Jabari Parker. Two years ago, the Kings gave Zach Randolph more than $20 million for two seasons. And three years ago, the NBA, as a whole, made a fool of itself by giving huge contracts to a bunch of players who didn't live up to the paychecks.
But the future is going to look vastly different, too.
How different is league history if Cleveland isn't able to lure LeBron James back from Miami? How different are the last three seasons if Kevin Durant decided not to sign with the Golden State Warriors? Would the Lakers have landed Anthony Davis if they hadn't struck out on LaMarcus Aldridge and Carmelo Anthony years ago?
The NBA championship gets played in June. Championship teams get molded in July. Here are the top 20 free agents available this summer: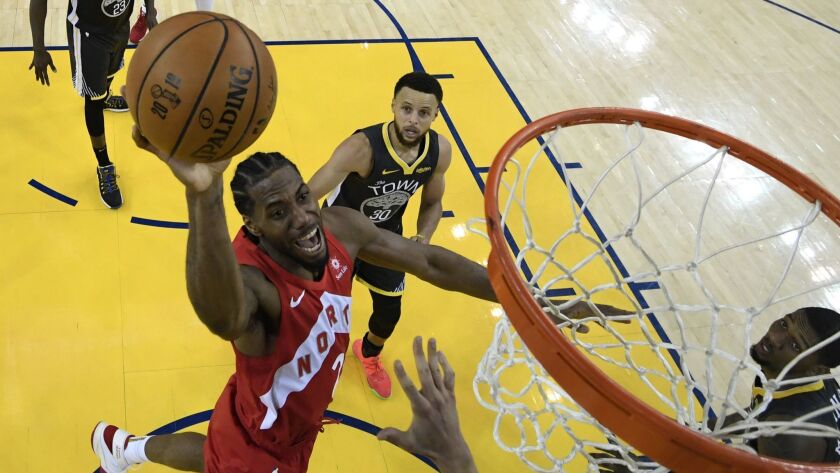 1. Kawhi Leonard, SF
Age on Oct 1: 28
Fits: TOR, LAC, LAL, NYK
He's the captain of the free-agent cruise, steering the summer into whatever direction it'll go. He's the best player in the league right now, and every team with the money to sign him would love to have him. The fun scenario that has been out there: What if he wants to pair up with another star in free agency?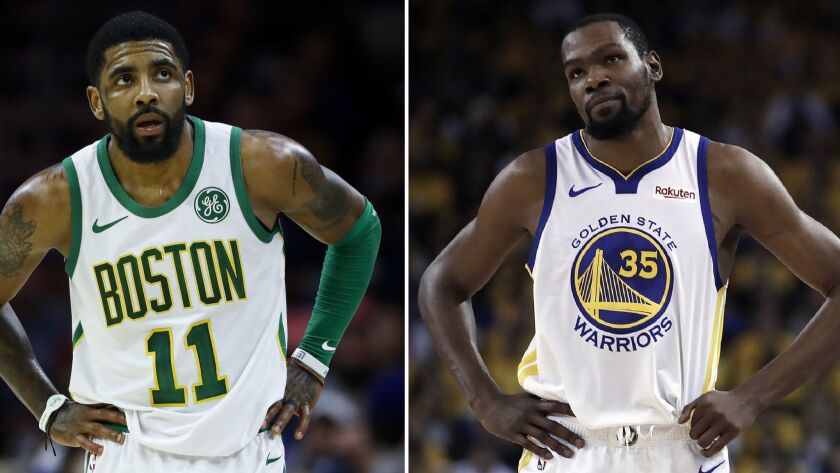 2. Kevin Durant, SF/PF
Age on Oct 1: 31
Fits: GSW, NYK, BKN, LAC
His Achilles tendon injury in the NBA Finals hasn't cooled his value on the market. The rumors have almost all tied him to New York City, but the Warriors can give him the most money and years in a new contract. The Clippers have been in this for a while — no one is sure how much.
3. Kyrie Irving, PG
Age on Oct 1: 27
Fits: BKN, LAL, NYK
His reputation around the league isn't that high right now, with a lot of the responsibility from a disappointing Celtics' season landing on his doorstep. But few players in the NBA have his offensive skills, the ability to shoot the ball with volume and efficiency from deep to go with a great in-between game.
4. Klay Thompson, SG
Age on Oct 1: 29
Fits: GSW, everyone else
There's maybe not a better plug-and-play free agent than Thompson, who would instantly give any team an elite shooter and defender. Here's the thing: He's probably not even available. The Warriors seem poised to give him everything, and he's surely ready to take it, ACL injury or not.
5. Jimmy Butler, SG/SF
Age on Oct 1: 30
Fits: PHI, HOU, MIA, LAL, LAC
Another top free agent with some red flags after rough exits from Minnesota and Chicago, Butler makes up for all of that with tremendous competitiveness. Yeah, he's played a lot of minutes. Yeah, he's not a pure shooter. But very few players in the NBA can go chest-to-chest with the best, and Butler can.
6. Kemba Walker, PG
Age on Oct 1: 29
Fits: BOS, CHA
Walker is an All-Star talent capable of putting a team's offense on his back. With the Celtics looking for that with the departure of Irving, he makes a lot of sense in Boston. He has reportedly told Charlotte, which could have offered him a full five-year max deal, he'll be joining the Celtics.
7. D'Angelo Russell, PG (restricted)
Age on Oct 1: 23
Fits: BKN, LAL, IND, DAL
Players this young and this talented don't enter the market that often. And if Kyrie Irving ends up in Brooklyn, Russell will be on the move with his choice of suitors. A reunion in Los Angeles is a very real possibility, though he'd be taking on fewer responsibilities than he had a year ago in Brooklyn.
8. Khris Middleton, SF
Age on Oct. 1: 28
Fits: MIL, DAL, BKN, LAC
Like Klay Thompson, Middleton's free agency is easy. If the Milwaukee Bucks do what's expected — offer Middleton a full max deal — then he's going to take it and run it back alongside Giannis Antetokounmpo. If not, he'll have options as a premiere 3-and-D wing.
9. Kristaps Porzingis, PF (restricted)
Age on Oct. 1: 24
Fits: DAL
This one is easy too. The Mavericks didn't trade for Porzingis to let another team steal him in free agency. He's going to be in Dallas, where he'll be paired with Luka Doncic as long as Porzingis stays healthy.
10. Tobias Harris, SF/PF
Age on Oct. 1: 27
Fits: PHI, BKN, NYK, LAC
Harris is still a relatively young player at this stage of his career, and he can really scorefrom everywhere. The 76ers, who gave up a lot to get him from the Clippers, probably can't stomach seeing him leave for another team.
11. Malcolm Brogdon, PG (Restricted)
Age on Oct 1: 26
Fits: MIL, CHI, PHX, LAL
A talented all-around guard who can shoot it and defend, he might end up too pricey for the Bucks if they re-sign Middleton.
12. JJ Redick, SG
Age on Oct 1: 35
Fits: PHI, LAL, BKN
Redick has developed into one of the NBA's best role players, a knockdown shooter who adds a ton to an offense.
13. Nikola Vucevic, C
Age on Oct. 1: 28
Fits: ORL
An inside-out big man who is a better defender than you'd think. He's probably worth more to Orlando than anyone else.
14. Bojan Bogdanovic, SF
Age on Oct. 1: 30
Fits: UTA, LAL, IND
Bogdanovic is coming off a great season when he carried the Pacers with Victor Oladipo hurt. He's got great size and a great shooting stroke.
15. Al Horford, C
Age on Oct. 1: 33
Fits: DAL, LAC, LAL
A high-mileage center that's perfect for a contending team thanks to his tremendous basketball IQ. Questions about how he'll look at the back end of a long-term deal will be asked.
16. DeMarcus Cousins, C
Age on Oct. 1: 29
Fits: ???
Maybe the most confusing free agent to project. He's a year removed from an Achilles tendon injury and has only flashed signs of his former self.
17. Brook Lopez, C
Age on Oct. 1: 31
Fits: MIL, LAL, LAC, BOS
There aren't many centers that make three-pointers and block shots. Lopez is one of them.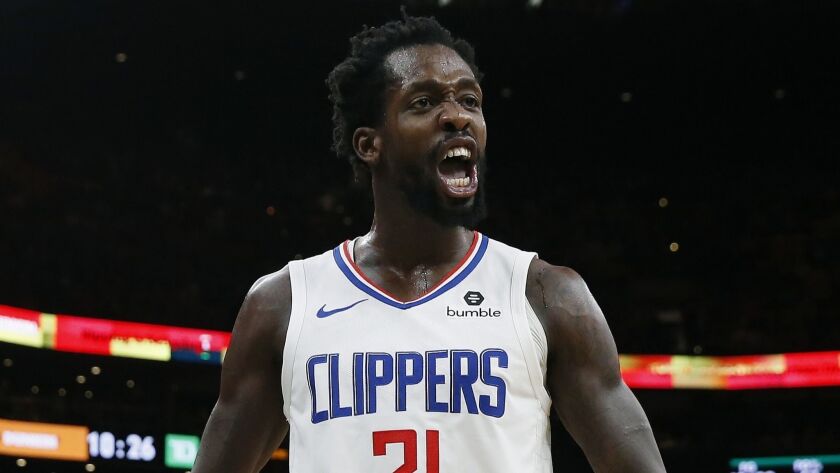 18. Patrick Beverley, PG
Age on Oct. 1: 31
Fits: LAC, CHI, DAL, LAL
Beverley instantly adds toughness, character, heart and spot-up shooting to your team and deserves his payday.
19. Harrison Barnes, SF
Age on Oct. 1: 27
Fits: SAC
He'll reportedly re-sign with the Kings after opting out of the final year of his deal.
20. Julius Randle, PF
Age on Oct. 1: 24
Fits: BKN, NYK, DAL
Randle is a bundle of offensive energy and skill as well as a headache on the defensive end.
Sign up for our daily sports newsletter »
Best of the rest
21. Danny Green, SG
22. Terrence Ross, SG
23. Marcus Morris, PF
24. Jeremy Lamb, SG
25. Kelly Oubre Jr. (RFA)
26. Elfrid Payton, PG
27. Ricky Rubio, PG
28. Jonas Valanciunas, C
29. Terry Rozier, PG (RFA)
30. DeAndre Jordan, C
31. Thaddeus Young, F
32. JaMychal Green, PF
33. Seth Curry, PG
34. Robin Lopez, C
35. Derrick Rose, SG
36. Enes Kanter, C
37. Austin Rivers, G
38. Rudy Gay, SF
39. Trevor Ariza, SF
40. Kevon Looney, F-C
Twitter: @DanWoikeSports
---
Get the latest on L.A.'s teams in the daily Sports Report newsletter.
You may occasionally receive promotional content from the Los Angeles Times.