Newsletter: Clippers! The team has two paths to take, so which one will it choose?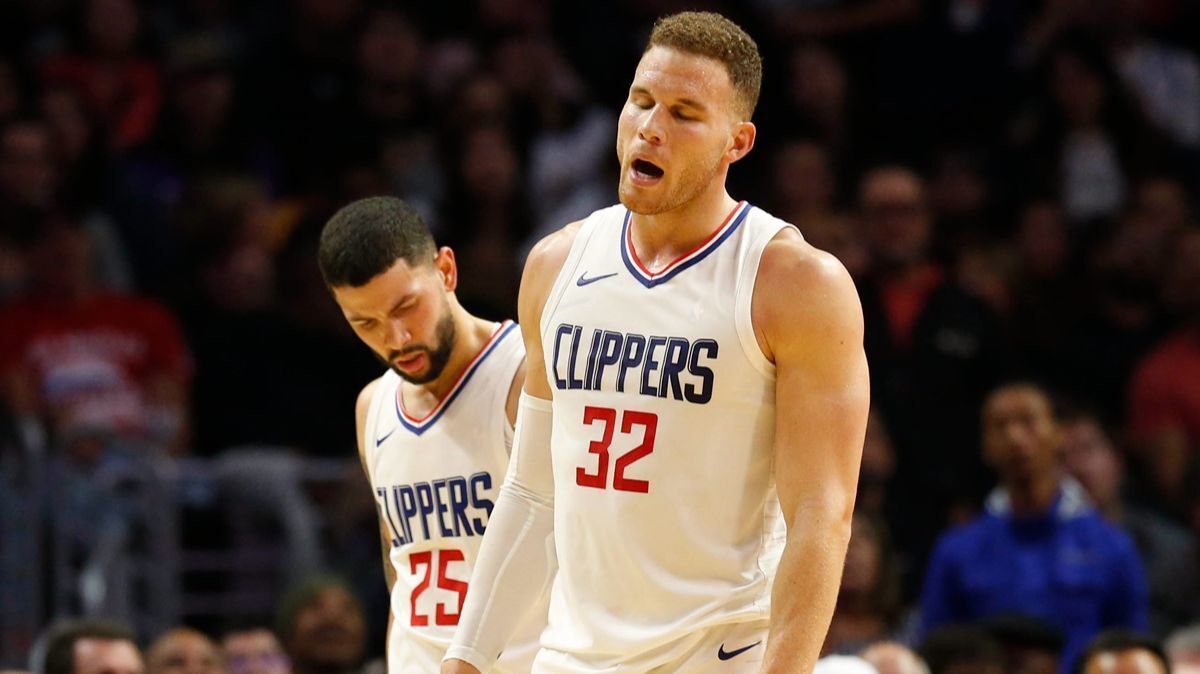 Hi, my name is Broderick Turner, and welcome back to the Los Angeles Times' Clippers newsletter.
Tank.
Tank.
Tank.
Tank.
It is a word the NBA's hierarchy in the league offices on 645 Fifth Ave. in New York cringes at when they hear it tossed out so cavalierly.
But it is a word Clippers fans are now starting to utter unabashedly — and with clarity — in the wake of Blake Griffin going down with a medial collateral ligament injury to his left knee that will keep him out for two months.
The Clippers indeed face this hard truth and must make a decision about the path they will take.
They can either push for a bid to make it to the playoffs for the seventh consecutive season or lose "intentionally" so they can get a high enough lottery pick that can change the franchise's fortunes going forward.
Besides, Clippers fans keep saying, this team never got past the second round of the playoffs even when it had Chris Paul, J.J. Redick and Jamal Crawford to go along with Griffin and DeAndre Jordan.
Start the process over.
Tear it down and rebuild.
Blow it up.
But here's a big caveat to that thinking: Clippers coach Doc Rivers has never been one to have patience for a rebuilding project.
Remember, he left Boston rather than go through a rebuild with the Celtics.
Rivers is competitive and coaches to win games.
His players are competitive and play to win games.
Yet they all know that with Griffin potentially missing 29 games and with Milos Teodosic (plantar fascia injury to left foot) and Danilo Gallinari (strained left glute) out until who knows when and with Patrick Beverley out for the season (right knee surgery), winning will be so, so difficult.
Losing is painful, but losing could lead to winning in June.
The Clippers have their own first-round pick, so that is a start.
Now if they trade Jordan and Lou Williams, the Clippers can get more assets that can help turn around the organization going forward.
The 2018 draft is full of franchise-altering players, according to scouts and NBA executives.
Marvin Bagley, a 6-11, 235-pound power forward/center from Duke, is a talent.
DeAndre Ayton, a 7-0, 260-pound center from Arizona, is a talent.
Michael Porter, a 6-10, 215-pound small forward from Missouri, is a talent. But he had back surgery, and we know how the Clippers have not fared well in the injury department.
Mohamed Bamba, a 7-0, 220-pound center from Texas, is a talent.
Jaren Jackson, a 6-11, 240-pound power forward from Michigan State, is a talent.
So you get the gist of this: There is talent in the upcoming draft.
Put one of these players next to Griffin, and the Clippers could be onto something moving ahead.
It's just that the Clippers would have to be in position to select one of those top-five talents.
They are 8-11 and tied for the 11-worst record in the NBA.
Teams only get these top picks by losing.
It's not an ideal way to conduct business, unless of course if you are the Philadelphia 76ers and are willing to lose and lose and lose and lose until you get a Ben Simmons and Joel Embiid.
So that's what the Clippers face.
Tank.
Tank.
Tank.
Tank.
In case you missed it
Doc Rivers accepts being on the hot seat after slow start
Blake Griffin out as injury bug continues to hit Clippers
Doc Rivers faces a challenging season
Up next
Tonight vs. Utah, 7:30 p.m. PT
Saturday at Dallas, 11 a.m. PT
Sunday at Minnesota, 4 p.m. PT
Wednesday vs. Minnesota, 7:30 p.m. PT
And finally
We'd love for you to subscribe or to spread the word and ask your friends to subscribe. It's free! Click here to subscribe.
Have a comment or something you'd like to see in a future Clippers newsletter? Email me and follow me on Twitter: @BA_Turner.
Get our high school sports newsletter
Prep Rally is devoted to the SoCal high school sports experience, bringing you scores, stories and a behind-the-scenes look at what makes prep sports so popular.
You may occasionally receive promotional content from the Los Angeles Times.