Clippers coach Doc Rivers accepts being on hot seat after injury-riddled start to season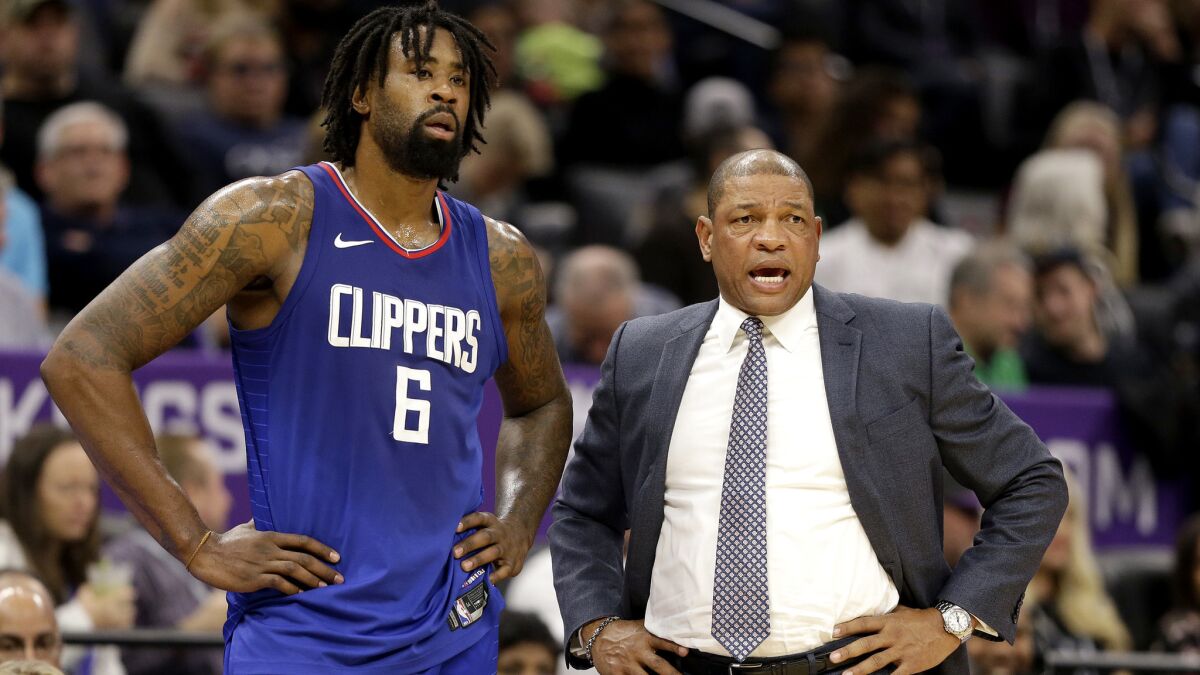 On the day Clippers guard Austin Rivers admittedly hoped that his team's new misfortunes weren't caused by the "Clippers Curse" coming back to haunt them, coach Doc Rivers was answering questions about his future and that of the franchise.
It was enough for Doc to have to talk Wednesday at practice about losing Blake Griffin for perhaps up to two months with a sprained medial collateral ligament injury to his left knee.
But Rivers now had to speak about so much speculation on the direction he and the organization want to head during these turbulent times.
"Yeah, that is very difficult, yeah," Rivers admitted.
Doc Rivers has been the target of the vitriol on Internemessage boards, many suggesting he should be let go for the Clippers' 8-11 record.
Never mind that Patrick Beverley (season-ending right knee surgery), Milos Teodosic (plantar fascia injury to left foot) and Danilo Gallinari (strained left glute) are out.
Even though there has been no indication whatsoever that Clippers owner Steve Ballmer is looking to make a change, Rivers knows how this works.
"When you take the job as the coach, you're going to be a target," Rivers said. "Players get hurt and you start losing, it's the coach's fault. I've been on this rodeo a long time. So, I know what I can do. I believe in the guys here. It is what it is. There's not much I can do about it, though. That's this day and time. It's different than it was 15 years ago. I think you would admit to that.
"So now people want to place blame right away. And, blame me, blame whatever. It's the way it's going to work anyway. So who cares? That doesn't bother me at all. I don't read it anyway."
What about those that say the Clippers and their front office should start tanking and rebuild through the draft? What about those that say the Clippers' executive should trade DeAndre Jordan and Lou Williams for draft picks?
"Well, the day I start answering the Internet people, is the day I'm an Internet person," Rivers said. "And that's not going to happen. I don't listen to all that stuff. We're going to do what's best for the franchise, always. And that's what we're going to keep doing."
Meanwhile, the shorthanded Clippers will play their first game this season Thursday night against the Utah Jazz at Staples Center without Griffin, who became the fourth starter to go down this season.
"Man, at this point, this team has been well-equipped to handle something like this," Austin Rivers said. "Everybody keeps taking about this 'Clippers Curse.' I hope that's not true. It is what it is, though. We can't do nothing about it.
"At the end of the day, we've just got to try to build and try to hold down the ship until Blake gets back. Obviously they are saying six to eight weeks. We still feel like we can win games. You have to feel that way or else we're going to get pounded. We have to go out here and take it game by game, keep winning these games."
UP NEXT
VS. UTAH
When: Thursday, 7:30 p.m., Staples Center
On the air: TV: Prime Ticket; Radio: 570, 1330.
Update: The Clippers, who have a three-game winning streak, have won 19 of their last 21 regular-season games against the Jazz. Utah has won three straight games, four of five.
Twitter: @BA_Turner
Get our high school sports newsletter
Prep Rally is devoted to the SoCal high school sports experience, bringing you scores, stories and a behind-the-scenes look at what makes prep sports so popular.
You may occasionally receive promotional content from the Los Angeles Times.