Blake Griffin will miss two months as the injury bug continues to hit Clippers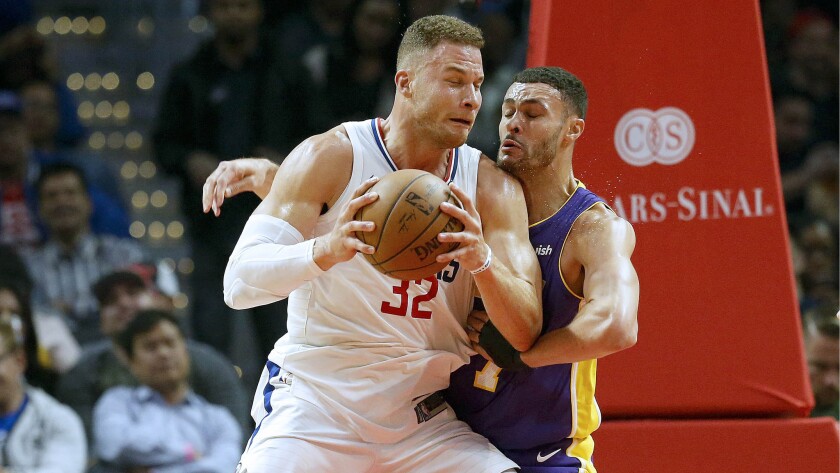 Blake Griffin and the Clippers got a bit of good news amid the bad they received Tuesday when they found out that their power forward had sustained a sprained medial collateral ligament injury to his left knee.
Of course that was the bad news, because Griffin could be out up to two months with his latest injury that occurred in Monday night's game against the Lakers at Staples Center.
But if there was a bright side, it was that the MRI Griffin got Tuesday revealed no structural damage to his knee.
Still, if the eight weeks timetable holds true for Griffin's recovery, he could miss up to 29 games and possibly not return until the last week in January.
That now essentially means that the Clippers are without four starters, putting them in an obviously tough predicament.
Starting guard Patrick Beverley had season-ending surgery last week for a meniscus injury to his right knee and he also had a microfracture procedure to the knee.
Starting guard Milos Teodosic has been out since the second game of the season with an injury to the plantar fascia in his left foot and is not expected back until after Christmas.
Starting small forward Danilo Gallinari has missed the last 10 games with a strained left glute and his return remains uncertain.
"Listen, you don't want injuries," Clippers coach Doc Rivers said after his team defeated the Lakers. "And when you have them, you just got to pull within and see if you can steal each game. That's where we're at right now. Every game is a game that we have to try to get and that's where we're at."
Griffin was injured in the fourth quarter of the Clippers' victory over the Lakers on a freak play involving Lonzo Ball and Austin Rivers with 4:53 left in the game in which all three were chasing a loose ball.
Ball had dribbled around Rivers and into the lane. He lost control of the basketball, tried to retrieve it and unintentionally lowered his shoulder into Griffin, knocking him over.
As Rivers was converging on the play, he fell into Griffin's left knee, twisting his leg to the floor.
Griffin fell onto his back in pain, making Rivers say to his coaches immediately on the sideline that, "It didn't look good."
But Griffin, who finished e with 26 points, 11 rebounds and six assists, played for a minute longer, limping up and down the court.
Finally, with 3:53 left, Doc Rivers pulled his power forward out of the game and he headed to the locker room.
"I saw his leg go in," Doc Rivers said. "Then when he switched, it was back-to-back plays. He just couldn't move, so we had to get him out of the game."
Griffin was starting to take his play to a higher level in the last three games.
He had a triple-double in a win over the Atlanta Hawks, made the game-winning shot in the victory over the Sacramento Kings and was a force in the win over the Lakers before the injury.
Griffin leads the Clippers in scoring (23.6 points per game) and assists (5.1), and is second in rebounds (7.9).
But Griffin, who had played in the first 19 games, will not reach his goal of playing in all 82 regular-season games.
He missed 18 games last season after having right knee surgery and he missed the final four first-round playoff games against the Utah Jazz because of an injury to the plantar plate of his right big toe.
Despite those medical issues, the Clippers stuck with Griffin, making him their franchise player, signing him to a five-year, $173-million extension last summer.
But again, the Clippers, who'll probably start Sam Dekker in place of Griffin, will be without their best player for an extended period of time.
"We all know it's going to be an uphill battle," center DeAndre Jordan said Monday night. "We have injuries and nine new guys, but that still can't be an excuse. We still have to come out here and compete and try to win games."
Twitter: @BA_Turner
---
Get the latest on L.A.'s teams in the daily Sports Report newsletter.
You may occasionally receive promotional content from the Los Angeles Times.