Patrick Beverley flexes Clippers' muscle as they inch closer to playoff berth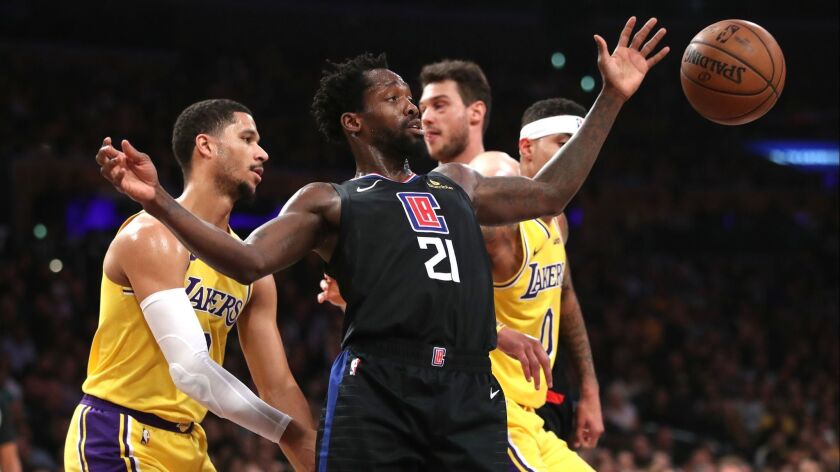 The way he flexed his muscles after grabbing an offensive rebound, the way breath came out of his body rapidly with his chest and shoulders moving up and down, the way he willingly threw his body at the Lakers' 250-pound basketball-playing monster truck.
The way Patrick Beverley did all that Monday night, you think he was going to let the Clippers tank?
Monday, as they've proved over and over again in the last month, the Clippers are as set on winning as anyone.
When the team dealt Tobias Harris, their leading scorer, 55 games into the season while hanging on to a top-eight spot in the conference, the move could've been viewed as a surrender.
The Clippers, after all, would keep their first-round pick this season only if they miss the playoffs. A trip to the postseason means that pick ends up in the hands of the Boston Celtics. The Clippers had proved their point to potential free agents — the franchise was in a good place — now lose some games and add another top-14 pick.
But Beverley, one of the Clippers who stayed, and the team's coach, Doc Rivers, who played a lot like Beverley during his pro career, wouldn't have ever let that happen.
"I don't know that word," Rivers said. "That was never going to happen. We may have lost but we weren't going to tank."
They're not tanking. And they're not losing. Beverley had 13 points, nine rebounds, four assists and five steals in win No. 37, putting the Clippers only half a game behind Utah for the sixth spot in the West.
As the Clippers push toward an unexpected playoff berth, they've got their attitude to thank, and no player on the team has more than Beverley.
"The outside looking in, you'd say this team was trying to tank," Beverley said. "But the leaders we have … the new acquisitions we've got, the rookies we've got … it makes us dangerous. A lot of people don't respect us yet. And that's fine. We're just going to come out here and be the best team we can be."
He's embodied the Clippers' underdog mentality all season long, a player who survives on toughness, will and work ethic instead of athleticism or skill.
In helping bury the Lakers' playoff hopes Monday, it was Beverley giving up 65 or so pounds to LeBron James, fighting him for every inch of space on the block despite being badly outmuscled.
"I asked for the assignment," Beverley said matter-of-factly.
It was Beverley timing a leap perfectly to knock an alley-oop pass off course. It was Beverley busting down the floor to get a steal after missing a shot and creating extra offensive chances with big rebounds.
It was Beverley celebrating a dagger three-point shot from Landry Shamet right above the Lakers' logo at midcourt before pointing right at his like-minded coach. And, for good measure, there was one more flex, as he squirted between three Lakers for another offensive board while the crowd booed.
And as the final seconds ticked off the clock, it was Beverley bathing in the crowd's jeers, his hands in the air, asking for more.
"I love him," Rivers said. "I loved him when he was in Houston and always wanted to get him. And when we knew we could get him in the trade, I was like, 'This is ... great. He's just such a baller. He's got a chip on his shoulder. He believes the whole world has wronged him. And he's great for our guys."
Twitter @DanWoikeSports
---
Get our high school sports newsletter
Prep Rally is devoted to the SoCal high school sports experience, bringing you scores, stories and a behind-the-scenes look at what makes prep sports so popular.
You may occasionally receive promotional content from the Los Angeles Times.