Clippers know their strong start means little moving forward except they can be competitive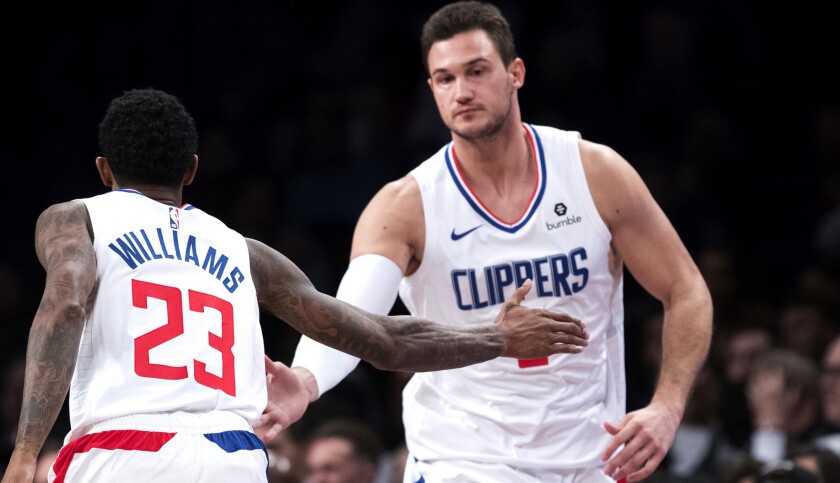 Clippers coaches lined a narrow hallway at Moda Center on Sunday night in Portland, Ore., and, box scores in their hands, debriefed what they'd just seen.
The victory over the Trail Blazers, which included a 15-point second-half comeback, moved the Clippers into first place in the Western Conference. To return to the locker room, Clippers players had to first run through the gantlet of coaches, and several did so sprinting, yelling, joking and high-fiving.
Forward Danilo Gallinari was one of those charging off the court wearing a wide grin. But when the doors to the locker room opened minutes later, his feet were bathed in ice, his thumbs were scrolling on his phone and his mind was months down the road.
The team's hot start, he cautioned, was just that — a start.
"The NBA is a marathon," he said. "It's great to have a very good start like this, but it's a long season."
The Clippers (13-6) as a whole have adopted a similar attitude, saying their upstart first five weeks of the regular season does not foretell much about how they will finish during the final 4 1/2 months. If anything, this beginning has only served as confirmation of the team's preseason belief that it could play with anyone.
"It's too early to be excited," center Marcin Gortat said. "I've been in this league long enough to understand that. I've been on the teams that played well and 15, 20 games in, we were thinking about which team we're going to play in the playoffs from what position we're going to play. The next thing you know, you barely make the playoffs from an eighth spot. So you've got to slow down and calm down."
Try as the Clippers might to downplay it, their start hasn't been smoke and mirrors. Yes, they caught some teams such as Houston and Oklahoma City on nights when they were without a star. They also have the West's fourth-highest point differential, behind Denver, Golden State and Oklahoma City, while playing the league's fourth-most difficult schedule, according to ESPN.
Preparing for the Clippers is "difficult," Portland coach Terry Stotts said, because their depth means their offense isn't predicated on a single, predictable source. Five Clippers average double digits in scoring with Tobias Harris, selected Monday as the West's player of the week, leading the team at 21.5 points per game.
"It's been different guys who've stepped up every time," Harris said. "That lets one another know we can trust each other out there and you know guys are going to make the right play. It definitely does help us grow as a team."
Closely contested victories have become a staple of the Clippers' 19 games. They've won despite giving up double-digit leads and also after rallying from double-digit deficits. Those experiences have told the Clippers something about their toughness, and also about their inconsistency. The thin line between winning and losing is part of why talk of being in first place has been met with a collective shrug of the shoulders.
"We can't have those moments where we play great and then we've got those moments where we turn off the switch and we are playing bad for five, six, seven minutes and then the team is catching up on us or building a lead and then we have to sweat in the fourth quarter to come back," Gortat said. "I think we are getting better at that. I think we're playing 48 minutes on the offensive end, but for us, it's about switching on defensive end from the first minute and be very consistent defensively.
"We can be a very good team, but we have to do it for 48 minutes in a game."
Before the season began, several Clippers believed an accurate picture of the team's potential would emerge around the regular-season's quarter pole, and Wednesday's matchup against Phoenix at Staples Center will bring them to the 20-game mark. The Clippers will enter the game as one of four teams, joining Denver, Milwaukee and Toronto, to rank in the top 11 in offensive and defensive ratings.
In the preseason, the Westgate Las Vegas Superbook gave the Clippers an over/under for victories of 37 1/2, third in their division. It's nearly December and they sit atop the West — for now.
"I don't even count record," coach Doc Rivers said. "I just thought we were gonna be good, and I think we are. And I think we're gonna get a lot better."
UP NEXT
VS. PHOENIX
When: 7:30 p.m., Wednesday
On the air: TV: Prime Ticket; Radio: 570, 1330.
Update: The Clippers have won their last eight home games, the longest active home winning streak in the NBA. They have also won eight consecutive games in the series with the Suns.
Twitter: @andrewgreif
---
Get the latest on L.A.'s teams in the daily Sports Report newsletter.
You may occasionally receive promotional content from the Los Angeles Times.