Clippers go cold during warmups but not by choice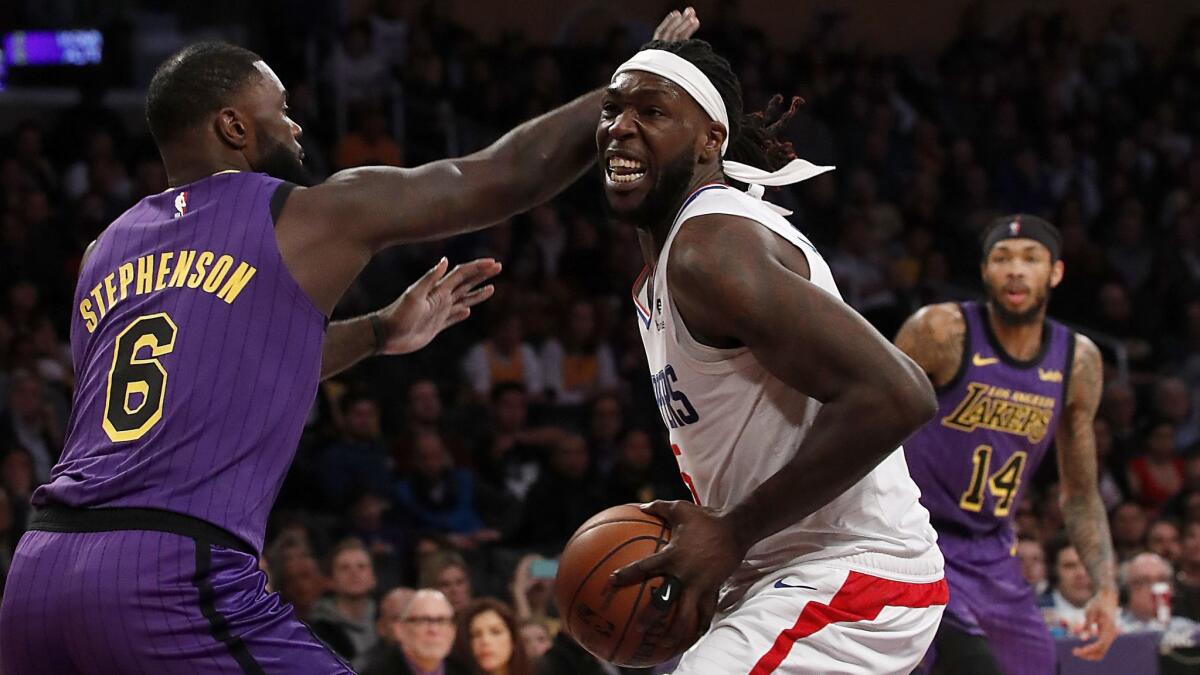 The air inside Staples Center was still chilly from Saturday's 1 p.m. hockey game between the Kings and Vegas Golden Knights when Clippers players arrived hours later and began their wait to get on the court.
Because of the transition from hockey rink to basketball court, the Clippers and San Antonio Spurs didn't get onto the newly assembled court until just after 5:40 p.m., less than two hours before their 7:30 p.m. tipoff. The NBA mandates that teams are able to access a court no later than 90 minutes before tipoff. The Clippers typically warm up during a three-hour window before any given tipoff and the arena's changeover compressed both teams' pregame shooting schedules by nearly half.
John Welch, a Clippers assistant who can be seen before every game chasing after a number of players as they run through specific shooting routines, felt more rushed than usual because of the wait for the court to be prepared. But forward Tobias Harris, who shoots for as little as 10 minutes before playing a second consecutive night, said it didn't alter his preparation. Same for guard Patrick Beverley.
When the Clippers warm up on the second night of back-to-back games, rotation players typically shoot for 15 minutes and those at the end of the rotation get 30 minutes. During a changeover game such as Saturday's, those slots for warmups are decreased to about 10 minutes for rotation players and 15 for others.
"I wouldn't like it as a player," Clippers coach Doc Rivers said before tipoff, not long after players were first let onto the court. "I was a very regimented player so I don't know, it probably affects both teams a little bit."
About face
Marcin Gortat, a career starter, initially bristled in November when he was benched in favor of fellow center Boban Marjanovic. He quickly recanted and fell in line with the understanding that his role, in his 12th season in the NBA and first with the Clippers, had changed.
Gortat has started numerous games since but Rivers called him a "pro" for staying ready on the nights when he doesn't, a situation that Gortat faced Friday against the Lakers.
Marjanovic started and initially was effective defensively as the Lakers made two of their first nine shots in the paint. The game's pace was too fast to keep Marjanovic in for long stretches and Rivers, after spelling Marjanovic with Montrezl Harrell in the first half, opted for a rare third center in the rotation by starting Gortat in the third quarter.
Gortat hadn't played in the team's previous game, against Sacramento, but showed no signs of rust. He finished with five assists, the most in any quarter of his career.
"I really thought Marcin came in and gave us a huge lift," Rivers said. "It's a testament to him, not playing the other night, not playing in the first half and being professional enough to be ready when called upon. That's our team, though."
Rivers wasn't surprised that Gortat showed his displeasure in November upon learning he wouldn't start. And if the coach is being honest, he liked the reaction.
"I would have been disappointed if he was happy," Rivers said. "You don't take the guy out of the lineup and say, 'Thank you, coach,' it just doesn't happen. The coach has to do what's right for the team always, and sometimes that's not the best for the player, but you've got to get that player to still understand you still need him ... and you still value him and I think Marcin understands that part of it."
Twitter: @andrewgreif
Get our high school sports newsletter
Prep Rally is devoted to the SoCal high school sports experience, bringing you scores, stories and a behind-the-scenes look at what makes prep sports so popular.
You may occasionally receive promotional content from the Los Angeles Times.