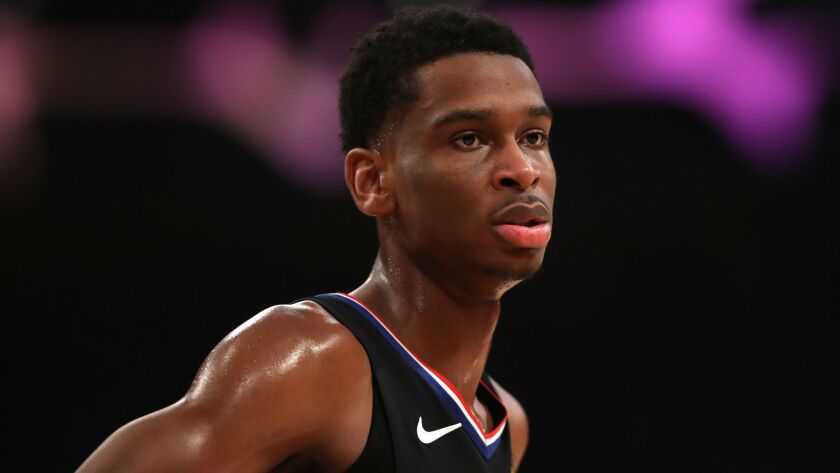 Three games, nearly 63 minutes and just one made basket.
It was as bad of a stretch as Clippers rookie guard Shai Gilgeous-Alexander has had as a professional — maybe ever. He looked very much the part of a rookie, overwhelmed and under-performing. And maybe, just maybe, a feel-good story for the Clippers was about to take a turn.
But one game later, with the Clippers in Sacramento playing a big game against the playoff-hungry Kings, Gilgeous-Alexander completely shook off the slump, heading out on another stretch of strong play for the Clippers as they zero in on a surprise trip to the postseason.
Now, more than three-quarters of the way through his rookie season, the Clippers starting guard is coming to grips with life in the NBA — which means plenty of ups and plenty of downs.
"It's a challenge at first, obviously. But it's something where you get used to them. Everyone goes through them. Last year in college, 40 was the most games I played in a season. Now, six months later, it's double. It's a lot, not only mentally but with my body. I feel like I'm getting used to it and getting better from it," he said Wednesday. "… [But playing so often] makes it easier. You play a game the next day. You have to forget about it. You've got 82 games — that's so many opportunities to get yourself out of it. In college, you string four bad games together and it's a lot of your season."
In the four games since his slump, (the Clippers went 2-1 in those games), he has averaged 14.3 points on 59% shooting.
"He was in [a slump] for a while and he kind of fought his way out of it," Clippers coach Doc Rivers said. "That's all you can do."
Playing point guard in the NBA is hard enough. Doing it for a former point guard, Rivers, and on a playoff team — and doing it as a rookie — is a different story.
Rivers, who said he's probably harder on point guards than other players he coaches ("Just call (Rajon Rondo"), has long maintained that age wouldn't be an excuse for his team this season, especially down the stretch. Still, he knows the challenges at Gilgeous-Alexander's feet.
"I think he's done pretty well," Rivers said. "His next steps are learning how to run an offense, calling sets. He doesn't have that feel yet. He's not supposed to. I think where he gets equity from his teammates, the veterans, is that he works.
"He's always in the gym. He's working, even when he's struggling. He's in the gym every day. It's not like he just accepts that he's a starter now. I think that helps him with his teammates."
That's how Gilgeous-Alexander has kept his confidence — by trusting in his work, when the ball won't fall and things get tough.
"Things like that happen and they happen to the best of them," he said. "I tried not to worry about it too much. You make mistakes and learn from it — and then you move on. It's how I try to go about it every game."
So here he is, riding a wave of good play, his team in control of their destiny when it comes to earning a spot in the playoffs. He could've landed on a worse team, playing more minutes, working with a longer leash. He could've been a bigger focal point. Instead, he's tasked with learning how to run the Clippers — and doing it with high stakes every night he's on the court.
"It's something not a lot of people get it, being a point guard, playing for a playoff team in your rookie season," he said. "You can't explain it. You can't simulate that anywhere. To me, you have to go through it and I'm blessed and fortunate to be on that track."
Notes
Forward Luc Mbah a Moute was set to practice Wednesday on his way back from a knee injury that's cost him most of the season. The plan is for Mbah a Moute to play for the first time since October on Friday against Oklahoma City. …Wilson Chandler, who came to the Clippers in the Tobias Harris trade with Philadelphia, was also on the court before practice. Rivers said he might be able to return Friday as well. "Wilson's size at the three wouldn't be bad and he can spread the floor," Rivers said. "He's another shooter. We keep adding guys who can shoot." Chandler is shooting 39% from three-point range this season.
---