Clippers have turned into road warriors, and it could pay off this trip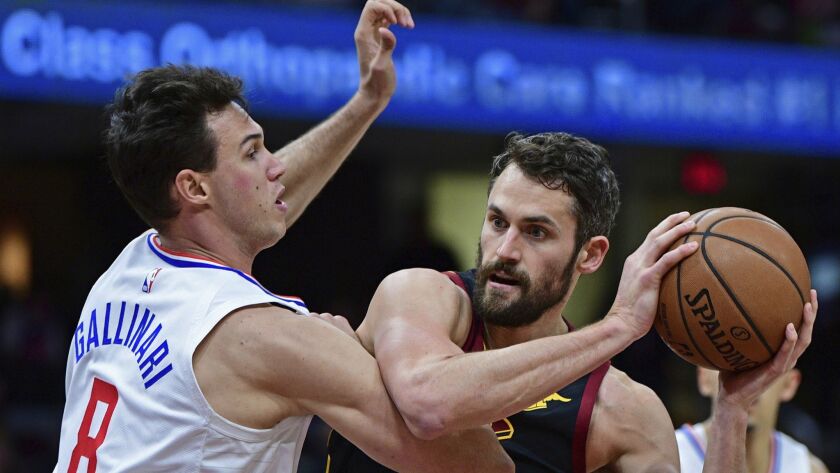 Reporting from New York —
After playing all but two games on the road in February, the Clippers certainly savored the 17 consecutive days they spent in Los Angeles to begin March.
They unpacked, reintroduced themselves to their families and won seven of their eight games at Staples Center.
Yet as they left Thursday for their last, extended road trip of the regular season, they did so without dread. The Clippers have found a comfort playing away from home — one they hope will carry over from the regular season to the postseason.
With a 110-108 victory Friday in Cleveland that kicked off a four-game trip, the Clippers joined Milwaukee, Golden State, Toronto and Oklahoma City as the only teams with at least 20 road victories this season. They also own the NBA's fifth-highest road winning percentage (.543).
"That's been the secret success of this team all year," coach Doc Rivers said. "They don't care where they play."
Such success wouldn't be obvious judging by metrics alone. The Clippers rank 11th in net rating, 14th in efficient field goal percentage and are among the league's bottom third in committing turnovers through 37 road games. Of the league's 10 players who have produced the highest net ratings on the road this season — those who have played at least 25 road games — Golden State and Milwaukee players take up eight of the spots. Lou Williams, the top Clipper, ranks 37th.
Sign up for our daily sports newsletter »
Yet the Clippers have taken advantage of easy scoring opportunities, having taken free throws at a higher rate than any other road team and, since the trade deadline, have played a tougher brand of defense, limiting opponents to the fourth-lowest efficient field goal percentage. Rebounding, an Achilles' heel for much of the season, is slightly improved on the road as well.
"I think with the leaders we've got, the players we've got, the vets we've got, we're focused every time," forward Danilo Gallinari said.
What the numbers don't account for is an attitude that welcomes wearing the black hat. It's helped the Clippers rally for road victories despite deficits of 20, 25 and 28 points.
"It's like Pat's makeup," Rivers said of Patrick Beverley, the starting guard who thrives on getting under an opponent's skin. "He wants to come in and be a villain and he does that very well, but it's the team makeup. They really don't care."
Said Beverley: "[We] go to movies, chill with each other, eat as a unit, eat as a team, make it a business trip. We have fun in the summertime, but right now, we trying to get as many wins as we possibly can and get the highest [playoff] seed that we possibly can."
The strong play away from Los Angeles continues a trend for Rivers-coached Clippers teams in the regular season. Only once in his five previous seasons have the Clippers finished with a losing road record — when they went 20-21 last season — and their .558 road winning percentage since the start of the 2013-14 season, Rivers' first with the organization, trails only Golden State (.705), Houston (.581), Toronto (.573) and San Antonio (.564).
More difficult has been replicating such success in the postseason, where the Clippers own a .368 road winning percentage under Rivers.
With the Clippers only two games back of fourth-seeded Portland with nine games to play, the possibility remains they could begin the first round of the upcoming playoffs with home-court advantage, but perhaps the more likely scenarios involve spending the first two games of a series in Oakland, Denver or Houston. They are 1-3 in those cities this season.
Before they begin playoff preparation, however, three more road games await on this trip, against the Knicks, Minnesota Timberwolves and Milwaukee Bucks.
"We need to get them all," Gallinari said.
UP NEXT
AT NEW YORK
When: 9 a.m. PDT, Sunday
On the air: TV: Prime Ticket; Radio: 570, 1330.
Update: Though the Clippers (43-30) dealt away their leading scorer in February, their offense has been buoyed ever since by Danilo Gallinari, whose 1.17 points scored per possession lead the NBA among players with at least 1,000 possessions this season, according to Synergy Sports. … The team announced the signing of guard Justin Bibbs to a second 10-day contract Saturday. He will remain with the organization's G League affiliate. … The Knicks (14-59) have lost three in a row and nine of their last 10 games. The Clippers have won nine of their last 10.
Twitter: @andrewgreif
---
Get the latest on L.A.'s teams in the daily Sports Report newsletter.
You may occasionally receive promotional content from the Los Angeles Times.