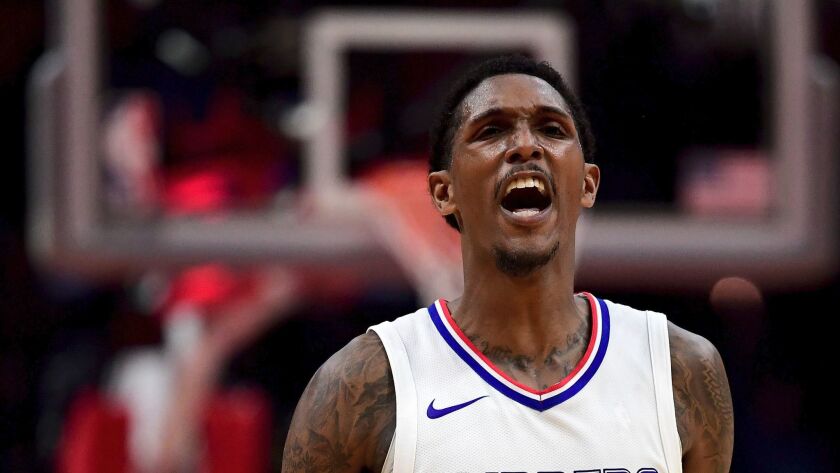 1. These days, Lou Williams is the chief weapon for the Clippers.
He was again Monday night against the Philadelphia 76ers, dropping in a team-high 31 points off the bench. And for good measures, he had seven rebounds, six assists and five steals.
Williams was a one-man show for the Clippers in the fourth, scoring 16 of the team's 26 points.
He was six for eight from the field in the final 12 minutes, three-for-five from three-point range.
2. The Clippers played hard and determined basketball, but it still wasn't enough to avert their sixth consecutive loss.
They played pretty good defense, took pretty good care of the basketball and really grinded against the 76ers. But the short-handed Clippers still couldn't pull out a win.
3. The Clippers were outrebounded by the 76ers 51-34. DeAndre Jordan, who entered the game second in the NBA in rebounds, had just five. Williams' seven led the Clippers, while Joel Embiid had 16 and Ben Simmons had 12 for the 76ers.
4. It becomes more clear every game that the Clippers need production out of more players.
All of the offensive pressure right now is on Williams, Blake Griffin and Austin Rivers. And both Rivers and Griffin had off shooting nights.
Rivers missed 10 of his 13 shots, including four of his six three-pointers; Griffin missed 13 of his 25 shots, five of his eight three-pointers; Williams missed 10 of his 19 shots, half of his 10 three-point attempts.
That trio combined for 71 of the Clippers' 105 points.
5. Again, Clippers rookies Sindarius Thornwell and Jawun Evans played well.
They had seven points each and also played very good defense during their time on the court.
Twitter: @BA_Turner
---