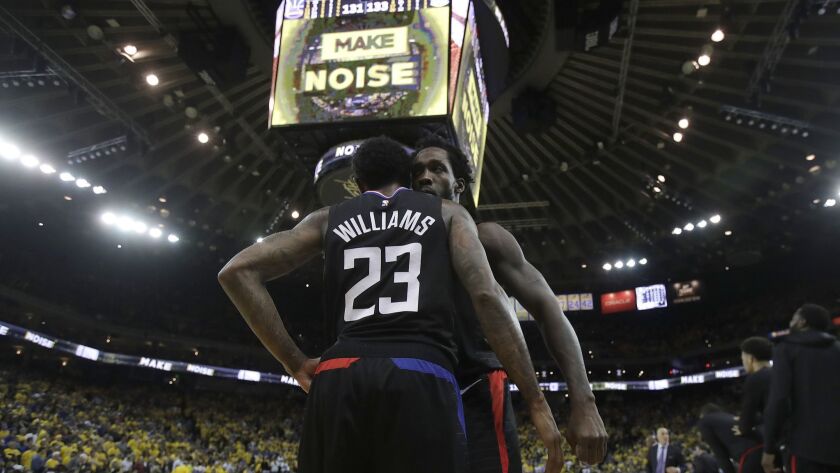 One of the sweetest parts of the Clippers' upstart season has been measuring the gap between outside expectations and their own.
Oddsmakers picked the Clippers to win 35 games in the preseason. They won 48.
In a league where teams' ability to contend for the title directly correlates with how many all-NBA players they have, the Clippers became only the fourth team in NBA history to win at least 45 games without a current or former All-Star on their roster.
Few, if any, outsiders projected the Clippers to make the postseason. Players and coaches say they believed they belonged since September.
Circumstances feel similar entering Sunday's Game 4 of their first-round series against Golden State.
Behind a 38-point performance from Kevin Durant, the top-seeded Warriors reasserted control with a 27-point victory in Game 3 to grab a 2-1 series lead. The performance redeemed Golden State following its historic collapse in Game 2, and was dominant enough that some playoff-watchers might begin to imagine a second-round series with Houston, a rematch of last season's seven-game Western Conference finals.
The Clippers left frustrated — yet not resigned to being brushed aside by the defending champions.
"They did what any good team would do, respond to kind of getting embarrassed, I guess," guard Landry Shamet said. "That's how we would look at it. That's how we feel right now, feel embarrassed. Hopefully we can come out Game 4 with a little better intensity and mindset."
Coach Doc Rivers entered the playoffs with the understanding that his team was a longshot. Vegas oddsmakers made them 100-to-1 underdogs to win the series.
Yet after a season of bucking expectations, Rivers bristled at the notion that his team could play like it has nothing to lose. Providing his young players valuable playoff experience against the NBA's most star-laden team, in one of the its most hostile arenas, undoubtedly will reap benefits in the future. But Rivers expects his team to be more than a speedbump in this series.
"You do have something to lose," he said. "When you get to the playoffs the first thing you've got to lose is the first round.
"I told our guys that the first day — you do have something to lose, just like they have something to lose."
What the Warriors lost after allowing a 31-point comeback in Game 2 was the sense of security that they could play unfocused and undisciplined basketball without consequences. What the Clippers lost after Game 3 was any hope that the Warriors would take them lightly.
"We just got our ass kicked," Clippers guard Lou Williams said after Thursday's 132-105 loss.
"Golden State made it really hard for us last night and that was no fun," Rivers said Friday before practice. "I looked at it like OK, this is the playoffs. This is what happens. Deal with it. Now we have to come back Sunday and try to make it hard on them. And if we do, they're gonna be saying 'we gotta make it hard on them.' That's just the way it is."
Sign up for our daily sports newsletter »
The Clippers typically make life hard for opponents by how hard they play, as evidenced during their unprecedented comeback in Game 2. Such an edge was missing three days later.
"We didn't play that hard," said Shamet, who added Thursday he wasn't going to "do mental gymnastics" overthinking his shooting struggles in Game 3, as he failed to make a three-pointer. "We didn't play the way we should have. We didn't match their energy."
The Clippers' attempt to match the Warriors' energy could lead Rivers to play JaMychal Green as a small-ball center more often, though Rivers said he doubted he would start Green over Ivica Zubac. Green creates a lineup in which all five starters can shoot three-pointers. Such spacing could help blunt the effect of Warriors centers Kevon Looney and Andrew Bogut if they are forced to play close to the perimeter, now that starting center DeMarcus Cousins is out for the series with a torn left quadriceps.
Coach Steve Kerr particularly called Bogut, who rejoined the Warriors for a second stint in March, a "godsend" for his rim protection, which hindered Zubac's production in Game 3 and contributed to the Clippers' array of missed opportunities. After the Clippers faced Bogut and his Australian league team in an exhibition in September, Rivers told team president Lawrence Frank that Bogut belonged back in the NBA. Now he's playing a major role in the playoffs.
"I feel like sometimes we think we're more talented than most teams and we're just going to turn it on when we have to," Bogut said. "That's a dangerous game to play, especially in the playoffs. We realized that in Game 2 and I think we fixed that."
Twitter: @andrewgreif
---