Clippers rookie guards Shai Gilgeous-Alexander and Landry Shamet form solid bond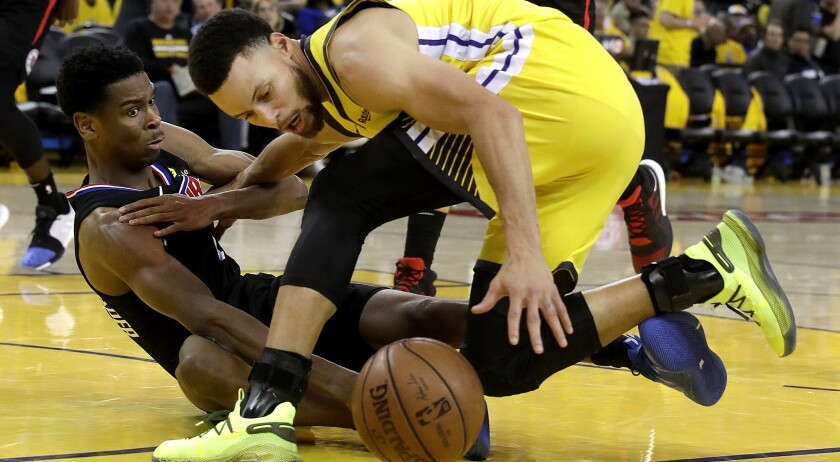 Two of the Clippers' rookie guards have developed chemistry in a short period of time together, the proof of that on display in a crucial moment when Shai Gilgeous-Alexander and Landry Shamet worked in unison to provide their team with the shot heard around the NBA.
It all started with veteran Lou Williams showing he had confidence in the 20-year-old Gilgeous-Alexander to make the right play in Game 2 of the first-round playoff series against the Golden State Warriors at raucous Oracle Arena on Monday night.
Williams found himself being double-teamed by guards Klay Thompson and Stephen Curry when the game hung in the balance. Williams passed the basketball to a wide-open Gilgeous-Alexander, who penetrated into the lane before he encountered the defensive presence of forward Andre Iguodala.
Gilgeous-Alexander did not panic. He looked over at the wing and passed the basketball between the long arms of Iguodala to a waiting Shamet, who set his feet and drilled a three-pointer with forward Draymond Green running at him.
The ball settled into the net with 16.5 seconds left, giving the Clippers a 133-131 lead that soon would turn into a wild celebration of a 135-131 victory, the largest comeback in NBA playoff history.
And the two rookies, Gilgeous-Alexander and Shamet, were right in the middle of all that joy.
Sign up for our daily sports newsletter »
"He's a really cerebral player," Shamet said about Gilgeous-Alexander before practice Wednesday in preparation for Game 3 against the Warriors on Thursday night at Staples Center. "For playing one year in college, he's super cerebral, understands the game, understands his reads.
"Him and I are starting to figure each other out. He made the perfect read. Iggy came over and helped, he threw it to me. I still don't know how he got it too me. Hell of a pass. But, I love playing with Shai. He's an unselfish guy. He's aggressive, looks to get his own, but also understands when and where to get other guys involved. So, he's been great."
Gilgeous-Alexander had been with the Clippers all season, but Shamet didn't join the Clippers until he was acquired on Feb. 6 as a part of the Tobias Harris trade.
It didn't take long for the 6-foot-5 Shamet, a dynamic shooting guard, and the 6-6 Gilgeous-Alexander, a rangy point guard, to bond.
"It's just getting to know each other, playing with each other, practice, games," Shamet said. "It's just simply being around each other, being put in those situations.
"We'll talk about things here and there. The things he'll see, he'll say, 'Hey, do this next time.' I'll say, 'Hey, yo, on this play I'm right here.' We talk, go back and forth. We have a good open relationship where he can tell me things, I can tell him things and it's only going to grow."
In their first two playoff games, Gilgeous-Alexander is averaging 11.0 points, 3.0 assists and 2.5 rebounds in 33 minutes while Shamet is averaging 7.5 points, 2.5 assists and 2.0 rebounds in 26.5 minutes.
"They are going to be so much better in a year than they are now," Clippers coach Doc Rivers said. "Shai is going to be able to help Sham even be better just by looking for him in the transition, getting him the ball when he's open instead of after he's open. That just takes time. But that will come."
Clippers turn up heat on defense
During the regular season, the Clippers were not known as a team that made a lot of steals.
But after the first two games of the playoffs, the Clippers are leading the NBA in steals at 12.0 per game.
During the season, they averaged just 6.8 steals per game, tying the New York Knicks for 23rd in the league.
Twitter: @BA_Turner
---
Get our high school sports newsletter
Prep Rally is devoted to the SoCal high school sports experience, bringing you scores, stories and a behind-the-scenes look at what makes prep sports so popular.
You may occasionally receive promotional content from the Los Angeles Times.