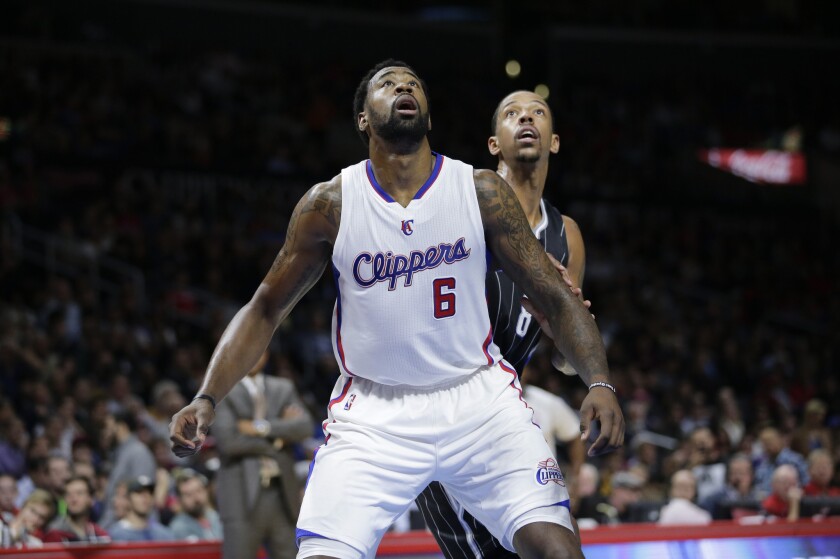 Doc Rivers cited a colorfully coiffed Hall of Famer when describing DeAndre Jordan's relentless approach to getting the ball, calling it "Dennis Rodman-ish."
Chris Paul was no less magnanimous about the Clippers big man, labeling him "the most athletic center to ever play the game."
Steve Ballmer could eventually bestow two even more flattering words upon Jordan: maximum contract.
Jordan's continued emergence as one of the best defensive big men in the NBA could make him nine-figure rich next summer in free agency, while presenting the first significant financial test of Ballmer's ownership.
A maximum five-year contract for Jordan projected at $103.5 million would probably nudge the Clippers over the luxury tax threshold for a third consecutive season in 2015-16, triggering the dreaded repeater tax the following season.
That's an additional dollar-for-dollar charge tacked onto existing penalties under the league's more punitive luxury tax system adopted in the most recent collective bargaining agreement.
It's impossible to know exactly how much the Clippers would have to pay in penalties until the makeup of their roster and the salary cap figures are known. But a third maximum salaried player in addition to point guard Chris Paul and forward Blake Griffin could give even a billionaire such as Ballmer some sticker shock.
The Brooklyn Nets, currently the only NBA team with three maximum salaried players in Joe Johnson, Deron Williams and Brook Lopez, are set to pay $93.7 million in salaries this season and roughly $36 million in associated taxes.
Ballmer has intimated he would make whatever financial commitment was necessary to preserve the core of his team.
"I want the Clippers to be better than they've ever been and better than anybody else has ever been," Ballmer said, the excitement rising in his voice during an interview with The Times this summer after he purchased the team for a record $2 billion.
"What that means explicitly, it's not simple, of course, because of the NBA, the cap, the this, the that. I mean, I know they exist, but it's kind of a labyrinth that you have to know how to navigate and Doc and his staff do.… We want to be the best we can be and I'm going to support Doc to go do that."
The Clippers owed luxury taxes for the first time last season, paying the league $1.3 million. Their current payroll of $80 million, which is about $3.2 million over the luxury-tax threshold, puts them on track to pay roughly $4.8 million in taxes.
That figure could leap considerably next season, when Paul will make $21.4 million, Griffin will take up another $18.9 million and Jordan stands to get about $18 million if he gets a maximum contract. If the Clippers keep Jamal Crawford and Matt Barnes, whose contracts for the 2015-16 season are only partially guaranteed, and Jordan Farmar exercised his $2.1-million player option, their payroll could swell to about $90 million. That would come with a tax bill of approximately $16 million.
The Clippers could catch a break if the salary cap and luxury tax thresholds appreciably rise next season as a result of the NBA's new $24-billion television deal, though the numbers won't be known until the summer.
Jordan's numbers are only part of the reason he's on the verge of such a massive payday.
He had a breakout 2013-14 season, averaging a double-double for the first time with 10.4 points while leading the NBA with 13.6 rebounds a game. This season he ranks second in the league in field-goal percentage (.725) and third in rebounding (11.9 per game) and blocked shots (2.4), but his value doesn't always show up in the box score.
"You don't see the shots that he affects, the altered shots, the missed shots where guys are trying to throw it up over him just so he won't get a hand on it," Griffin said.
There no stats that can quantify his effort. Three times when the Orlando Magic had boxed him out Wednesday, Jordan leaped to tap the ball out on the perimeter to his teammates. The Clippers scored on each possession.
"He's won games without scoring and he's the perfect guy to have on a winning basketball team," Rivers said. "Every team would love a guy like that. … I don't know if there's a better defensive player in this league."
Rivers, who is also the Clippers' president of basketball operations, said he didn't worry about giving Jordan's agent negotiating leverage with his strong praise. In other words, a maximum contract may not require much wrangling.
Jordan, 26, is making $11.4 million this season, his seventh with the Clippers. The team's longest-tenured player sounded as if he was contractually bound to avoid discussing his future.
"I just try to keep myself busy to not think about it," Jordan joked when asked about his next contract. "I love being a Clipper. I've been here for seven years, so hopefully I'll be here a lot more."
Keeping him around is a costly decision the Clippers may be happy to make.
Follow Ben Bolch on Twitter @latbbolch
Times correspondent Eric Pincus contributed to this report.
---