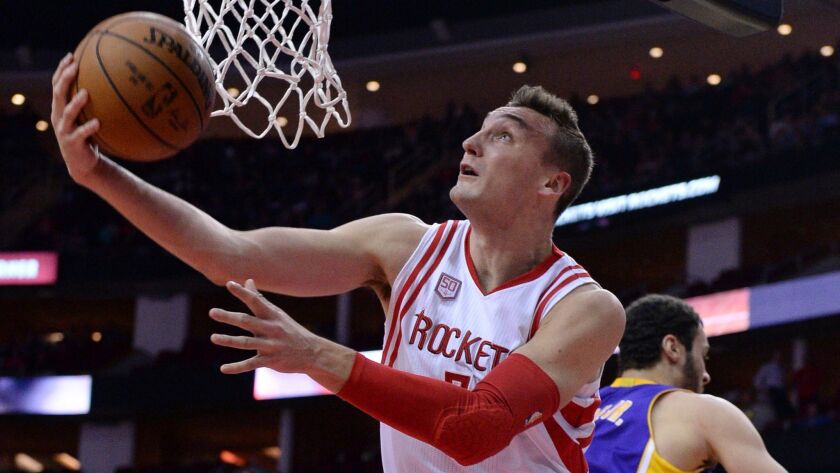 Here's a look at the key players the Clippers have acquired in the deal that sent Chris Paul to the Houston Rockets, with comments from a Western Conference scout who spoke anonymously because he is not authorized to talk about opposing teams' players:
Sam Dekker, 6-foot-9, 230-pound small forward
A former first-round pick from Wisconsin who essentially redshirted his rookie season while dealing with a back injury, Dekker flashed potential in his first full season with Houston as a key rotation piece. He scored in double figures 15 times last season including a 30-point outburst against Memphis in one of his two starts.
Scout's take: "He's got a good work ethic and is a great athlete in the open floor. He really runs. He can attack from the wings. I think he's improved on his decision making. He just needs a steady improvement in his minutes. He needs to play 15 to 20 minutes per game. I think he's ready for it."
Patrick Beverley, 6-1, 185-pound combo guard
Known for his defense and tenacious attitude, Beverley has worked himself into a starting role after playing in Europe to begin his career. Last season, he shot 38.2% from three-point range while averaging 5.9 rebounds and 4.2 assists a game as he moved to shooting guard to allow James Harden to run the point. He has two years and a very affordable $10.5 million left on his contract.
Scout's take: "He's hard-nosed, tough. People know he's out there verbally and physically. He's not afraid of anything. I think Houston's going to miss what he brought them. I think Beverley gets overlooked for the stuff he does. He's a guy you feel all the way up the court pressuring the ball up the court. He won't score much in the pick-and-roll, but I think he's more than a viable starting point guard in the league. He's a guy everyone wants on his team."
Lou Williams, 6-1, 175-pound shooting guard
One of the NBA's top scoring guards coming off the bench, Williams averaged a career-high 17.5 points last season for the Lakers and the Rockets. With one year remaining on his contract, Williams becomes a possible asset in a future trade, or he could stay with the Clippers to give them another big-time bench scorer alongside Jamal Crawford.
Scout's take: "He's a perfect guy you can bring off the bench to score you points. He's a terrible defender, and that might be an understatement, but you know what you're getting. He's a guy who can get you 15 points in a quarter."
Montrezl Harrell, 6-8, 240-pound power forward
A former second-round draft pick, Harrell is a high-energy big man who can play either frontcourt position. He averaged 9.1 points and 3.8 rebounds as he worked himself into Houston's rotation last season as a reserve in his second year in the league.
Scout's take: "He's an undersized center best playing in the open floor. He can really run. He's athletic. I think his strength is playing in early offense and not a structured system. When he's on, he's a mini Kenneth Faried. He's that type of player. He can get you extra possessions. Defensively, he needs to improve in the pick-and-roll, but he can give you rotational minutes off the bench."
Note: The Clippers also acquired forward Kyle Wiltjer and guards Darrun Hilliard and DeAndre Liggins, who have been seldom-used reserves.
Twitter: @DanWoikeSports
---