Clippers' Shai Gilgeous-Alexander is no longer playing like a rookie who hit the wall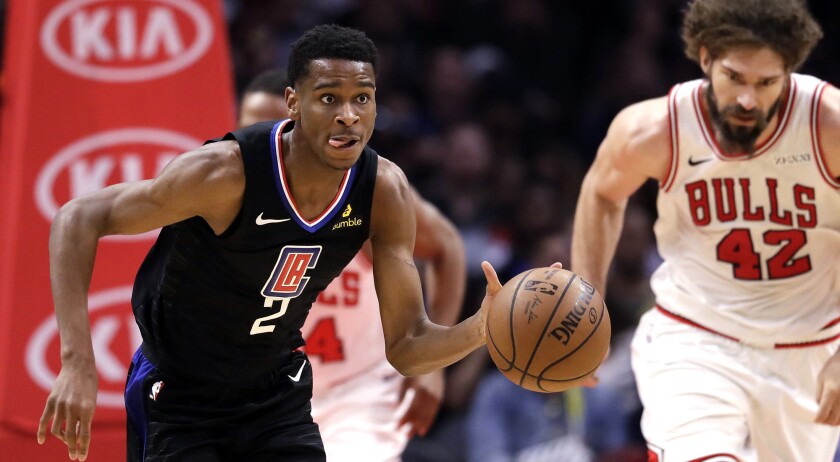 Shai Gilgeous-Alexander has overcome the fatigue that threatened to pull the Clippers point guard under, and he has responded with the best month of his rookie season.
In seven games in March, Gilgeous-Alexander has averaged 13.9 points on 54.4% shooting, including 71.4% from three-point range. It's his best performance during any month this season in all three categories.
He is averaging 3.6 rebounds this month, tied for his previous high in November, and 3.4 assists, tied for his previous high in December.
"I feel like I'm getting better, mentally and skill wise," Gilgeous-Alexander said late Friday night. "And physical as well, I'm getting stronger. I'm able to go for longer times. I knew it was up to my work ethic and being myself, that I would get better this season."
Gilgeous-Alexander has come a long way, and it showed during the Clippers' 128-121 victory over the Chicago Bulls on Friday night at Staples Center.
He missed just five of his 12 shots. He had seven rebounds and seven assists. He had three steals, one blocked shot and just one turnover in 29 minutes and 54 seconds.
Sign up for our daily sports newsletter »
There was a time this season when Gilgeous-Alexander admitted that he had hit the so-called "rookie wall."
"I did physically for a little bit," he said. "I was more tired than usual."
How did he get through the rough patches?
"The vets helped me out a lot," Gilgeous-Alexander said. "They just told me to do what I do, be myself and I'll get out of it. Everyone goes through it. I'm no different from any other NBA player. I just continued to work hard and tried to get through it."
Veteran Patrick Beverley explained how he and Lou Williams used their knowledge as guards and their personalities to help Gilgeous-Alexander.
"You know, Lou brings the calm, cool," Beverley said. "You know me, I'm bringing straight fire. So he gets the both of them.
"For him to be the starting point guard on this team, running the show, the ball is in his hands a lot, he just makes the right play. … We're getting his body ready, getting his mind ready for the playoffs. That's our big focus right now."
Gilgeous-Alexander, 20, is having a great time playing for a Clippers team looking to secure a playoff spot in the tough Western Conference. Entering Saturday's games they were the No. 8 seed, a half game behind No. 6 seed San Antonio and six games ahead of the ninth-place Sacramento Kings.
He's showing the Clippers that he has an all-around game, having started in 61 of their 70 games.
For the season, the 6-6 Gilgeous-Alexander is averaging 10.2 points, 3.0 assists and 2.7 rebounds.
"Yeah, it's been really fun," he said. "I couldn't even imagine this. A year and a half ago, I was playing high school basketball and now I'm about to be in the playoffs. Crazy."
UP NEXT
VS BROOKLYN
When: 6 p.m. Sunday.
On Air: TV: Prime Ticket; Radio: 570, 1330.
Update: The Clippers are sixth in the NBA in scoring (114.6) and second in three-point shooting (38.7%). … The Nets, one of the surprise teams in the Eastern Conference, are set for back-to-back games after having played at Utah on Saturday night.
Twitter: @BA_Turner
---
Get our high school sports newsletter
Prep Rally is devoted to the SoCal high school sports experience, bringing you scores, stories and a behind-the-scenes look at what makes prep sports so popular.
You may occasionally receive promotional content from the Los Angeles Times.