Clippers go on scoring frenzy in victory over defense-challenged Wizards
Injuries had poked holes in his roster, but Scott Brooks' sense of humor was very much intact before tipoff Sunday night at Staples Center.
Asked whether his short-handed Washington Wizards might simply play their most potent offensive lineup and hang their hopes on outshooting the Clippers, the coach of one of the NBA's worst defenses feigned confusion.
"We've been doing that all year, right?" Brooks said, smiling. "Defense? We're talking defense?"
It was one of the last times of the night that the Wizards even considered the concept.
For a Clippers team coming off one of their oddest offensive performances, facing a Washington defense with few answers, and even less help on defense, was a welcomed salve amid a 150-125 victory.
Two days after forward Paul George mustered only five points during a loss in San Antonio, then said that he intended to play more aggressively, he followed his own suggestion. George needed only 75 seconds to match Friday's point total and at one point he had 27 points in 13 minutes. He finished with 31.
By halftime, center Montrezl Harrell had a double-double — the first time in his 289-game career he'd needed only two quarters to produce one — and the Clippers had 82 points, more than any team had scored in a first half all season.
Montrezl Harrell and Lou Williams each do their part in helping the Clippers bench put up 73 points in a 150-125 win over the Washington Wizards.
By the end, the Clippers had matched their season high for points, won eight of their last nine games and improved to 12-1 at home.
And coach Doc Rivers pointed to the box score showing 40 free-throw attempts.
"We went downhill," Rivers said. "I thought we settled a lot in San Antonio. When we go downhill and get in the paint we're clearly very good."
Kawhi Leonard scored a game-high 34 points and star reserves Harrell (23 points, a career-high 15 rebounds) and Lou Williams (22 points) both made more than half of their field-goal attempts in the rout.
Rookie Rui Hachimura led Washington (6-12) with 30 points.
"We tried to cruise into the second half of that San Antonio game and they came out and blitzed us and we wasn't prepared for them and never could get back on track," Harrell said. "Tonight we just wanted to come out here and play the game through and through, the right way."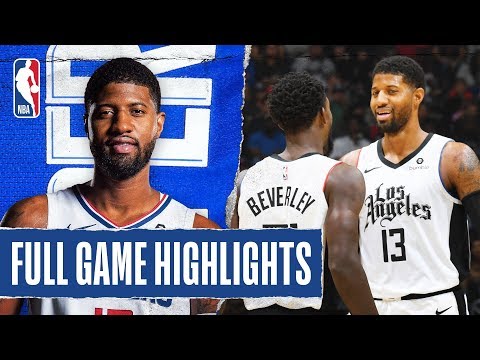 Highlights from the Clippers' win over the Washington Wizards at Staples Center on Sunday.
To do that, the Clippers had to navigate a third quarter in which their 25-point halftime lead was cut to 13 within eight minutes, as the Wizards, who own the NBA's fourth-best offensive rating, made a run.
But like several drives by George past Wizards defenders, the moment of tension passed by quickly.
Williams drilled a three-pointer on the Clippers' first offensive possession of the final quarter to push their advantage to 21. Later in the quarter, Leonard fell down and got an offensive rebound, anyway, after five Wizards failed to account for the player on the floor.
Then he drained a 15-foot jumper.
Friday's 97-point output in San Antonio was unusual because the team's top-scoring trio of Leonard, George and Williams all had off shooting nights. Yet the disjointed performance also was emblematic of offensive lineups using trial and error to learn how to play with one another.
"We've got three guys that are averaging over 20 points a game in their last three seasons, then you have [Harrell] who's coming into his own, he's averaging nearly 20 points a game as well," Williams said. "We've come from three different teams where we're used to having the basketball in our hands. You put all those things together, you've got to kind of take a back seat to other guys at certain times of the game.
The Spurs ended the Clippers' winning streak at seven with a 107-97 victory as Kawhi Leonard and Paul George suffered their first loss together.
"I think that's just a natural progression where you've got to build out that chemistry where everybody's on the same page."
The Clippers are 6-1 since George and Leonard played together for the first time Nov. 20, a sign of optimism as they weather injuries — JaMychal Green was the latest to leave Sunday, with a tailbone bruise — and a learning curve.
"We are far closer to being great defensively right now than we are offensively," Rivers said. "And that's the area that we have to keep getting better."
Get our high school sports newsletter
Prep Rally is devoted to the SoCal high school sports experience, bringing you scores, stories and a behind-the-scenes look at what makes prep sports so popular.
You may occasionally receive promotional content from the Los Angeles Times.