Clippers force Game 7 on Kawhi Leonard's clutch play in 45-point performance
DALLAS —
For 39 minutes, everything teetered.
This first-round playoff series. The Clippers' window of championship opportunity. When the 18,324 inside American Airlines Center were at their loudest Friday night, whacking together team-provided noisemakers and swinging white towels, it felt like even the red-brick building itself.
The Clippers had led Game 6 by five, only to trail Dallas by nine. Los Angeles made inexplicable mistakes. Then it executed with pinpoint precision. Its stars had struggled to create shots against Dallas' 2-3 zone. Then Kawhi Leonard scored 15 consecutive points to end the third quarter.
In all of the ways it confounded, then rose to a crescendo, this close-out opportunity for the Mavericks became the series itself, with neither team capable of grabbing hold of its opportunities to wrest away control. And every single second of it led up to the final 9:16. As one superstar, Dallas' Luka Doncic, re-entered a tie game, Leonard hopped up from the opposing bench to do the same, tearing off his black, warmup T-shirt.
No one yet knows how far the Clippers will play into this postseason, but they are continuing to Sunday's Game 7 at Staples Center only because of those nine minutes and what Leonard did during them as he stared down Doncic, an offseason full of questions and a full building by scoring 12 season-saving points that instantly became one of the iconic moments in this franchise's playoff history.
Leonard patiently dribbled side to side before drilling two three-pointers at the top of the arc, one over Doncic, then another over Dorian Finney-Smith, to draw this series even at three games apiece, with a 104-97 win.
Leonard tied his postseason career high with 45 points, with 42 coming over his final 30 minutes, even while walking with a limp during breaks in play after a first-half fall and fighting through screens as Doncic's primary defender.
"The baddest man on the planet," Clippers guard Reggie Jackson said.
"He destroyed us," Doncic said.
Leonard joins Jamal Murray, LeBron James and Wilt Chamberlain as the only players to score at least 45 points while shooting at least 70% in an elimination game, according to Elias Sports.
"You definitely don't want to go home," Leonard said. "It's something that I had young. Always wanted to win the game, to try to exert my will on the floor, and my teammates had the same mentality. That's what I tried to instill within them to make sure we keep fighting. Don't give up. You never know what could happen."
Jackson added 25 points and nine rebounds and Paul George 20 points with 13 rebounds, and his work to pull the Clippers into a tie during Leonard's three minutes of rest to start the fourth quarter was a forgotten but crucial stretch. But this was Leonard's masterpiece, the kind of stoic, postseason resilience that defined his career in San Antonio and Toronto and which the Clippers so badly wanted to rub off on them.
Asked how his big-game experience would play into his mindset for this series finale, Leonard dryly responded: "I don't live in the past."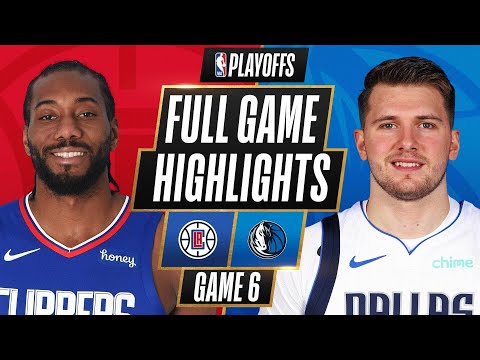 Video highlights from the Clippers' 104-97 victory over the Dallas Mavericks in Game 6 of their playoff series on June 4, 2021, in Dallas.
Had Friday veered differently, offseason talk and Leonard's status as an unrestricted free agent would have been all that filled the air around the Clippers as soon as the horn ended. But even as Doncic scored 12 of his 29 points in the fourth quarter, Leonard was a class better, sending teammates leaping off the sideline while denying Dallas its first series victory in a decade.
"He was disappointed he didn't shoot the ball well in Game5," coach Tyronn Lue said. "He made some huge ones."
This is now the first playoff series in NBA history in which the road team has won the first six games. Perhaps not by coincidence, in three games in Dallas, Leonard has scored 100 points on 73% shooting and the Clippers have outscored the Mavericks by 41 points in his minutes.
The Clippers committed 14 turnovers, missed 24 of 34 three-pointers and saw their game plan priority of making Doncic uncomfortable amount to little in the first quarter, as the guard made a three-pointer with Jackson's hand in his face, then a turnaround jumper with Marcus Morris draped all over him.
Jackson matched Doncic shot for shot and more on the way to 14 first-quarter points — and yet each attempt taken by Jackson, and not Leonard or George, felt like a victory for Dallas' defense and unsustainable for the Clippers.
Lue tried a bit of everything for a spark, inserting guard Luke Kennard for only his second appearance of the series and went back to center Ivica Zubac in key stretches, but outside of Leonard, the rest of the Clippers made just 18 of 52 shots. They fell behind by nine before halftime, only to lead by three at the half, but all that work was seemingly undone, for a second consecutive game, by a five-minute stretch in the third quarter that nearly haunted the Clippers. Dallas went on a 20-8 run, feeding 7-foot-4 Boban Marjanovic easy shots at the rim and Tim Hardaway Jr. three-pointers on the wing.
The Clippers are famous for their second-round Game 7 failures, but their first-round Game 7 history has produced far different results.
The season slipping away, trailing by seven with half the third quarter to play, Leonard scored the Clippers' next 13 points but they still trailed by four entering the final quarter.
He returned to the bench for a three-minute breather.
Then he re-entered and breathed life back into his team's season.
"Best words in sports," Jackson said. "Game7."
The Lakers and Clippers open the NBA playoffs on May 22-23. Here's a guide to the Los Angeles Times' complete coverage.
Get our high school sports newsletter
Prep Rally is devoted to the SoCal high school sports experience, bringing you scores, stories and a behind-the-scenes look at what makes prep sports so popular.
You may occasionally receive promotional content from the Los Angeles Times.