Clippers rally from 20 points down en route to a rout of Timberwolves
MINNEAPOLIS —
The layout of Target Center is such that the home and visiting locker rooms are separated on the ground floor by only a brief stretch of hallway lined by oversized Timberwolves portraits.
The players who hustled into Minnesota's locker room late Friday looked nothing like their smiling, snarling alter egos. That included former Clippers guard Patrick Beverley, who kept his gaze low, avoiding eye contact with his former teammates ahead. At that moment, Nicolas Batum was making his way through a receiving line of coaches and staffers, all smiles and fist-bumps.
They were celebrating the kind of how-did-they-do-that comeback that Beverley used to spark, a 104-84 Clippers victory that marked their second straight against Minnesota and their third consecutive overall to improve to 4-4. The Clippers became only the fourth team in the last 25 seasons to have trailed by at least 20 before winning by at least that many, according to ESPN Stats & Information.
"It's good that we're comfortable in that position," Clippers wing Paul George said. "But you know, we just have to prevent it when we can."
When star big man Karl-Anthony Towns checked out for the last time after 20 points and eight rebounds, he punctuated his substitution with a string of sideline expletives. Most of the crowd had left well before, midway through the final quarter.
The Clippers had rallied against Golden State and Memphis to open this season but could not finish the job. This was far different.
"It just means a lot about our guys, about our character," coach Tyronn Lue said. "We always knew we could win, and that started from last year and believing we're gonna find a way to win."
Two nights after making 21 three-pointers, the Clippers made only six of 28 from deep and shot 40% overall. George's game-high 21 points came on 20 shots, and he misfired on all seven of his three-pointers. George also grabbed 11 rebounds with six assists and three steals. One game after committing eight turnovers, he had six turnovers midway through the third quarter, but didn't commit another during his last 11 minutes.
Paul George had 32 points and Reggie Jackson scored a season-high 29 as the Clippers found their shooting stroke in a 126-115 win over the Minnesota Timberwolves.
Assistant Brian Shaw told Lue before tipoff that George looked physically "flat," the bill of his 35 minutes per game workload coming due. Yet the same went for the whole team's "low energy" start, as described by center Ivica Zubac. By the time Minnesota (3-5) made nine of its first 19 threes, the Clippers had yet to connect on one from deep, making their 20-point deficit as much a math problem as an energy issue.
Yet only 12 minutes were needed to make up the 20-point gap. Minnesota's 27 points after halftime are the fourth fewest allowed during a second half in Clippers history.
"That can be our identity this year, being a defensive team," Zubac said. "I think we've had a few really good defensive games and there was some that we could've done better, but I think we pride ourselves on defense and we know without Kawhi [Leonard], it's gonna be tough to win games, but if we can get stops and we can get out and run more, get open shots, we'll give ourselves a better chance to win."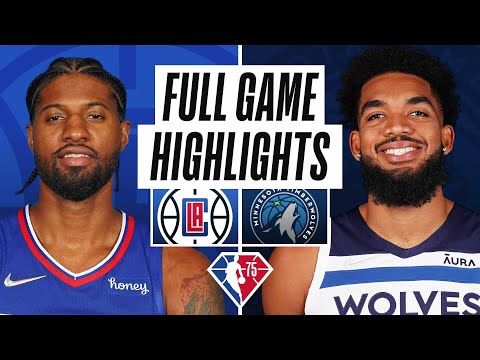 Each defensive stop, which resulted in a season-high 61 rebounds, including 14 by Zubac, seemed to propel the Clippers, with each an opportunity to make the flow of the game a track meet going the other direction after halftime. The Clippers outscored Minnesota 15-3 in transition and the disparity would have been more exaggerated if not for their seven-for-13 transition shooting. It was exactly the kind of pace Lue had exhorted his team to play at when, three games into the season, he showed them video of possessions with only a handful of Clippers sprinting back. The half-speed play nullified their small-ball advantages, and he let them know it.
In many ways, the rally hinged on the play of two Clippers whose starts to this season have been rocky.
After hitting a key three-pointer against Oklahoma City, struggling Clippers guard Reggie Jackson was touched by a gesture from teammate Paul George.
Zubac's interior defense was "phenomenal," Lue said, the product of what Zubac said was his health improving and a challenge to be better defensively at the rim.
The team was outscored by 20 points in Eric Bledsoe's first 16 minutes, and he finished plus-two, only the second time this season he finished with a positive plus-minus. But there was Bledsoe, midway through the third quarter, cocking his arm back like a quarterback for a half-court pass that Reggie Jackson turned into a layup, trimming the deficit to one. Bledsoe made only one of six shots in the third quarter but it belied the pace he pushed that helped the Clippers win the quarter by 13 points.
Get our high school sports newsletter
Prep Rally is devoted to the SoCal high school sports experience, bringing you scores, stories and a behind-the-scenes look at what makes prep sports so popular.
You may occasionally receive promotional content from the Los Angeles Times.