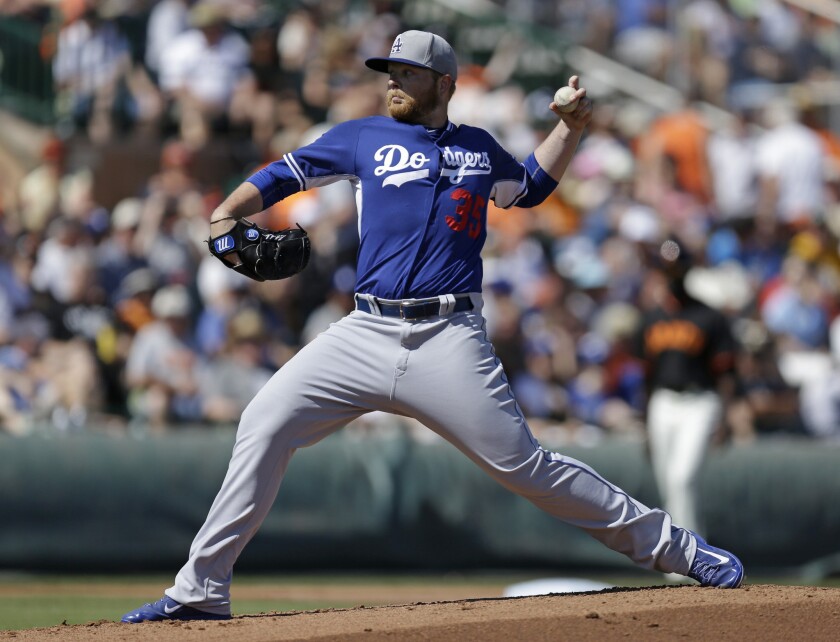 You take the first step, then a second, and you see where it takes you. Or in the case of a pitcher, the first throw. Brett Anderson had not been in a competitive baseball situation since Aug. 5, when his back called and surgery answered.
But the Dodgers signed the left-hander in the off-season to a one-year deal for $10 million and dubbed him their No. 5 starter.
Monday, the Dodgers got their first look at Anderson in a game, and as first steps go, it worked out just fine.
Anderson threw two scoreless innings, holding the Giants to one hit in an exhibition game that ended in a 5-5 tie at Scottsdale Stadium. The Dodgers are now 4-1-2 on the spring.
Anderson did not walk a batter and induced five ground balls for outs, which is pretty much what he does when he's on. It was brief, but an encouraging first step.
Offensively, the Dodgers got a two-run homer from Yasiel Puig, a run-scoring double from Howie Kendrick, RBI singles from Andre Ethier and Scott Van Slyke, a triple and double from Jimmy Rollins, and a double from phenom Corey Seager.
The pitchers who followed Anderson gave the Dodgers equal doses of good and bad.
On the positive side, Erik Bedard threw two scoreless innings, aided by Ethier's throwing out Brandon Hicks at the plate. Chris Hatcher, a strong bullpen candidate who is in the running for the temporary closer role with Kenley Jansen sidelined, threw one perfect inning with a strikeout. Yimi Garcia and minor leaguer Mike Thomas each threw a scoreless inning.
But Brandon League suffered a rough outing. He retired only one of the six batters he faced, and the other five all scored. League gave up three hits, a walk and hit a batter. He wasn't helped when Carlos Frias took over for him and gave up a pair of run-scoring singles.
There are plenty more steps to come.
---