Andre Ethier is hoping for a starting job in Dodgers' crowded outfield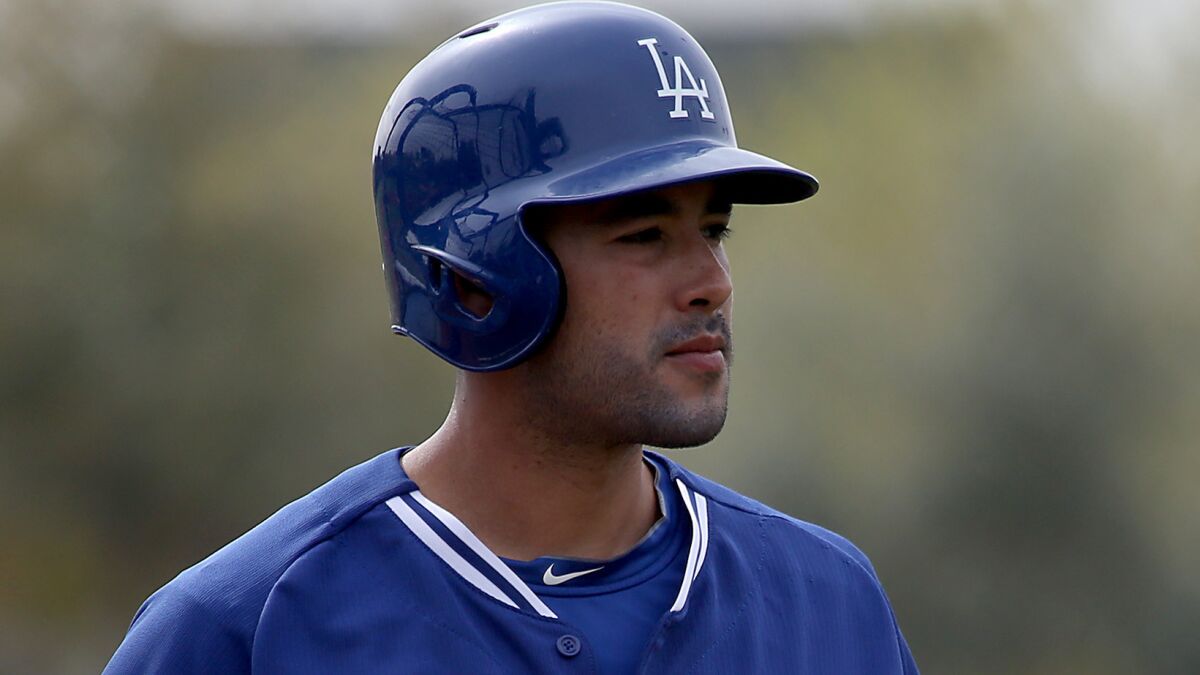 Reporting from Phoenix —
Andre Ethier reported to spring training hopeful that he would have an opportunity to claim a starting position in the Dodgers' crowded outfield.
"I would hope so and think so," Ethier said. "With me still being here, I have to assume that they're at least considering it."
The two-time All-Star didn't back down from comments he made in December, when he said he wanted to play every day — with the Dodgers or another team.
Last season, Ethier was relegated to the bench.
There still might not be a place for him in the lineup, even after an off-season trade that sent Matt Kemp to the San Diego Padres. Yasiel Puig is projected to start in right field, with Carl Crawford in left and rookie Joc Pederson in center.
Mattingly said Ethier would have a chance to win a starting job and that he planned to play him this spring at all three outfield positions.
"Anywhere you put him on the baseball field, I'm pretty confident," Mattingly said. "I'm a guy who believes he can play first, too. He's a guy that has big baseball IQ, understands how to play the game, gets good jumps, good reads, so he can play anywhere."
Ethier discussed his situation Monday with Mattingly, president of baseball operations Andrew Friedman and General Manager Farhan Zaidi.
"It was a chance to all sit in a room for the first time, all four of us, and kind of clear the air and see where each one of us stands, to get what we had off our chests," Ethier said.
Asked what he hoped to communicate to management, he said, "Just that I'm serious in my intentions of what I have planned to do, how I plan on playing this year and the rest of my career. I feel that I'm not overstepping my boundaries. I'm just being honest with where I'm at."
Mattingly said he doesn't expect Ethier to be problem in camp. But Mattingly wouldn't say what his expectations would be if Ethier fails to win a starting position.
"We don't know what's going to happen over the next four to six weeks," Mattingly said. "We'll deal with that when we get there."
The Dodgers explored potential trades for Ethier in the off-season, only to find limited interest. Ethier is 33 and his production his declined in recent years.
To move Ethier, the Dodgers would likely have to cover a significant part of the $56 million he is guaranteed over the next three seasons.
Back on the mound
Zack Greinke threw his first bullpen session of camp, five days after he received a lubricating injection in his right elbow.
Greinke threw 24 pitches, all of them fastballs.
"I'm not trying to push things," he said.
Greinke declined to talk about the injection, which Mattingly had described as a precautionary measure. Greinke said he wasn't any more concerned about his elbow than in any other spring.
"There's always a little bit of concern," he said.
Short hops
Position players have to be in camp by Wednesday. Crawford, Jimmy Rollins, Howie Kendrick and Alex Guerrero reported a day early. … Team spokesman Jon Chapper was stung by a scorpion in the team's administrative building. He was treated by the team's medical staff and completed his workday.
Follow Dylan Hernadez on Twitter @dylanohernandez
Get our Dodgers Dugout newsletter for insights, news and much more.
You may occasionally receive promotional content from the Los Angeles Times.