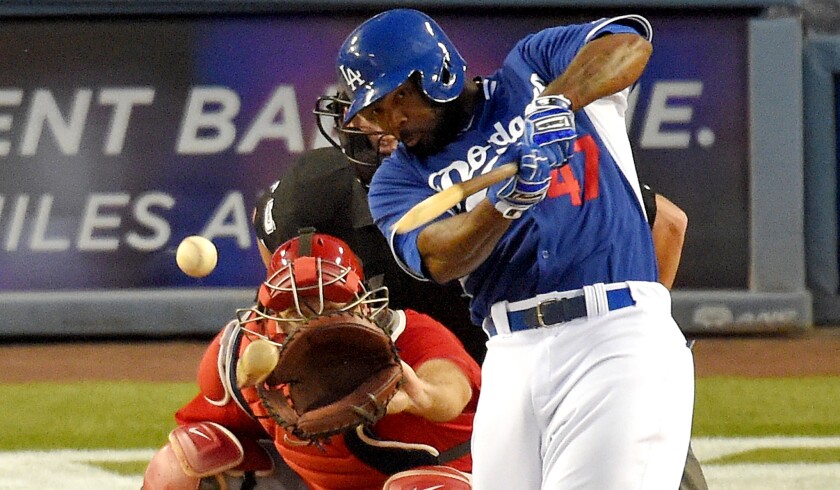 The Dodgers' new front office was very busy this off-season, not only making a flood of trades, but signing a wealth of non-roster invitees.
When they finally got around to announcing their 25-man roster Saturday night after their 6-6 tie with the Angels at Dodger Stadium, not one of the 20 non-roster invitees made the club.
For the most part, the kids won out in the roster battles. Paco Rodriguez, Yimi Garcia and Pedro Baez all made the bullpen, while veterans David Aardsma, Sergio Santos, David Huff and Chin-hui Tsao did not.
There were no last-minute trades, which means Andre Ethier and Alex Guerrero are on the team. One veteran did hold off the charge of a touted young player, Darwin Barney beating out Enrique Hernandez for the extra infielder spot.
The Dodgers will carry an extra position player until mid-April, the first time the fifth spot in the rotation will come up. Huff could be called up to make that start.
With Saturday's tie, the Dodgers ended the spring 16-11 with a club record eight ties. They open the season at home Monday afternoon against Matt Kemp and the Padres.
The Dodgers managed 10 hits against the Angels, and made them productive. Scott Van Slyke, starting at first base, hit a solo home run and singled in another run. Carl Crawford singled in two runs, Ethier singled in one more and Hernandez hit a solo home run in the ninth to tie it.
Left-hander Brett Anderson started for the Dodgers and struggled, giving up two runs on seven hits and a walk in scheduled three innings.
"My stuff was terrible, borderline embarrassing, but physically I felt fine, so at this point I'm going forward," Anderson said.
"If I wasn't motivated before -- which I was -- this kind of sour taste in your mouth in the last outing is going to motivate me even more for my first start."
Here is the Dodgers 2015 opening 25-man roster:
Starting pitchers (4): Brett Anderson, Zack Greinke, Clayton Kershaw, Brandon McCarthy.
Relievers (7): Pedro Baez, Yimi Garcia, Chris Hatcher, J.P. Howell, Juan Nicasio, Joel Peralta, Paco Rodriguez.
Catchers (2): A.J. Ellis, Yasmani Grandal.
Infielders (7): Darwin Barney, Adrian Gonzalez, Alex Guerrero, Howie Kendrick, Jimmy Rollins, Justin Turner, Juan Uribe.
Outfielders (5): Carl Crawford, Andre Ethier, Joc Pederson, Scott Van Slyke, Yasiel Puig.
Though not unexpected, one of the toughest cuts had to be left-hander Adam Liberatore, who did not give up a run in 11 appearances. Liberatore, Hernandez and outfielder Chris Heisey were optioned, while the non-roster veterans were all reassigned to the minors.
---