Dodgers' impressive rotation is something to really build around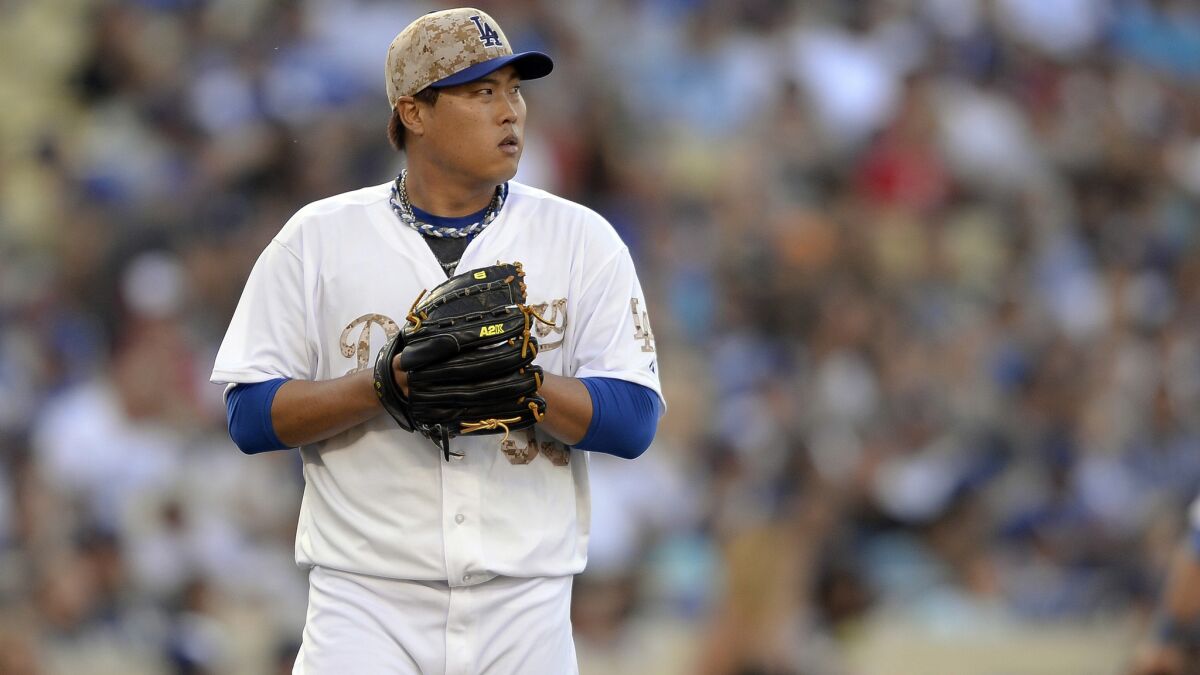 There was a lot of talk in the off-season about the Dodgers' imposing lineup and veteran bullpen. Both looked so impressive. Some of the best in the game.
It's just that neither was really the center of what the Dodgers were trying to build around – starting pitching.
It's the rotation that could separate the Dodgers from other contenders, and what is now beginning to step up big.
The Dodgers just got two remarkable pitching performances and neither was from one of their aces, Clayton Kershaw and Zack Greinke. They got a no-hitter from Josh Beckett and seven perfect innings from Hyun-Jin Ryu.
Their rotation is healthy for the first time this season and is looking formidable, plus it still could get back Chad Billingsley next month. Theoretically, they could get better still.
"It's a good feeling to know we can kind of do this every day," Manager Don Mattingly said. "Not necessarily from the standpoint of throwing no-hitters and taking perfect games into the [eighth] inning, but knowing we can go out and pitch like this every time out. It tells me we can get on a roll."
Kershaw and Greinke were expected to be the rotation aces, with Ryu the third starter, Dan Haren the fourth and Beckett and Paul Maholm dueling for the final spot. The Dodgers could not be certain how Beckett would recover from rib surgery.
Only Beckett (3-1, 2.43 earned-run average) is hinting at becoming again a top-tier starter. Haren is the fifth starter and is 5-3 with a 3.16 ERA. That's a pretty solid one-through-five rotation.
"They've been great all year, keeping us in games, giving us chances to win," infielder Justin Turner said. "You kind of expect it every night. It's disappointing when they give up a hit. They're so good and talented, it's fun to play defense behind them."
Not many teams can get consecutive games like the Dodgers just received from Beckett and Ryu, and then follow with Greinke and Kershaw.
"It's a good feeling," Mattingly said. "I think it gives us confidence as a ballclub that this is what we've been built for, to be able to pitch."
It also helps to explain the Dodgers' recent emphasis on defense, and why they feel they can no longer wait for Matt Kemp to regain his form in center field and were comfortable calling up smooth-fielding, weak-hitting Erisbel Arruebarrena when they needed another infielder. Only the Washington Nationals and Cleveland Indians have more than the Dodgers' 42 errors.
"I know we were trying, but it was just costing us too much," Mattingly said. "I know it's not sexy to play good defense. Nobody talks about it very much.
"But when you watch games and it costs your pitchers an extra 25 pitches and you're into your bullpen, it tells you have to catch the baseball. This pitching is that good, that we have to be able to catch the ball for them."
Get our Dodgers Dugout newsletter for insights, news and much more.
You may occasionally receive promotional content from the Los Angeles Times.