For Justin Sellers, it goes from opening day shortstop to DFA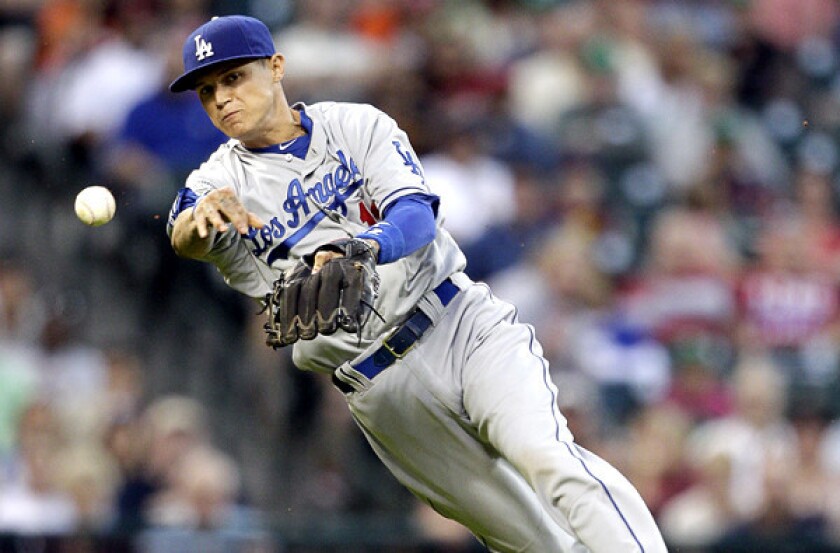 One year you're the opening day starting shortstop. The next you're designated for assignment.
Welcome to the world of Justin Sellers, who was DFA'd on Saturday when the Dodgers officially signed Cuban infielder Erisbel Arruebarrena.
Sellers could field but not hit (.199 in parts of three seasons), and the Dodgers currently have their share of slick-fielding, questionable-hitting infielders, beginning now with Arruebarrena. And they just invested $25 million in him.
Sellers surprised most everyone with his hitting when first called up in the middle of the 2011 season, when he had a .278 average in his first 16 games. Alas, his offensive production had peaked.
With Hanley Ramirez starting last season on the disabled list because of a torn thumb, Sellers was the surprising choice to start at shortstop over Dee Gordon, who could run but had trouble fielding and hitting. The thinking was, the Dodgers had enough offense and needed Sellers' glove.
But Sellers failed to make anything of his unexpected opportunity. He hit just .188 and was soon back in the minors, never — as it has turned out — to be seen again.
Sellers is 28 now and there isn't much upside. It's fairly amazing he hung around this long, not that he might not be back. If he isn't claimed, he could yet end up back at triple-A Albuquerque.
One positive sign from all this is the Dodgers could have moved right-hander Chad Billingsley to the 60-day disabled list to make room on the 40-man roster for Arruebarrena. They've been saying he's not expected back until June, but not moving him to the 60-day DL indicates hope he could return sooner.
---
Get our Dodgers Dugout newsletter for insights, news and much more.
You may occasionally receive promotional content from the Los Angeles Times.