Dodgers' Matt Kemp to start working out in left field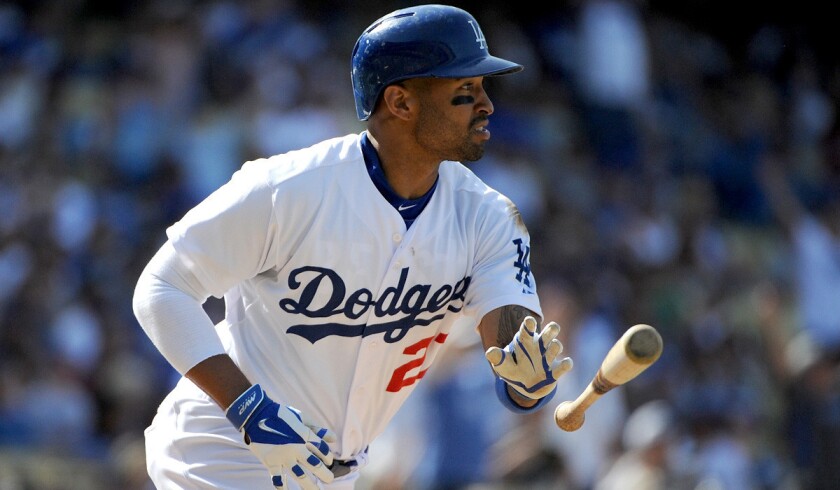 PHILADELPHIA – Matt Kemp will start working out in left field during the Dodgers upcoming homestand, Manager Don Mattingly said.
Kemp isn't in the lineup Sunday for the Dodgers' series finale in Philadelphia, the third consecutive game in which Andre Ethier has started in center field instead of Kemp.
Kemp has not played any field position other than center field since 2009, when he played seven of 159 games in right field. The last time he played left field was as a rookie in 2006.
Kemp will also continue working out in center field, Mattingly said.
"We're just feeling like giving him more time to really get healthy," Mattingly said. "Not that he's not healthy, but just to get all the way back. We feel it's going to be best at this point to get work in left field, continue to work center, as he kind of gets back to 100% -- 100% where he was a couple years ago."
Earlier in the week, Mattingly acknowledged Kemp lacked the burst of speed he possessed before his off-season ankle operation.
In other news, Hanley Ramirez was also excluded from the Sunday lineup as he continued to experience soreness in his left calf.
Mattingly said he assumed Ramirez would undergo an MRI exam at some point.
Asked if Ramirez could land on the disabled list, Mattingly replied, "I don't want to go there yet."
---
Get our Dodgers Dugout newsletter for insights, news and much more.
You may occasionally receive promotional content from the Los Angeles Times.